ATLANTIC CITY, N.J. -- This seaside home to several resorts and casinos was a boxing hotbed for much of the 1980s through the 2000s. From 2000, when I began covering boxing full time for USA Today, through 2014, I covered dozens of fight cards in Atlantic City, including the final nine bouts of Hall of Famer Arturo Gatti's legendary career, as well as fights involving Bernard Hopkins, Miguel Cotto, Wladimir Klitschko, Jermain Taylor, Kelly Pavlik and many others.
But since Sergey Kovalev defeated Hopkins in their light heavyweight title unification fight in November 2014, I have been back to cover fights only twice -- in August 2018, when Kovalev was upset by Eleider "Storm" Alvarez, and this past weekend for a double dose of action -- Friday night's Showtime triple-header headlined by the Claressa Shields-Ivana Habazin women's junior middleweight title bout at the Ocean Casino Resort, and Saturday night's Top Rank on ESPN card topped by the highly entertaining Joe Smith Jr.-Jesse Hart light heavyweight fight next door at the Hard Rock Hotel & Casino.
Atlantic City has had very little in the way of big-time boxing in recent years, due in part to various casino bankruptcies, overall economic problems and, according to promoters, higher costs to run shows related to unions. In fact, Kovalev-Hopkins was the last time there was boxing in the main arena of the city's key boxing venue, Boardwalk Hall, which has hosted tons of big fights, including Mike Tyson-Michael Spinks, Evander Holyfield-George Foreman and many others.
But it was nice to be back this past weekend to cover two shows that may hopefully spark more regular fights in the city.
Here's a look at my weekend in Atlantic City:
Friday, Jan. 10
2:35 p.m.: Finish off my roughly 3.5-hour train ride -- Washington, D.C., to Philadelphia, where I had about a 20-minute layover, before boarding a New Jersey Transit to Atlantic City. It's a gray, chilly day there.
2:47 p.m.: I arrive at the Hard Rock. It's the former Trump Taj Mahal, which was bought and renovated a few years ago. But it is still home to Etess Arena, where I previously covered fights such as Alvarez-Kovalev I, Klitschko-Ray Mercer and David Tua-Michael Moorer. As I grab my bag from the cab, Mike, the valet, comes over to me. "Hey, you're the fight guy, aren't you?" He's complimentary and says he is an avid reader of the ESPN boxing page and a big boxing fan. "We need more fights here," he says. "Remember the Gatti fights?" I tell him I agree and that I, of course, remember the Gatti fights.
He mentions that he had met the late trainer Emanuel Steward on a big fight weekend. "What a great guy. He's in the Hall of Fame, right?" I knew Emanuel for years and agree that he was a great guy and assured him Steward is indeed in the Hall of Fame.
5 p.m.: After checking in and settling into my room, I head down to one of the lounges that Top Rank's Bob Arum, the promoter of Saturday's card, has reserved for a small happy hour with some of his staff, associates and media.
I sit with colleague Keith Idec of Boxingscene and we have a good chat with Arum on a variety of topics. Among them are promotional aspects of the Feb. 22 Deontay Wilder-Tyson Fury II heavyweight title fight he is co-promoting, his recent signings of unified junior welterweight titlist Josh Taylor and Naoya Inoue, featherweight titlist Shakur Stevenson's upcoming schedule and his work toward finalizing both the Vasiliy Lomachenko-Teofimo Lopez lightweight unification fight and the Miguel Berchelt-Oscar Valdez junior lightweight title fight.
6 p.m.: I walk along the famed Atlantic City boardwalk with Idec and fellow boxing scribe Dave Weinberg to the Ocean Resort, which is just a few minutes away, to pick up our media credentials for Friday night's Shields-Habazin card. The boardwalk is so desolate it's eerie.
6:25 p.m.: I make my way into Ovation Hall, the venue for the card, which is superb for fights. I stop to say hello to ringside pals Steve Farhood and Raul Marquez of Showtime and Lee Groves from CompuBox. I have covered two other shows in this theater, Kovalev-Blake Caparello in 2014 and Darren Barker-Daniel Geale in 2013. Media seating is on the stage in the theater, giving press a different perspective than usual. We are very close, but elevated, so rather than looking up at the fighters, we are looking slightly down at the ring. It's a good angle, but I'm having WiFi issues. One of the Showtime technicians hooks me up with a hard line connection. I want to hug him.
7:20 p.m.: The card was originally scheduled to begin at 6:30, but an undercard fight was canceled and the start is delayed. The first fight is a four-round welterweight bout between Joseph Bonas and Glenn Mitchell. The place is empty and the fight is a gross mismatch with the unbeaten Bonas, who is trained by new Tyson Fury trainer Javan "Sugar" Hill, stopping Mitchell in the second round.
7:42 p.m.: Next up is his brother, Jacob Bonas, also trained by Hill. He faces Christian Rivera in a four-round welterweight bout. Jacob, who got hurt in the first round, rebounds to win 39-37 on all three scorecards.
8:10 p.m.: Ring walks for heavyweight Apti Davtaev and journeyman Keith Barr.
8:26 p.m.: Davtaev flattens Barr with a right hand along the ropes in the third round and the sparse crowd perks up. The ring announcer handling the prelims makes note of the result by saying that it was a third-round knockout "all for the winner" Davtaev. All for the winner? Hey, they haven't had much boxing here lately.
8:50 p.m.: We're in the midst of a half-hour intermission before the Showtime telecast begins and my pal Jim Gray of Showtime comes by to catch up. He always makes it a point to ask about my son. We spend some time discussing the upcoming Showtime schedule.
9:14 p.m.: Intros for the opening TV bout, a women's super middleweight unification fight between Alicia Napoleon Espinosa and Elin Cederroos.
9:20 p.m.: Napoleon Espinosa, the favorite, surprisingly gets dropped by a left hook in the second round.
9:45 p.m.: The all-out slugfest ends with the crowd, which is filling in, cheering after such a terrific fight. Cederroos wins 95-94 on all three scorecards with the knockdown being the difference.
10 p.m.: Showtime Sports boss Stephen Espinoza comes over to the media section to talk shop. He says he would be interested in televising a rematch between Espinosa and Cederroos.
10:08 p.m.: Intros for welterweight prospect Jaron Ennis and Bakhtiyar Eyubov. Ennis was on my top prospects list at the end of 2019 and I am excited to see him fight in person for the first time. He goes on to punish Eyubov until the fight is stopped in the fourth round. Ennis is for real. He's only 22 and I believe he's going to be a force over the next several years.
10:39 p.m.: Showtime holds a 10-count to honor the late four-time cruiserweight world titlist Carlos De Leon, who died Jan. 1. He had his highest-profile fight on Showtime in 1988, when he lost by eighth-round knockout to Holyfield in their showdown for the undisputed cruiserweight title.
10:44 p.m.: Shields makes her way to the ring to cheers.
10:48 p.m.: The lights dim and the ring announcer, "The Classy" Jimmy Lennon, does his thing. "It's Showtime!"
10:52 p.m.: Shields-Habazin begins and it's a total wipeout. Shields dominates, drops Habazin in the sixth round and wins a landslide decision. She wins two vacant women's junior middleweight world titles and becomes a three-division titleholder in just her 10th pro fight. That's a record for fewest fights needed to win titles in three divisions, male or female.
12:05 a.m.: I have arrived at the post-fight news conference in a ballroom that feels like it was about five miles from the theater where the fights took place. With no fighters on hand yet, former super middleweight world titlist Anthony Dirrell, a friend of Shields', plays comedian and heads to the podium to hold a press conference as though he just fought.
12:27 a.m.: Habazin arrives and answers a few questions. "I will be back," she said. She gives credit to Shields for the win but says Shields "doesn't have any power."
12:33 a.m.: Ennis addresses the media and says he hopes to fight for a world title later this year or in early 2021. He says he's ready and willing to fight anybody in the top 15 at welterweight but adds that nobody is willing to fight him.
12:45 a.m.: Shields has still not arrived because, we are told, she still needs to produce a sample for her regular post-fight drug test. A few minutes later, I'm told by Showtime that they have wrapped up the presser because Shields still can't make a sample.
1:15 a.m.: Idec and I get a bite to eat at a pizza/sub place at the Ocean Resort and run into featherweight titlist Shakur Stevenson, who is with a friend doing the same. Stevenson and Shields were 2016 Olympic teammates and friends, and Stevenson came to support her. While Stevenson is waiting for his food, he good-naturedly blasts me for ranking him below Top Rank stablemate Teofimo Lopez among the best 22-year-olds in boxing. Make no mistake, fighters read their media. I let him know that deciding between he and Lopez was by far the toughest call I had to make in ranking the best fighters in boxing at each age from 20 to 30.
I told him I went with Lopez based on his title win against Richard Commey coming against a better opponent than Stevenson's title win against Joet Gonzalez. We chat for a bit on a number of boxing subjects, including his upcoming schedule, which will see him defend his belt against Miguel Marriaga in March and then, hopefully, a unification fight in May or June with Josh Warrington. Stevenson is not shy about making the point that the offer on the table to fight Warrington is not nearly enough money yet.
1:45 a.m.: Head back to the Hard Rock to get some sleep.
---
Saturday, Jan. 11
9 a.m.: Solid night's sleep. Spend much of the day in my room, where I do some work, prep my score book for the night's fights and set up my fight-night story with some background material. Take a shower. The official Hard Rock water pressure report: A!
4:25 p.m.: Run into heavyweight contender Jarrell "Big Baby" Miller waiting for the elevator on the 27th floor. He is in town for tonight's fight and to meet with Top Rank. He's in a foul mood. He has not fought since November 2018 because he failed four drug tests that knocked him out of a title shot versus Anthony Joshua in June. Miller has had the outline of a deal to sign a co-promotional contract with Top Rank agreed to for months but there have been issues with promoter Dmitriy Salita signing off on it. I ask Miller about it, but he tells me, "No questions."
4:45 p.m.: I have a late lunch before going to the fights when boxing attorney/adviser Mike Borao, who I have known for years -- back to the days when his top client was then-heavyweight contender Jameel McCline -- joins me. I ask about his middleweight contender client Matt Korobov, who suffered a shoulder tear in an interim title fight loss to Chris Eubank on Dec. 7. Borao informs me Korobov won't need surgery and has opted for rehab.
6:20 p.m.: I arrive at Etess Arena, collect my media credential and immediately run into my pal Lee Samuels, the Hall of Famer and longtime Top Rank media director who now works as a site coordinator. We are soon joined by Top Rank's Hall of Fame matchmaker Bruce Trampler and manager Steve Feder. We discuss the prospect of a Terence Crawford-Errol Spence Jr. fight and the impending Lomachenko-Lopez scrap.
6:35 p.m.: Make my way to ringside. Have a chat with former two-division world champion Andre Ward, now my ESPN colleague as one of the Top Rank on ESPN boxing analysts. We first discuss our kids. Then I give Ward the heads-up that in our collective feature on bold boxing predictions for 2020, one of mine is that he will come out of retirement. He laughs and seems to enjoy the fact that I have predicted it and he never once says I am wrong.
6:40 p.m.: Xander Zayas-Corey Champion kicks off the eight-fight card. Zayas, the 17-year-old blue-chip welterweight prospect, wins a four-round shutout decision but goes past the first round for the first time in his three pro fights. He comes to ringside to talk to the press afterward and seems quite pleased to have gotten in the rounds.
7:50 p.m.: Welterweight Shinard Bunch beats Dennis Okoth by sixth-round TKO when Okoth retires suddenly with 20 seconds left in the sixth and final round. Both fighters were sent to the hospital following the fight as a precaution. According to sources, both fighters have recovered as of Tuesday.
7:54 p.m.: Jaron Ennis, the fine welterweight prospect who won on Friday night's card, sits down in front of me. He is a guest of Top Rank tonight. We chat and I congratulate him on his win.
8:28 p.m.: Lightweight prospect Joseph Adorno, 20, barely keeps his unbeaten record in a very tough fight with journeyman Hector Garcia, but digs down deep late in the fight to pull out a legit draw in the eight-rounder.
8:29 p.m.: Junior lightweight titlist Jamel Herring -- who trains alongside Steve Nelson, who is in the co-feature -- is at ringside. Herring always has a smile on his face and stops by to say hello. He is excited about a likely spring fight with Carl Frampton.
9:05 p.m.: It's time for Philadelphia heavyweight prospect Sonny Conto's fight. He's brought a lot of fans. Conto wins by first-round knockout against Curtis Head, who gives no serious effort. Some Top Rank officials, sitting directly in front of me, have a heated discussion about whether Head should be paid for giving so little effort. In the end, he gets his $5,000 purse.
9:31 p.m.: After a break, it's time for the final prelim between junior featherweight Jeremy Adorno (Joseph's younger brother) and Fernando Ibarra. Adorno drops Ibarra in the second round and wins 40-35 on all three cards.
10:10 p.m.: The main card is now on the air, beginning a few minutes late to allow for the finish of a college basketball game on ESPN. Ring announcer Jimmy Lennon is on hand to work the show, just as he had been the night before for Showtime.
10:15 p.m.: The co-feature, a super middleweight bout between Steve Nelson and Cem Kilic -- both undefeated -- begins. From my ringside seat I can hear trainer Buddy McGirt's final words to Kilic before the first bell: "Use the jab! Hands up!"
10:46 p.m.: Nelson dominates the fight and wins by eighth-round TKO when McGirt stops the fight. Kilic was taking a beating.
11:09 p.m.: The Top Rank highlight video shows on the big screens. If this doesn't get boxing fans pumped up I don't know what will. It has all kinds of great clips from legendary Top Rank fights.
11:15 p.m.: The main event intros for Smith-Hart.
Massive brawl breaks out in Atlantic City boxing crowd
Following Joe Smith Jr. and Jesse Hart's boxing match, a massive fight breaks out in the crowd as numerous members of security try to break it up.
12:03 a.m.: After a very entertaining battle, Joe Smith is rightly awarded the decision win over Jesse Hart, but it's a split decision. Folks at ringside are shocked because Smith so clearly won, yet one of the judges had Hart up.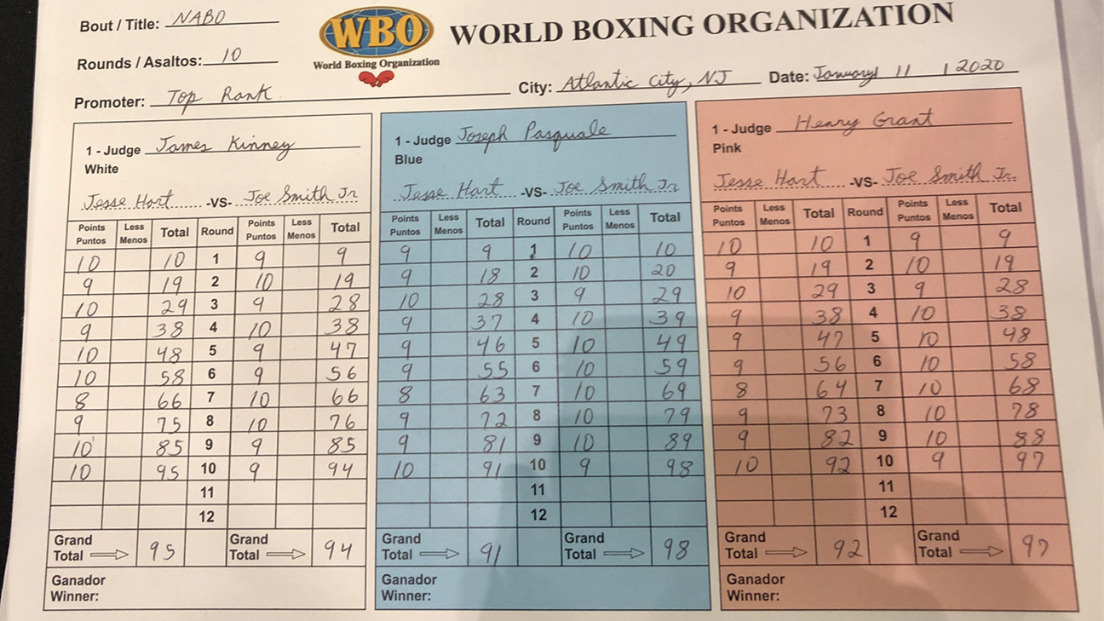 The official scorecards for Joe Smith Jr.-Jesse Hart.
12:09 a.m.: Arum comes to ringside and rips judge James Kinney's absurd 95-94 scorecard for Hart. Smith and his promoter, Joe DeGuardia, also come to ringside to talk to the media about the fight and future plans, as there is no formal post-fight news conference.
12:39 a.m.: I file my write-thru on the card, adding some more details, color and quotes from the fighters.
2:30 a.m.: Idec, Borao and I go to the casino's Hard Rock Café for chicken Ceasar salads and some good boxing discussion. As we make our way out, a guy, maybe in his late 20s, recognizes me. "I just have one question for you: Who wins this [hypothetical] fight at 154, Tommy Hearns or Felix Trinidad?" My answer: Would be an incredible fight, but I like Hearns. I think it would be better at 147 pounds.
6:20 a.m: Alarm goes off. I am not pleased.
7:05 a.m.: Arrive at AC train station for my 7:26 a.m. departure for Philadelphia, and then on to Washington, D.C. It was a terrific two days in Atlantic City.