Customise ESPN
College Football Podcasts
Swinney: Other ACC programs don't get enough credit
At ACC Media Day, Dabo Swinney voices his opinion that other ACC programs get enough credit for making the conference appear strong.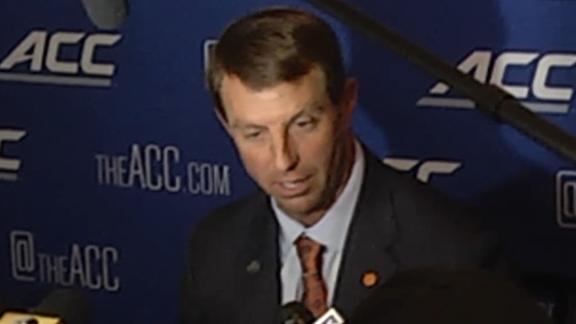 Big 12
sec
Customise ESPN
The town that hired Art Briles
AP Photo/LM Otero

Residents of Mount Vernon (population 2,650) have largely shrugged off the national controversy following the town's hire of the disgraced former Baylor coach to lead its football program. But vocal critics remain.
Randy Sartin-USA TODAY Sports

You know college football's stars. But dig deeper, and you'll find some legit NFL prospects and emerging college stars among less well-known teams.
Quirks, shocks and cushiest paths
AP Photo/Mark Humphrey

We've picked apart every team's 2019 schedule. Here are the quirks, the shocks, the toughest roads and the cushiest paths.