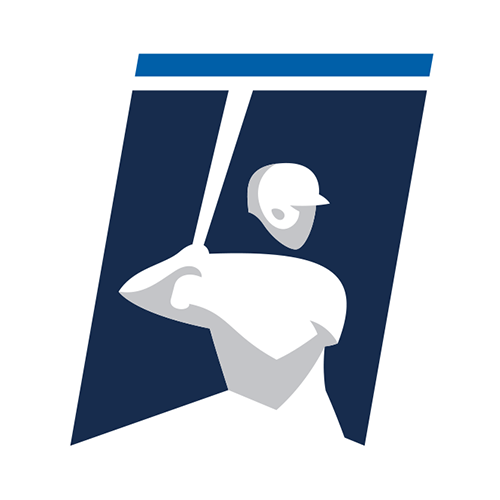 COLLEGE WORLD SERIES
NCAA Men's Baseball
Mississippi State mounts incredible comeback to beat Auburn
Heading into the bottom of the ninth down 4-1, Mississippi State scores 4 runs with help from an Auburn error to win 5-4.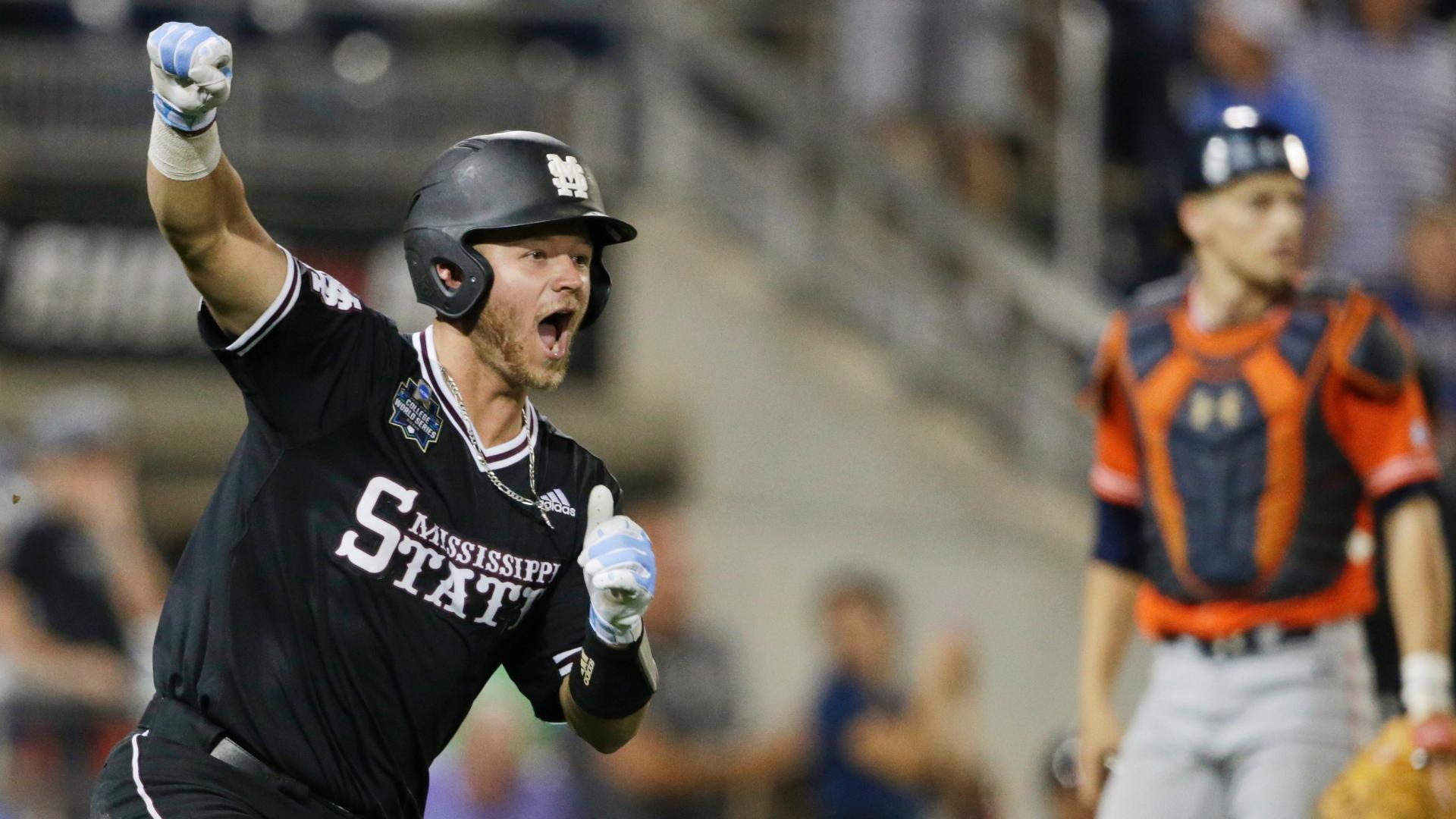 Vandy's Martin takes first pitch over the wall
Vanderbilt 3B Austin Martin hits the first leadoff homer in the CWS in four years to put the Commodores on the board after one pitch.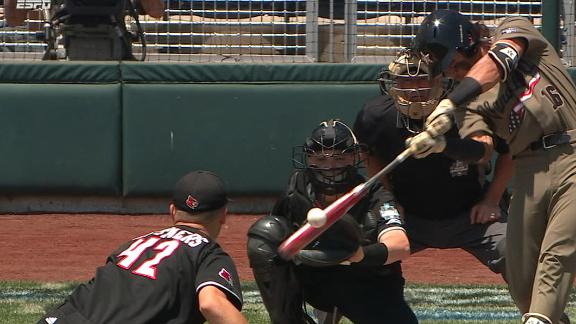 NCAA Men's Baseball
MLB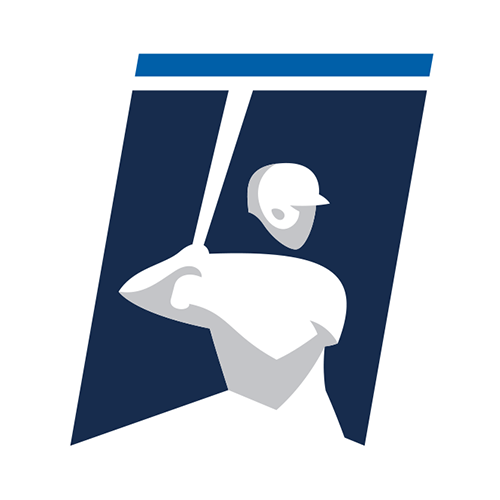 NCAA Men's Baseball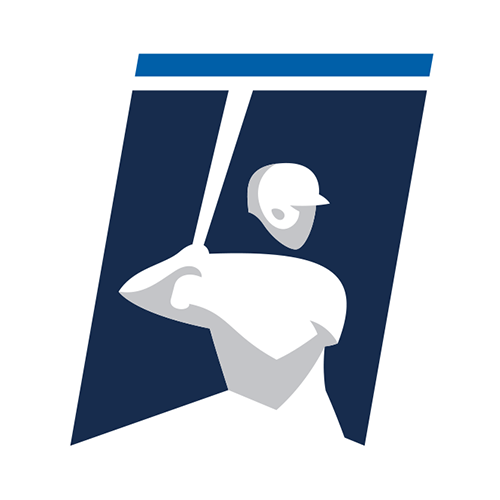 NCAA Men's Baseball
NCAA Men's Baseball
NCAA Men's Baseball
Hogs pay homage to true heroes
Arkansas spends its off day at Offutt Air Force Base, soaking in the history of an Omaha institution.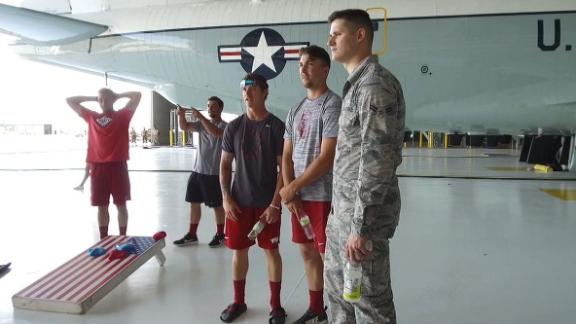 NCAA Men's Baseball
Hail State snaps streak with CWS stunner
Junior Dustin Skelton discusses how the Bulldogs clinched their first win this season when trailing entering the ninth inning.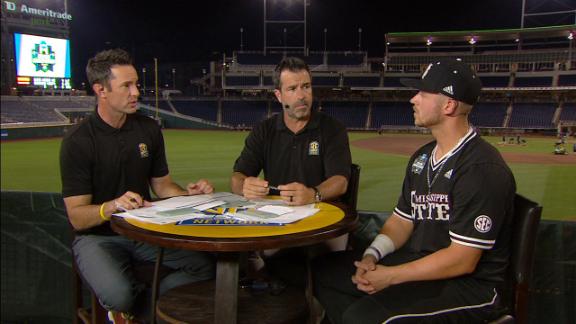 NCAA Men's Baseball
Vanderbilt contains Louisville in Omaha
Sophomore Austin Martin helps the Commodores power past Louisville 3-1 to open up the College World Series.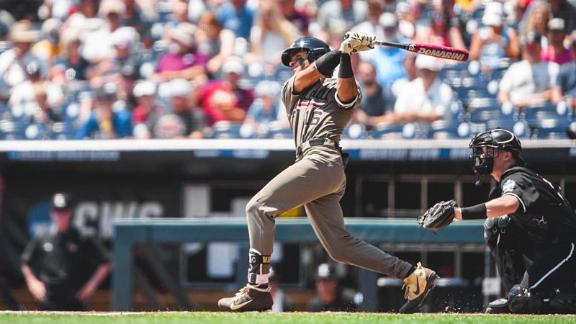 NCAA Men's Baseball
Bulldogs have no quit in them
Seniors Marshall Gilbert and Elijah MacNamee break down how Mississippi State fought from behind to complete a comeback victory over Auburn.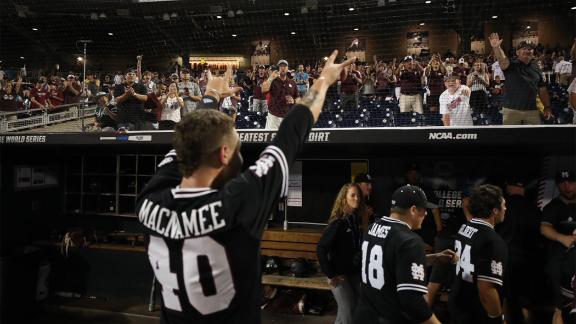 NCAA Men's Baseball
State stuns Auburn with four-run rally in ninth inning
Mississippi State notches its 28th come-from-behind win of the season, walking off with a 5-4 victory over Auburn in Omaha.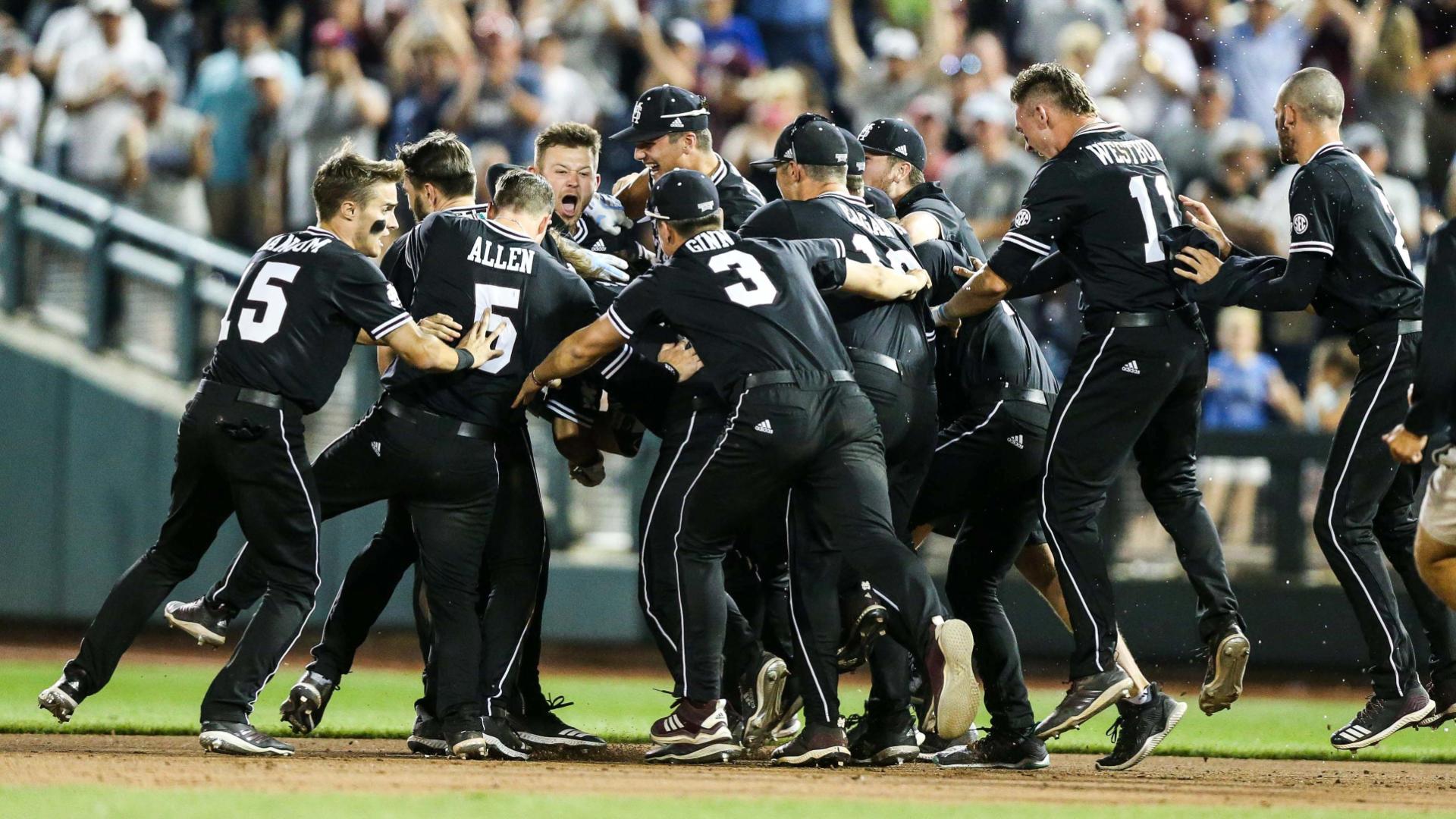 Mississippi State ties game on error
Auburn third baseman Edouard Julien has a chance to end the game, but airmails his throw to first, allowing Mississippi State to tie the game.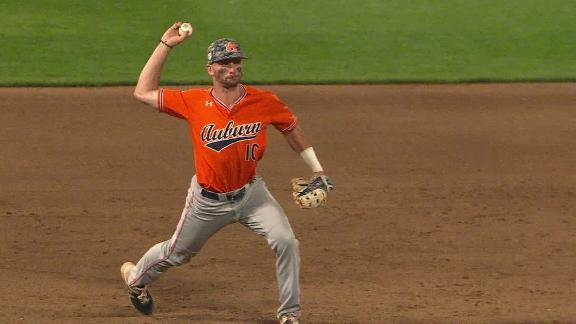 NCAA - Other
NCAA Men's Baseball
NCAA Men's Baseball
Gross proud of Auburn's grit
Former Auburn All-American and current assistant coach Gabe Gross reflects on the Tigers' long road back to Omaha.
NCAA Men's Baseball
Family affair for Glavine at CWS
Hall of Famer Tom Glavine speaks with SEC Network's Taylor Davis about his son Peyton's experience playing for Auburn in Omaha.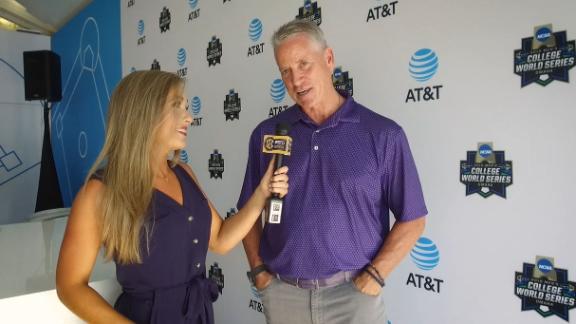 NCAA Men's Baseball
Defense is key for Commodores
Vanderbilt junior Drake Fellows talks about his team's defensive approach to contain Louisville's offense.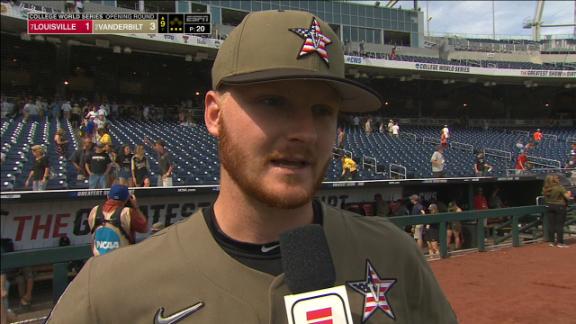 NCAA Men's Baseball
Vandy not feeling the pressure in Omaha
Commodores sophomore Austin Martin discusses his two home runs and the pitching performance of Drake Fellows vs. Louisville.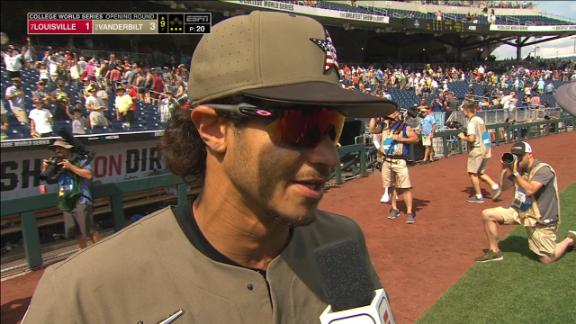 Martin's second homer puts Vanderbilt back up
Austin Martin launches his second long ball of the game as Vanderbilt reclaims a lead against Louisville.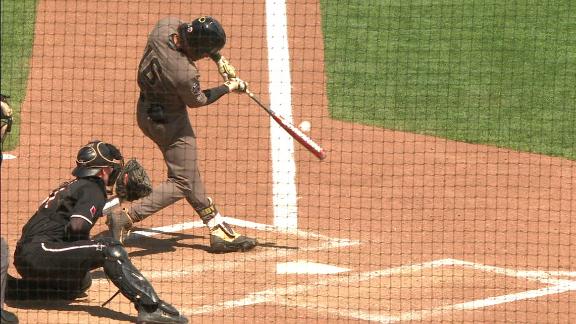 NCAA Men's Baseball
Florida alum returns to Omaha
SEC Network's Taylor Davis chats with former Florida Gator David Eckstein about how much the SEC has grown over the years since his playing days.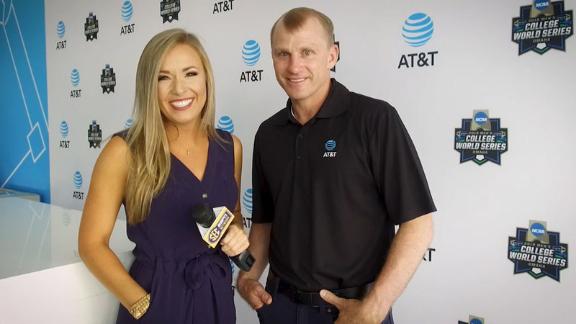 NCAA Men's Baseball
Razorbacks' offense falters in Omaha
Arkansas drops its opening CWS game despite 10 strikeouts from Isaiah Campbell in a 1-0 loss to Florida State.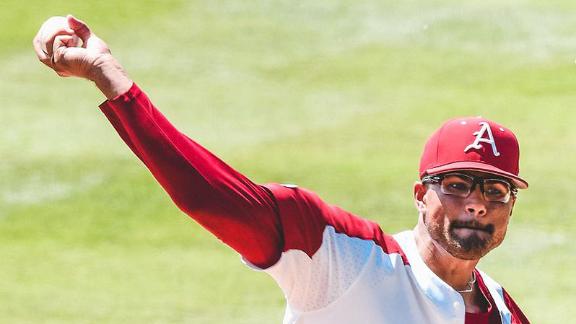 NCAA - Other
Flowers makes great catch at the wall
Florida State's J.C. Flowers robs Heston Kjerstad of a home run by jumping up and making the catch while crashing into the wall.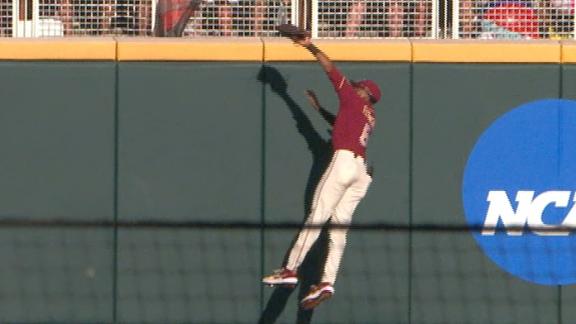 Streeter Lecka/Getty Images

Check out which teams won every men's and women's fall championship and where they stand in the current Capital One Cup standings.
Customise ESPN