I've suggested on podcasts that the Naismith Memorial Basketball Hall of Fame should construct a wing devoted to NBA absurdities. The NBA is the most absurd major U.S. sports league, churning out a never-ending stream of on-court bloopers, social media gaffes and melodrama. The day-to-day silliness deserves its place in Springfield, Massachusetts.
That will never happen, so we're going to start building our imaginary Absurdity Wing here. Some rules:
• Only the dumbest, funniest and most ridiculous things deserve entry. The standard for on-court bloopers should be especially high.
• We want this to be a feel-good experience for visitors. That means no serious violence, real or threatened, and nothing that caused lasting physical or emotional damage. (The D'Angelo Russell/Nick Young recording fiasco is absurd, and very NBA, but it also fractured team chemistry and sabotaged a romantic relationship. It's out. Don't worry, there will be plenty of Swaggy.)
• For this initial foray, we are focusing on recent NBA history -- loosely, the social media era. We can comb through history for dozens (hundreds?) of other worthy artifacts: Wilt Chamberlain's bed; Jeff Van Gundy grasping Alonzo Mourning's leg; the balloons Lakers owner Jack Kent Cooke had suspended above the court in Los Angeles before Game 7 of the 1969 NBA Finals; Kazaam; mullets, mustaches and short shorts; and so much more. Hell, the ABA deserves its own building. The Spirits of St. Louis deserve their own wing in that building.
Readers: Please offer suggestions! I am not on Instagram and I'm too old to keep up with the minute-by-minute goodness of NBA Twitter.
• All signs at the museum will be rendered in Comic Sans.
---
Centerpiece exhibitions
The Banana Boat | July 7, 2015
If you wanted to name this imaginary wing after the banana boat, I wouldn't argue. It should at least exist as an installation surrounded by velvet rope.
This is the iconic image of the postmodern NBA:
Everything about it is glorious. Adult humans just look silly straddling and grasping an inflatable boat shaped like a banana. Being caught in that act reduces our heroes to their actual standing as adults, and dads. They are even wearing yacht-issued life jackets!
It is perfect that Carmelo Anthony, the worst player among the banana boat crew (no great indignity!), did not make the photo. That is canon, by the way. Stop photoshopping Melo and James Harden and Superstar X onto the banana boat. The banana boat (even the words "banana" and "boat," said consecutively, are funny -- a bubbly bit of alliteration) consists of Gabrielle Union, a smiling Dwyane Wade, an even happier Chris Paul and grumpy LeBron James as anchor leg (kind of weighing down the boat).
The only shame is that the paparazzi failed to capture what happened next, according to Union: a violent capsizing. Perhaps the Absurdity Wing could include an animated simulation.
The DeAndre Jordan kidnapping and emoji war | July 8-9, 2015
Remarkably, this crescendoed one day after the appearance of the banana boat photo -- and resulted in one classic crossover tweet.
It is impossible to reproduce what it felt like to live this on Twitter -- the combination of tension and hilarity as one plot twist followed another. It did not seem like a real thing. It was too absurd. Anyone who worked that story, or worked around it, or ignored their job to follow it, will always remember where they were that day and night.
A traveling delegation of Clippers barricaded Jordan in his own home in Houston and stayed there until he reneged on his verbal agreement with the Mavericks. Jordan's agents couldn't get in the house. Mark Cuban couldn't get in the house!
There were even reports at ESPN that Cuban was driving around Houston, pleading with Jordan via text for the address to his home. (This proved inaccurate, but the fictional image of Cuban rage-texting lives on. Also, Cuban disputed the report in a message he released via Cyber Dust. Everyone really nailed every detail.)
As the story unfolded on July 8, Chandler Parsons, the Mavs' recruiter extraordinaire, tweeted an airplane emoji -- indicating he was en route to salvage the situation. (Parsons later explained he was actually heading to Las Vegas, but we at the Hall choose not to believe that. The monthlong bender Parsons organized for Jordan in the lead-up to free agency is worth retelling, too.)
That tweet set off what is probably the NBA's greatest sustained Twitter moment: the epic transportation emoji war of 2015. JJ Redick tweeted a car. Blake Griffin tweeted a plane, then a helicopter, and then a car, because apparently he is Ethan Hunt. Chris Paul tweeted a banana next to a boat, and I would argue NBA player Twitter peaked at the precise moment Paul hit "send" on that tweet. The melding of the banana boat and the Jordan hostage situation was the perfect encapsulation of a wild and dumb 24 hours.
Paul Pierce followed by tweeting a Clip Art image of a rocketship, because he did not know where or how to access emojis. (Also: Why a rocket?) Younger players mocked him. Ageism! Pierce's tweet is objectively funnier than Paul's, but Paul's is the superior historical artifact.
The mood lightened (outside of Dallas, at least) as the crisis eased into a denouement of chicken, video games, and Jordan returning to the Clippers. Griffin capped the night with another all-timer:
Don't agree with the furniture layout but I'm not an interior designer. pic.twitter.com/23PNgQB88z

- Blake Griffin (@blakegriffin23) July 9, 2015
And, FIN.
The Hall could construct a diorama-style replica of Jordan's house, displaying where everyone was at key moments. An accompanying video featuring the emojis, and interviews about the emojis, could provide visual stimulation.
JR Smith throws soup at Damon Jones | Winter, 2018
This begs for a sculptural recreation of the most absurd moment of the one of the NBA's all-time absurd careers: Smith tossing a bowl of chicken tortilla soup at Jones, a Cavaliers assistant, for reasons that remain unclear. (Cleveland staffers say chicken tortilla is among the most popular and delicious soups offered at the Cavs practice facility, and lamented Smith tossing away a bowl of it.)
For kids, we could even create a Duck Hunt-style video game in which they act as Smith, and whip bowls at enemies who pop out from behind various obstacles. (The game could also allow kids to play as coaches dodging Smith's steaming projectiles.)
The Smith-Jones sculpture would sit in the center of a room devoted to Smith. Other features: a smaller sculpture (hat tip: The Ringer) of LeBron pleading, arms out and mouth agape, as Smith dribbles out the final seconds of regulation in Game 1 of the 2018 NBA Finals (and, really, LeBron's Cleveland career) -- the most consequential on-court boner in league history; the PhunkeeDuck hoverboard Smith rode to and from games during the 2015 Finals; one of the shoelaces Smith loosened from unsuspecting victims during free throws until the league fined him $50,000; and other stuff I'm surely forgetting.
---
Smaller rooms
Nick Young, JaVale McGee and the late 2000s Washington Wizards
This could just be a few video screens rolling highlights. Like the time Young and McGee attempted the cinnamon challenge:
The time McGee ran the wrong way:
The time McGee tried to dunk from the foul line in a game the Wizards trailed by 25 points with 20 seconds left in regulation:
Perhaps the Hall could commission a painting of this:
You know how museums enclose old documents in glass cases? We would need to do that with a printed recreation of the 2011 blog post (since deleted) in which Ted Leonsis, the Wizards owner, declared that "a new big three" of Andray Blatche, Jordan Crawford and John Wall had "announced its arrival."
Faux-iconic jerseys and other ignoble NBA art
This is where we hang the Rasheed Wallace and Carmelo Anthony Hawks jerseys, plus the most regrettably garish design elements in league history: the teal, horse-head jerseys Detroit used in the mid-1990s, or the jumbled Houston court from the same era -- complete with sneering cartoon rocket.
(David Stern hated that court, because visiting players wearing blue uniforms would almost vanish on television when they ran through the painted portions.) We could also include most of the awful sleeved uniforms, plus the story of the Nets nearly rebranding themselves as the Swamp Dragons.
I'd support displaying some of the daring jerseys that worked, including Toronto's purple dinosaur duds -- a hit almost in spite of itself.
Mascots!
Please indulge my love of mascots, if only to include the greatest GIF in sports history: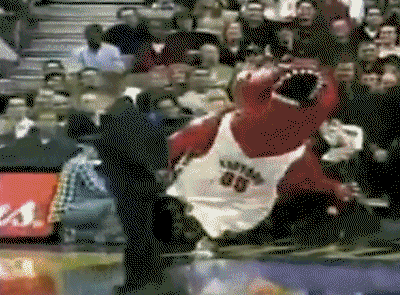 This is obviously hilarious, but there also something horrifying and sad about it: the open mouth and flailing limbs, the sheer amount of effort leading to a final, devastating splat. This GIF is what it feels like to try and fail.
We could also include: Benny the Bull's cracked-out popcorn orgies; Rocky's feuds with both Russell Westbrook (killjoy) and Charles Barkley; Robin Lopez's reign of terror; and the entire ill-fated existence of the milquetoast Brooklyn Knight, who drove a van that looked as if it were designed to frighten children (and parents):
Coach's corner
The permanent collection would include: video of Randy Wittman trying to figure out his whiteboard; a sculpture of Dwight Howard draping his arm around Stan Van Gundy in front of assembled media, not realizing Van Gundy had just informed said media Howard wanted him fired; Brian Shaw rapping a pregame scouting report in an effort to connect with the kids; "Take that for data!" (though, "They're not gonna rook us!" is the catchier one-liner from David Fizdale's unforgettable postgame monologue). Are Quin Snyder's villainous mad faces worthy? I'm torn.
We need something commemorating Tom Thibodeau. Maybe a sculpture of Thibs, arms flapping, that shouts "Ice, Ice, Ice!" at random intervals -- and also acts as an ice dispenser for customers looking to freshen their beverages?
Can we find the plastic cup Jason Kidd "accidentally" spilled to manufacture an extra timeout in Brooklyn?
Underrated part of that clip: a slack-jawed Lawrence Frank, not yet banished to "daily report" Siberia, trying to process what Kidd had done.
Remember when Mike Woodson suddenly had no eyebrows?
(There turned out to be a perfectly mundane explanation. It's still funny.)
There is so much more to add, especially if we revisit 1970s fashion.
---
Other artifacts/content
• Carlos Boozer's spray-on hair. (Did Deron Williams also try this?)
• An explainer on the Kevin Durant burner, umm, situation. I thought about including the Bryan Colangelo Twitter scandal, but that created real heartache for so many people that it feels too depressing.
• Speaking of Durant: We'd need to recount the icy, meticulous pettiness of Russell Westbrook -- the "cupcake" photo, as recounted by Sports Illustrated's Lee Jenkins, and the photographer's vest Westbrook wore to a November 2016 game as a subtle troll job. I am open to including more examples of NBA pettiness, but only the very best. Suggestions?
• Sports Illustrated covers touting the Deron Williams/Joe Johnson/Paul Pierce/Kevin Garnett/Brook Lopez Nets (tagline: "Who Wants A Piece Of Them?") and Steve Nash/Kobe Bryant/Dwight Howard/Pau Gasol Lakers ("Now This Is Going To Be Fun").
• This entire Kobe Bryant photo shoot.
• For some reason, I have never forgotten this kid's reaction to a Deron Williams dagger in New Jersey:
It is hypnotic. It is the wholesome, unhinged reaction of a young fan who thinks that, with the recent Williams trade, the sad-sack Nets are on a path to glory -- that this shot to which he bore witness will be remembered as the moment things changed. "Jubilation ... in Newark!"
• Other absurdist fans would include gold-chain Lakers guy (actually a loyal fan and regular sign-brandishing attendee at Staples Center) and Lakers sunglasses bro -- pure distillations of Lakers exceptionalism. We also have room for the Heat fan who flipped off Joakim Noah. She is angrier about Noah's presence than I have ever been about anything. That is borderline George Brett-in-the-pine-tar-game-level rage.
• A replica of the Orlando Magic's whiteboard from April 2017, listing their free agency and trade targets -- an image of which they accidentally participated in releasing on Twitter. Whoops. The GM of that Magic team, Rob Hennigan, is now the Thunder's vice president of insight & foresight. Yes, that is a real title.
• Zaza Pachulia screaming, "Nothing easy!"
• "Bucks in six."
• "Monta Ellis have it all."
("The only thing he has that I don't have is more wins and two championships.")
• Gino Time!
• Manu Ginobili eliminating a bat. Install a flying mechanical bat, and let kids try! We could even charge them 25 cents apiece.
I'm not sure we want to go down a rabbit hole of nonsensical trades, draft picks and signings. There are too many. There is also something cruel in bringing up Greg Oden and Sam Bowie over and over.
But this is different: A team inviting the media into its war room, and not exactly putting on its best face. The best part, by far, even better than everyone just repeating "Stauskas" the way Bunk and McNulty hashed out an entire conversation using the F-word, is Vivek Ranadive, Sacto's owner, leading the entire staff in a half-hearted "1, 2, 3, Nik Rocks!" cheer. Ranadive is so excited. His cheer is louder than those of everyone else in the room put together. The level of fake laughter around him would be good enough for a studio audience at "The Big Bang Theory."
Check out Pete D'Alessandro, then the Kings' GM, sitting to Ranadive's right at the 7:40 mark as Ranadive explains the "California welcome": D'Alessandro has to look away and close his eyes while smiling like a loon.
That freeze frame is almost as evocative as the split-second in which Lisa Simpson breaks Ralph Wiggum's heart. That smile is hiding so much inner anguish. Stare at it too long, and images of your worst fears flood your brain.
Of course, the Kings traded Stauskas to Philadelphia a year later in a salary dump that made no sense and indicated the Kings might not have understood some of the league's cap rules.
• Sauce Castillo: the best accidental nickname in sports history? Philadelphia's public address announcer would sometimes straight-up call Stauskas "Sauce Castillo" after made baskets.
• A draft mistake that fits the conceit: Minnesota selecting (or acquiring via prearranged trade, to be accurate) a player who was probably ineligible to be drafted (Tanguy Ngombo) in 2011. KAAAHHHNNNNNNNN!!!!!!! (If the curator wished to add a paragraph on Minnesota's 2009 draft, I would allow it.)
• How u?, the line of the 2011 lockout.
• Printed out on parchment paper, hidden behind glass: "The NBA Is Lucky I'm Home Doing Damn Articles," by Dion Waiters. The essay itself is personal, moving and funny -- really good. It is not absurd. But that title? That title is everything. The unnecessary "damn" before "articles," as if the act of writing is an inconvenience for the emperor of Waiters Island, makes it sing.
• Nerlens Noel's hot dog, rotating endlessly and gathering dust inside one of those disgusting glass heater things.
• The fire extinguisher case Amar'e Stoudemire might or might not have punched after the Knicks lost Game 2 of their 2012 first-round series in Miami. This is on the border of being too serious, and we don't want to overwhelm customers with information on every player who hurt his hand punching something -- a chair, a wall, a whiteboard (hi, Bron!) a picture frame in a hotel room, whatever.
But Stoudemire missed only two games, and the Knicks had no shot regardless. The object being a fire extinguisher somehow makes it both funnier and dumber. (Stoudemire later claimed he tried to slap the wall, but hit the "edge" of the fire extinguisher case.)
• The Three Alphas. A terrible, unearned nickname for a mismatched trio everyone but the Bulls knew was doomed to fail.
• This Trevor Booker shot.
This is not a museum for buzzer-beaters or half-court heaves. But this shot never got the attention it deserved. That is insane. I have never seen anything quite like that in an organized basketball game, let alone an NBA game.
• Eric Bledsoe, allegedly at the hair salon.
• The secret tunnels at Staples Center, and the Clippers-Rockets non-brawl of 2018. I don't care that almost every tidbit in the initial reporting turned out to be false or overblown. There is no secret tunnel, as anyone who has spent time at Staples knows. Clint Capela did not knock on the front door of the Clippers' locker room to distract LA players while the rest of Houston's raiding party snuck in the back, according to the league's investigation. That those details seemed believable amid the Twitter fervor is a testament the NBA's ridiculousness.
• Andrea Bargnani: the Knicks era. Remember this Keystone Kops GIF of Bargnani wandering around on defense?
The futility is haunting.
And this missed dunk -- ambition unrealized:
And this Smithian time-and-score boner, fittingly jacked within just a few feet of Smith himself:
Has anyone contemplated that the spirit behind this act, confused and audacious at once, embedded itself somewhere deep in Smith's soul -- like Voldemort's accidental horcrux implanting within Harry -- and set off within Smith a determination to channel it (albeit by not shooting) at the highest-leverage moment possible?
In any case: Bargnani the Knick was a pouting shade of a player. New York's trade to acquire him remains one of the most absurd of the past decade.
• Klay Thompson, scaffolding enthusiast.
• Clips of Lance Stephenson blowing in LeBron's ear and apparating into Derek Fisher's camera shot. There are surely other worthy GIFs -- I've always enjoyed the James Harden eye-roll -- that I don't even know about. Again: help!
This is only a start ...