For years, the grass field at Nissan Stadium in Nashville was a mess. It was loose in some areas and barren in others, and it got increasingly slippery during the Tennessee Titans' regular season. Worse, according to data collected by the NFL and the NFL Players Association, there was a higher rate of noncontact injuries to the lower extremities on that grass field than on artificial turf in some NFL stadiums.
So the Titans, along with the local governments that own the stadium, made a decision they said would improve safety and would be supported by the data. Before the start of the 2023 season, they converted the playing surface to a version of monofilament synthetic turf called Matrix Helix.
"From an injury prevention perspective, that was a logical decision to make," said Jeff Miller, the NFL's executive vice president for communications, public affairs and policy.
The verdict rankled the NFLPA, however, and left the NFL and Titans to explain why turf -- long associated with higher injury rates and elevated wear and tear on players -- was the best option. It also illustrated the complex nature of an increasingly public issue between the league and its players, one that arises every time a prominent player suffers a significant injury on turf. There have been several recently, including Buffalo Bills star linebacker Matt Milano suffering an injury to his right leg Sunday that will require surgery.
After New York Jets quarterback Aaron Rodgers tore his left Achilles on the turf at MetLife Stadium on Sept. 11, NFLPA executive director Lloyd Howell called on owners to convert all 30 stadiums to grass. In subsequent interviews with players, league and union officials, along with unaffiliated experts, ESPN worked to understand whether Howell's request is a possibility, why the two sides are interpreting their shared data so differently and whether plans for the 2026 World Cup will provide a more agreeable way forward. It's a topic that transcends data for players, who notice a dramatic difference in how their bodies react on different surfaces.
FIFA's financial investment in ensuring the World Cup is played on grass -- even in NFL venues that feature turf -- raises the issue of the role money plays in the grass vs. turf debate. It's estimated a natural grass field could cost a cold-weather team $2 million to $3 million per year to maintain, including $400,000 each time it's replaced, according to a professor of turfgrass research at Michigan State. Turf would cost approximately $1.25 million to install and maintain, according to the Capital Improvement Board, which operates Lucas Oil Stadium in Indianapolis. Prices, however, vary by market.
There are 30 NFL stadiums, including two shared by two teams, and they are split evenly, with 15 featuring various forms of grass and 15 using different types of synthetic turf. Aside from the improvements in turf technology, the argument against converting all 30 to grass includes the facts that most stadiums are publicly owned, those municipalities often hold events throughout the year and turf is the cheaper option. There are also disparate weather conditions, and the combination of those factors requires 30 individual cases to determine whether grass, turf or some combination of the two is the most appropriate playing surface.
"We can't just say 'hybrid,'" said Jeff Crandall, chair of the NFL's engineering committee. "We can't just say 'grass,' and we can't just say 'synthetic.' That is not the answer. We've got to figure out what particular composition is best given the circumstances involved."
The NFL says improvements in turf technology have closed the gap on noncontact lower extremity injury rates and revealed last year that the rates during the 2021 season were statistically even. But as the NFLPA pointed out months later, the gap increased during the 2022 season (.048 per 100 plays on turf in 2022, .035 on grass).
NFLPA president JC Tretter said "it shouldn't be this hard" and believes it is "pretty obvious" grass would protect players best wherever it is possible.
"We feel the data has proven our point," Tretter told ESPN. "We feel the player opinion is consistent. There are, really, only two bodies of people that are disagreeing at this point with us: People who manufacture turf and the NFL. And that's a frustrating spot to be in."
---
Two interpretations of data
The perception of artificial turf as dangerous is so entrenched in NFL history that it's referenced in the common term for a specific injury: turf toe, which occurs when the big toe sticks in the turf and hyperextends while the rest of the body moves forward.
The term dates back to the original artificial turf that was widespread in the NFL during the 1970s. AstroTurf, named for the surface installed in Houston's Astrodome, was essentially carpet with a rough texture that was laid over concrete. It has since been replaced by today's versions engineered to better mimic grass and dirt. It uses fibers and infill -- the material that kicks in the air on slow-motion replays as a wide receiver drags his feet inbounds. And there are pads underneath to soften impact when a player falls.
But grass remains the clear preference of players, despite the data set cited by the NFL in guiding the Titans' shift from grass to turf. The NFL, however, does not release injury data about specific stadiums to the public.
The safety statistics are generated through the Field Surface Safety and Performance Committee, a group mandated by the collective bargaining agreement that meets twice yearly and includes experts selected by the NFL and the NFLPA, in addition to their respective medical officers. To help identify injuries potentially caused by the playing surface, the committee focuses on noncontact injuries suffered in the lower extremities. In each of the past 11 years, the injury rate has been higher on turf, although in 2021 the figures were close enough that the difference was statistically insignificant (.042 per 100 plays on turf, .041 on grass).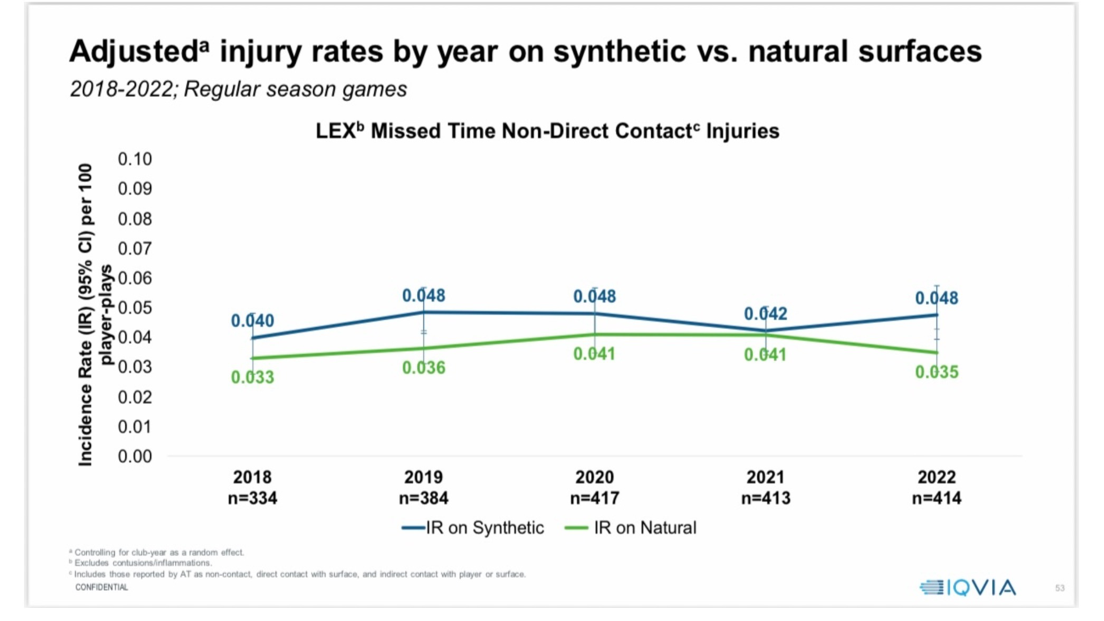 NFL injury rates, grass vs turf. 2018-22. Source: NFLPA
The NFLPA called the 2021 data an outlier, and players are becoming increasingly outspoken on this topic.
"It's pretty simple: The numbers say that grass is healthier for the players," Kansas City Chiefs quarterback Patrick Mahomes said. "I want to play on the best surface that will keep me healthy."
Green Bay Packers tackle David Bakhtiari said: "We already play a violent game, so why increase the risk?"
NFL officials don't dispute the relevance of the data on playing surfaces but say it represents only a portion of a more holistic approach to reduce lower extremity injuries, one that includes better equipment, smarter training habits and better monitoring of exertion levels.
"Our goal is to reduce lower extremity injuries, period," Crandall said. "And we need to do that on all surfaces, regardless of what it is."
---
'You could feel a difference in your body'
Tretter, who played eight years as an NFL offensive lineman, remembers being hooked up to an ice machine to relieve the pain from playing on turf.
"I knew playing the week after was going to be extra difficult because of the wear and tear and the pounding my knees were going to take on turf," he said. "And then I'd look at the worst-case scenario: A turf game [on Sunday], and then if that Thursday we had to play a game and that was turf, too.
"I knew I was going to be hooked up to an ice machine, unable to move, for the next 10 days after that. ... I think it's damn near unanimous amongst players what their experience tells us."
Tretter also said when he was rehabilitating after a knee surgery while playing for the Cleveland Browns in 2020, athletic trainers would instruct him to take a day off from rehab rather than use the indoor turf field at the Browns' facility.
Indianapolis Colts linebacker Zaire Franklin, meanwhile, said he knows how his body feels after working on turf compared with grass.
"We just did a walk-through on turf, and just being out there, I'm like, 'Man, I could feel it,'" he said. "I feel it in my legs. ... You could feel a difference in your body.
"I even talk to coaches when they're at practice and they're standing on the sideline. Their body feels different whether we practice on turf or grass, and they're not even running. They're just standing. So, if that's happening to them and they're just watching, what do you think is happening to the guys that are actually pounding their feet on it?"
It's possible to quantify injuries. What's harder to quantify is how players feel after playing on turf. For the players, that is as much of a problem as the injuries attributed to artificial surfaces.
The NFL and NFLPA use an impact test to measure how hard or soft turf is, and according to Crandall, the NFL's engineering committee conducted a survey in 2022 to see whether player perception matched the test results.
The results were "inverse," Crandall said. In other words, surfaces that tested as hard felt soft to players who participated in the survey, and vice versa.
"So there is a disconnect," Crandall said. "We're listening to the players. Clearly if we just made fields harder or softer, we're not capturing the feedback. ... We certainly don't minimize the feedback from the players, and we realize, hey, this is something they have to play on every day, and we need to account for that, but there is no one out there currently that has the metric that says this is what you want a field to do that would align with their perception from a biomechanical standpoint."
A potential modification for the test is under "active research," Crandall said.
The NFLPA filed a grievance in January over what it said was the NFL's decision to play a Week 16 game in 2022 between the Detroit Lions and Carolina Panthers at Bank of America Stadium in Charlotte despite a test result that indicated the field was too hard to play on.
Asked about Crandall's comments regarding last year's study, Tretter said: "If they cared about hardness, I don't think that Carolina game goes on without an hourlong delay to let the sunlight warm up the field, so guys aren't running on what's equivalent to concrete. But they chose not to, and that's in their discretion to choose not to. But it also shows you what they think about health and safety issues and hardness issues."
---
Bad grass vs. good turf
Mark Drakos is an orthopedic surgeon at the Hospital for Special Surgery in New York and an assistant team doctor for the New York Knicks and the New York Mets. He had a fellowship with the Giants and was on the committee charged with making a recommendation about different synthetic turf surfaces for MetLife Stadium -- home of the Giants and Jets -- before its inaugural season in 2010. Drakos said grass wasn't an option. The two teams had played on synthetic turf for all but three seasons since they began sharing the old Giants Stadium when it opened in 1976. Drakos wasn't in the room when the surface was chosen, but he gave his opinion ahead of time. "Me and probably six or seven other doctors were sitting there listening to all these different presentations [from turf companies]," Drakos said. "And at the end, I said, 'Listen, from a medical standpoint, we should do grass.'"
MetLife stuck with synthetic turf because "natural grass did not hold up for the busy fall schedule with two teams, 20 NFL home games and the Northeast climate," according to Helen Strus, VP of marketing and communications for MetLife Stadium.
But then and now, Drakos' research found grass is best for players' health, particularly when it comes to ankle and noncontact knee injuries. He said: "The data is pretty conclusive." He also said turf is stickier and less forgiving, which can cause the foot to catch and send torque up to the knee.
"We already play a violent game, so why increase the risk?"

David Bakhtiari
on why he wants to play on grass
This year, the American Journal of Sports Medicine examined 53 studies, across all sports and levels of competition, published from 1972 to 2020. Twenty-five of them compared foot and ankle injuries on different surfaces, and 32 examined knee injury rates on synthetic turf and on grass. In summary, they found that there are "a higher rate of foot and ankle injuries on artificial turf compared with natural grass on both old- and new-generation turf," and that "elite-level football athletes" were more predisposed to knee injuries on synthetic turf. The AJSM said there were "a few" studies that sided with turf on overall injury rates.
"The artificial turf industry has been vehement," said Diana Zuckerman, president of the National Center for Health Research, "and they've made a lot of money claiming that their product is perfectly safe, and there's really growing evidence that that's not true. And it's clear that even in the most recent types of artificial turf ... the accidents are still more likely to occur."
"Synthetic turf is a highly researched product that communities, athletic departments and sports organizations alike -- from youth fields to the professional level -- choose due to the consistent playing surface it provides," said Melanie Taylor, president and CEO of Synthetic Turf Council, the national trade association for the synthetic turf industry. "Every aspect of our fields have been reviewed by independent experts and multi-government bodies." Out of 30 NFL stadiums, only five are owned by the team's owner. The rest are owned -- and in some cases operated -- by local governments or their designees. Some NFL stadiums host more than 200 events per year, most notably domes such as U.S. Bank Stadium in Minneapolis and Mercedes-Benz Stadium in Atlanta.
In some cases, teams have said weather conditions make a grass field difficult. In announcing their decision to shift to turf, for example, the Titans said Nashville is in a "transition climate zone" that makes grass difficult to grow in the fall and winter.
"There's been a grass field I've played on that was probably worse than a turf field," Vikings defensive tackle Harrison Phillips said. "It's not a one-size-fits-all easy thing. I understand it's a complex issue."
The difference between injury rates on bad grass versus artificial turf is relatively low, according to Christina Mack, the chief scientific officer of IQVIA, which compiles NFL health data. Mack said the reduction in injuries is in the "low single-digit numbers" in such situations.
"That gets to the heart of the complexity of the issue," she said.
Some players have noted individual injuries they believe were caused by bad grass. Chicago Bears safety Eddie Jackson blamed the field at Soldier Field for a 2018 ankle injury that cost him two regular-season games as well as the Bears' wild-card playoff appearance that season. Also in 2018, then-Houston Texans pass-rusher Jadeveon Clowney said an inconsistent pocket of grass in Houston caused a knee injury. The Texans replaced the grass with turf after that season.
Tretter questioned whether some teams are doing everything they can, noting that cold-weather teams in Green Bay, Cleveland and Pittsburgh all have grass fields. The Packers use a hybrid version known as SISGrass, which reinforces the natural surface with synthetic stitching. According to the Packers' website, fibers are sewn three-quarters of an inch from each other and 7 inches deep, sticking up just under an inch above the ground. They are intended to provide a stabilization for the sand underneath the field, preventing the ground from getting pushed around and becoming uneven over the course of a long season. Also, as part of their operation of Lambeau Field, the Packers typically limit themselves to one non-Packers event on the field per year.
"Guys get really, really frustrated when those teams pitch the idea that it's too hard to grow grass," Tretter said. "If you can grow grass in Green Bay, Wisconsin, you can't tell me in Tennessee you can't handle it."
---
Taking action
There have been several changes to stadium surfaces in 2023. In addition to the Texans' conversion, two stadiums -- MetLife and Detroit's Ford Field -- removed what's known as "slit film" turf and replaced it with a style called "monofilament."
Last year, the NFLPA called for the "immediate replacement and ban" of slit film turf because injury rates were consistently higher.
For the 2023 season, slit film remains in three stadiums (U.S. Bank Stadium in Minneapolis, Lucas Oil Stadium in Indianapolis and Paycor Stadium in Cincinnati). The Minnesota and Indianapolis fields are scheduled for replacement in 2024. It had been used for the annual NFL games played at London's Tottenham Hotspur Stadium, but that surface was changed before the 2023 season. Still, the field drew the ire of Bills players Sunday amid a series of injuries, including the one to Milano. The Baltimore Ravens face the Tennessee Titans on Sunday at the stadium.
In the long term, the NFLPA is focused on efforts to install temporary hybrid grass fields in seven NFL stadiums that currently have artificial turf as part of FIFA's requirements for hosting the 2026 World Cup.
"When the World Cup comes around," Tretter said, "and these teams and these owners will roll out green grass for the European soccer teams to play on, and then replace it right back with turf for the employees, I feel like it's going to be a damning moment for this league because it will show you exactly how decisions are made. Decisions are made about how they can bring in money, and if they need to put in grass to make money, they will. And if they're going to roll out turf to make money, they'll do that."
It was announced at the 2023 Sports Field Management Association conference that Trey Rogers, a professor of turfgrass research at Michigan State, and John Sorochan, a co-director at the University of Tennessee Center for Athletic Field Safety, are both working for FIFA. The governing body has funded their research into temporary turfgrass fields for the 2026 World Cup.
Taron Johnson hammered the turf at Hotspur Stadium.
Said his foot stuck in the ground. That's why he got hurt. Also thinks it was a factor in other injuries today.

"That turf is terrible. Take it out."#Bills pic.twitter.com/TUt3XVwbUn

— Thad Brown (@thadbrown7) October 8, 2023
Rogers said that in 2010, when MetLife opened, they didn't have the same natural turfgrass technologies as they do now to maintain, say, a battered December field in a cold climate or a field inside a dome. He also said that resodding processes have improved and that the way sod is now produced, harvested and laid can mean installation on a Friday before a game on Sunday.
Sorochan said at the conference that he's looking to develop systems for the three retractable-roof NFL stadiums that will be used in the World Cup -- AT&T Stadium in Arlington, Texas; NRG Stadium in Houston; and Mercedes-Benz Stadium in Atlanta -- that include grow lights and a ventilation system that circulates air to keep grass growing indoors. (A fourth facility, SoFi Stadium in Los Angeles, has open sides but is covered by a translucent roof made of a plastic known as ETFE.)
The NFL's Miller said that there have been "a couple" of meetings between the league and FIFA regarding the surface transition and that those talks will continue. But he noted the "case uses are different," most notably the differences in the duration of time necessary to maintain. An NFL season is at least five months, compared with the World Cup's four weeks.
Sorochan, who is a consultant for the NFLPA for field safety and performance, said that process is possible for an NFL season, but there's one major challenge.
"It'll cost money," he said. "Everything costs money, but everything's possible."