Liverpool manager Jurgen Klopp was left to laugh in bemusement when a reporter asked him at length about his team's brand of "speed football" at the FIFA Club World Cup in Qatar...
The Toe Poke Daily is here every day to bring you all the weirdest stories, quirkiest viral content and top trolling that the internet has to offer, all in one place.
With a FIFA Club World Cup semifinal looming, Jurgen Klopp did his duty and faced the press in Doha ahead of Liverpool's upcoming clash against Liga MX side Monterrey.
However, with jet lag presumably a factor, Klopp was not given an easy ride by the media -- and one infectiously enthusiastic journalist in particular.
After being selected to ask a question, the reporter began by complimenting Liverpool as "the best team in the world" before regaling Klopp about all the times he's seen them live.
🗣️ "I saw you at two Champions League finals. One I supported Real Madrid. They won, unlucky!" 😮😬

🗣️"I love the way you play speed football." 🚀⚽️

Jurgen Klopp: "Thank you!" 😌😂

The @LFC boss was amazed by a journalist's long question at the #ClubWC #Klopp #LFC #Liverpool pic.twitter.com/CpCjECf5dm

— Omnisport (@OmnisportNews) December 17, 2019
After a full minute of the reporter sincerely espousing the Reds' "speed football" and all-action pressing, during which Klopp went through the gears from polite listening to openly laughing, a question finally arrived, only for a bamboozled Klopp to utter a two-word response.
"Thank you," gasped the Liverpool coach while still trying to process the barrage he'd just been subjected to.
"We do it by training," was his eventual answer, once the laughter had subsided.
"That's all."
Just smile and nod, Jurgen. Smile and nod.
While Klopp was with his entire first-team squad in Doha, there were plenty of fresh faces and unfamiliar names on display as Liverpool took on Aston Villa in the Carabao Cup quarterfinals on Tuesday (stream the replay of the game on ESPN+ in the U.S.). As the seniors were preparing for Wednesday's game, under-23 boss Neil Critchley was handed the reins at Villa Park and fielded the youngest side in the club's history.
Liverpool unveil the squad playing in the Carabao Cup 24 hours before their Club World Cup semifinal 👀 pic.twitter.com/ylDGgLxvLE

— ESPN FC (@ESPNFC) December 17, 2019
What do you think of Liverpool's line up? 🤔 pic.twitter.com/vcUY9soxb8

— ESPN FC (@ESPNFC) December 17, 2019
Indeed, with an average age of just 19 years and 182 days, the Reds fielded their youngest ever starting XI with five debutants and squad numbers ranging from 51 (Ki-Jana Hoever) all the way up to 99 (Thomas Hill).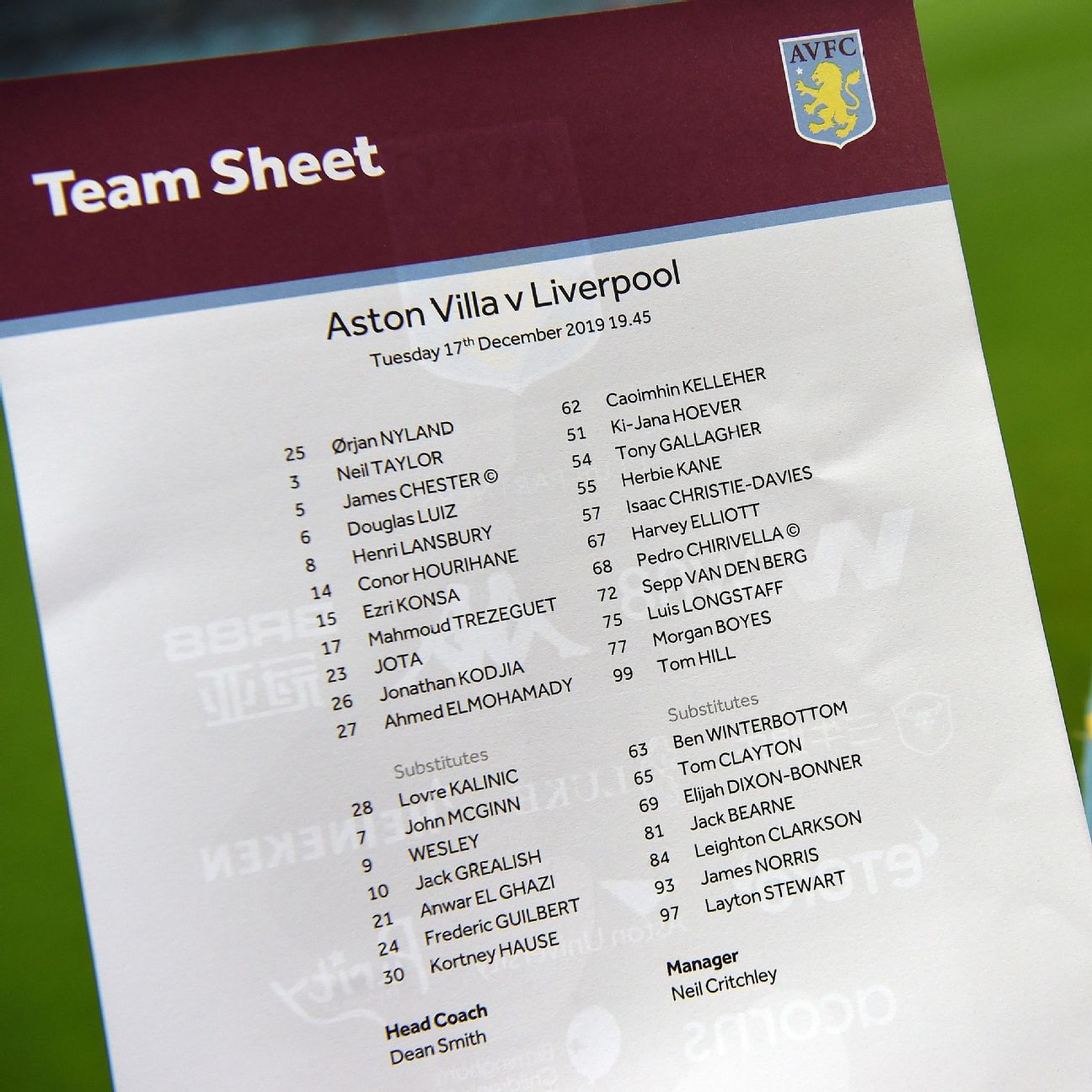 Before kick-off, several choice stats were offered that served to sum up just how inexperienced Liverpool's fledgling team was.
Liverpool's matchday 18 have made 34 more appearances for Doncaster than for Liverpool. https://t.co/UhqA8Xoden

— Richard Jolly (@RichJolly) December 17, 2019
None of Liverpool's starting XI tonight were alive when Final Fantasy VII came out

— Duncan Alexander (@oilysailor) December 17, 2019
On the other hand, Villa fielded a fairly strong side full of experienced seniors and internationals, so it wasn't much of a shock when they waltzed to a 5-0 victory on home turf.
Everybody was making the same joke afterwards, with Villa complaining that they'd been inundated with replies posting the vintage clip of England striker Michael Owen destroying a young goalkeeper's fragile confidence, leading to a withering reply from goalkeeping legend Neville Southall.
Our mentions right now: pic.twitter.com/IIq1eZlDq8

— Aston Villa (@AVFCOfficial) December 17, 2019
The defeat was Liverpool's biggest in any competition for over two years, since September 2017 in fact, when they lost 5-0 at home against Manchester City in the Premier League.
So embarrassing was the result that some -- with tongues pressed firmly in cheek -- began to ask questions about Klopp's future with the club.
Villa have scored 11% of the goals they managed in their last full PL season. Klopp has to go. Hearing reports he's not even at the game.

— Duncan Alexander (@oilysailor) December 17, 2019
I actually rate Klopp. It's not worked out at Liverpool but he's got something. Definitely not management material but he's a great coach, innovative, excellent motivator and tactically astute. I'd have him at United as Solskjaer's number 2.

— Nooruddean (@BeardedGenius) December 17, 2019
This after Klopp failed to rally his young charges with a rousing half-time text message sent from Doha encouraging them to "keep being brave," although they did only concede one more goal after the break.
'Keep being brave': Jurgen Klopp sent his young Liverpool side a half-time message from Qatar after they went in 4-0 down against Aston Villa at the interval of Carabao Cup tie https://t.co/9PIshw8ful pic.twitter.com/0HxmXQGE8V

— MailOnline Sport (@MailSport) December 18, 2019
And so, Liverpool have been eliminated at the quarterfinal stage of the cup for the first time in over a decade -- not that Klopp was overly concerned.
Depending on the result against Monterrey, Liverpool will either play Copa Libertadores winners Flamengo in the final or Asian Champions League holders Al-Hilal the third-place playoff on Saturday.
Then, just five days later, they parachute back into the Premier League at the most hectic time of the year. They travel the second-placed Leicester City in Dec. 26 before hosting high-flyers Wolves and Sheffield United in the league and local rivals Everton in the FA Cup over the subsequent 10 days.
Who knows, they may be calling on some of the kids again by the end of that run.