From David Beckham's red card (and subsequent redemption) to winning the World Cup, England's international history has been a real roller coaster...
The Toe Poke Daily is here every day to bring you all the weirdest stories, quirkiest viral content and top trolling that the internet has to offer, all in one place.
Jump to: England's lows | England's highs
With the England national team set to play their 1,000th international match on Thursday against Montenegro at Wembley (stream live on ESPN+ at 2:45 p.m. ET in U.S.) , we thought we'd chart some of the extreme highs and lows that have peppered the 999 outings thus far.
There have been big wins, shocking defeats, ghost goals, (multiple) penalty shootout heartbreaks, shameful red cards and wild celebrations over the course of almost 150 years' worth of international matches that started in 1872.
It's frankly astounding that we've managed to whittle it down to 10 of each, so let's kick off with the lows.
Lows
Defeat to the U.S.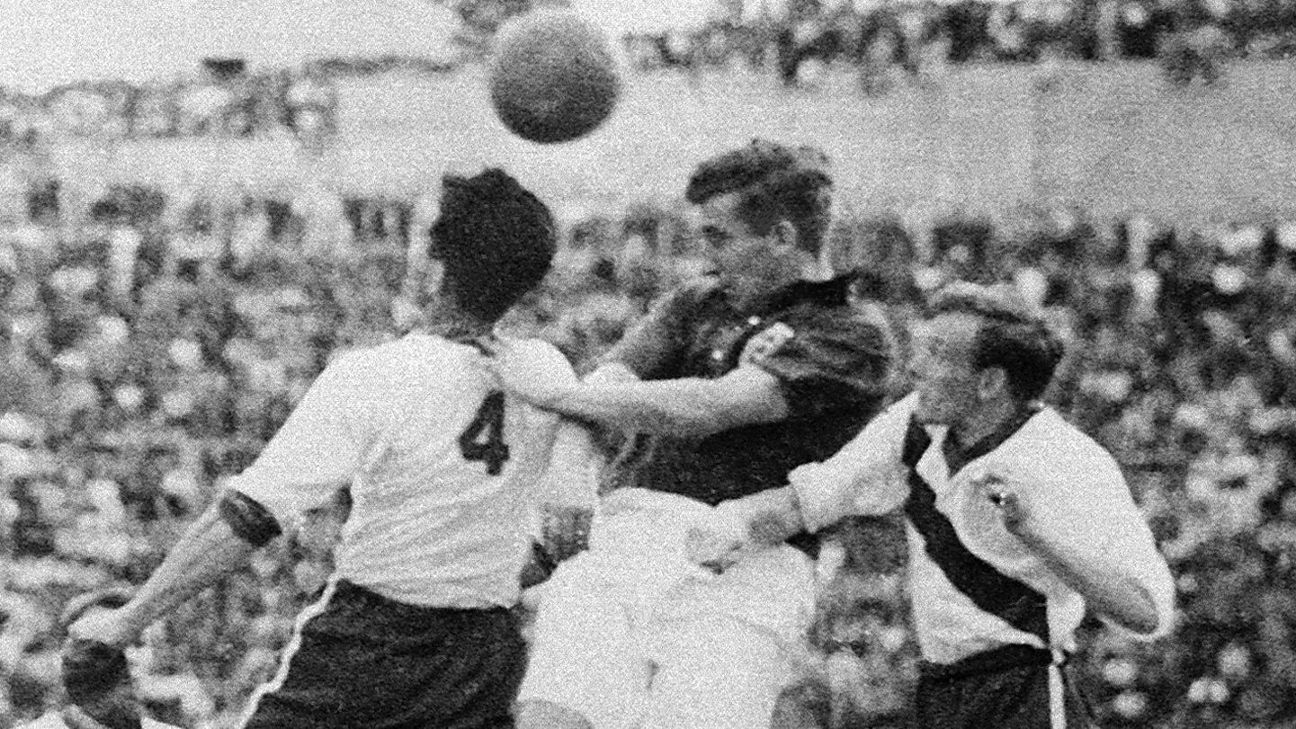 You've got to hand it to England: when they fail, they fail spectacularly.
The famous defeat against the United States at the 1950 World Cup is still regarded as one of the biggest shocks in tournament history. England were one of the most revered international teams in the world and the Americans were a bit-part side of semi-professionals who had trained together only once. The latter won 1-0.
Not nearly as shocking but just as embarrassing was the 6-3 defeat against Hungary in the "Match of the Century" in front of 105,000 spectators at Wembley in 1953 -- a loss so immensely humbling that it forced a wide-scale revolution in coaching practises in England.
Proving that the debilitating defeat is not just a thing of the past, the Three Lions vintage of 2016 managed to stage a fitting tribute to their forefathers by getting jettisoned from Euro 2016 by minnows Iceland despite taking the lead in the fourth minute.
The Hand of God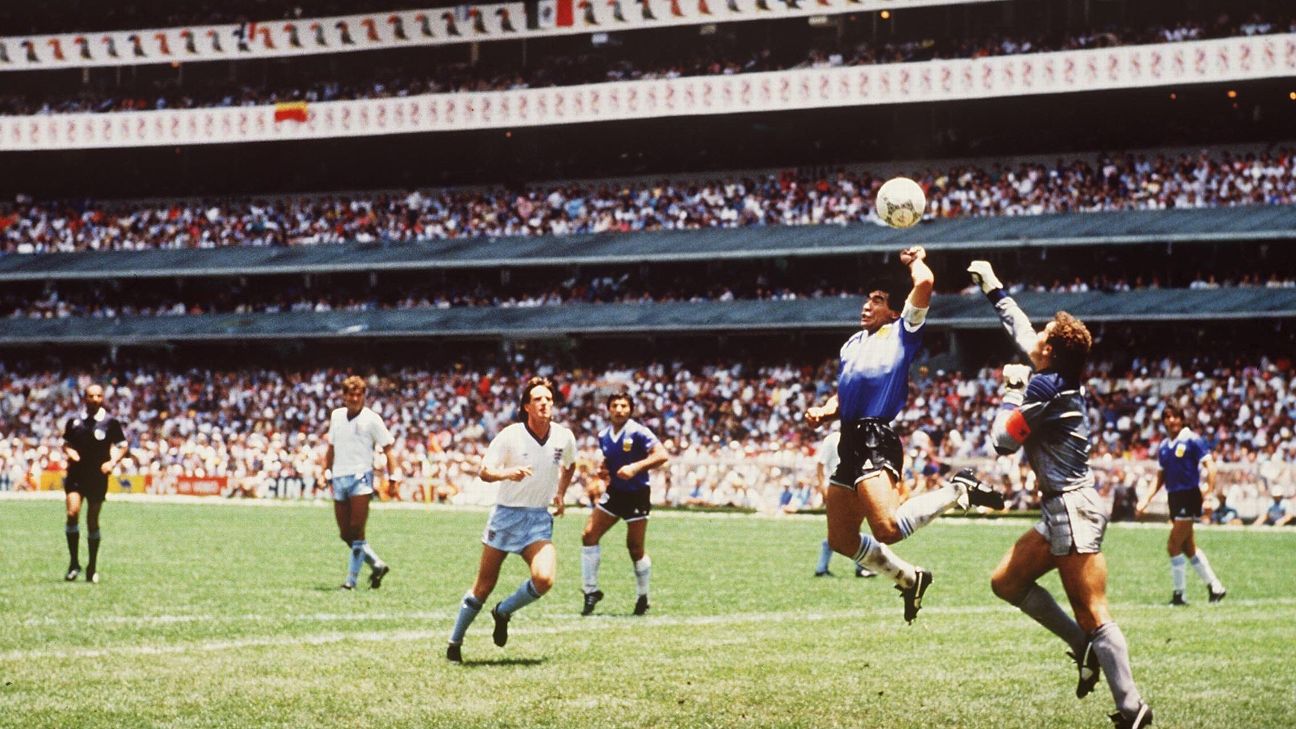 The big one. England faced Argentina in the quarterfinals of the 1986 World Cup in front of 115,000 fans inside the Azteca Stadium in Mexico City and a global audience of millions. The game was won by one of the most compelling individual performances of all time, by Diego Maradona channelling both the hand and feet of God.
The opening goal is one that still sticks in the craw: the sight of a stocky, diminutive Maradona out-jumping Peter Shilton to knuckle the falling ball past him and into the gaping maw of the England net. Four minutes later, the England defence was reduced to spectators once again as Maradona went slaloming through them to add his second -- a timelessly beautiful demonstration of his grace, drive and skill -- in what swiftly became a 2-1 win for Argentina.
The game is long since over and the result will stand for eternity, but even 33 years on, the controversy surrounding it continues on a rolling boil.
"Do I not like that"
Alas, 1993 was not a good year for English football. For reasons entirely unbeknownst, national team manager Graham Taylor decided to allow a TV documentary crew into his dugout for a vital World Cup qualifier against Netherlands.
England lost 2-0 in Rotterdam and Taylor's increasingly exasperated utterances -- all caught on camera -- over the course of a frustrating evening were subsequently used as a stick to beat him with by the national press.
At one stage he was recorded telling a match official: "The referee's got me the sack, thank him ever so much for that won't you!" But it was his exasperated outburst of "Do I not like that" during a game against Poland that stuck in the nation's collective conscience.
England eventually failed to qualify and it wasn't long before Taylor was reduced to a root vegetable on the front page of The Sun.
Conceding fastest-ever World Cup goal to San Marino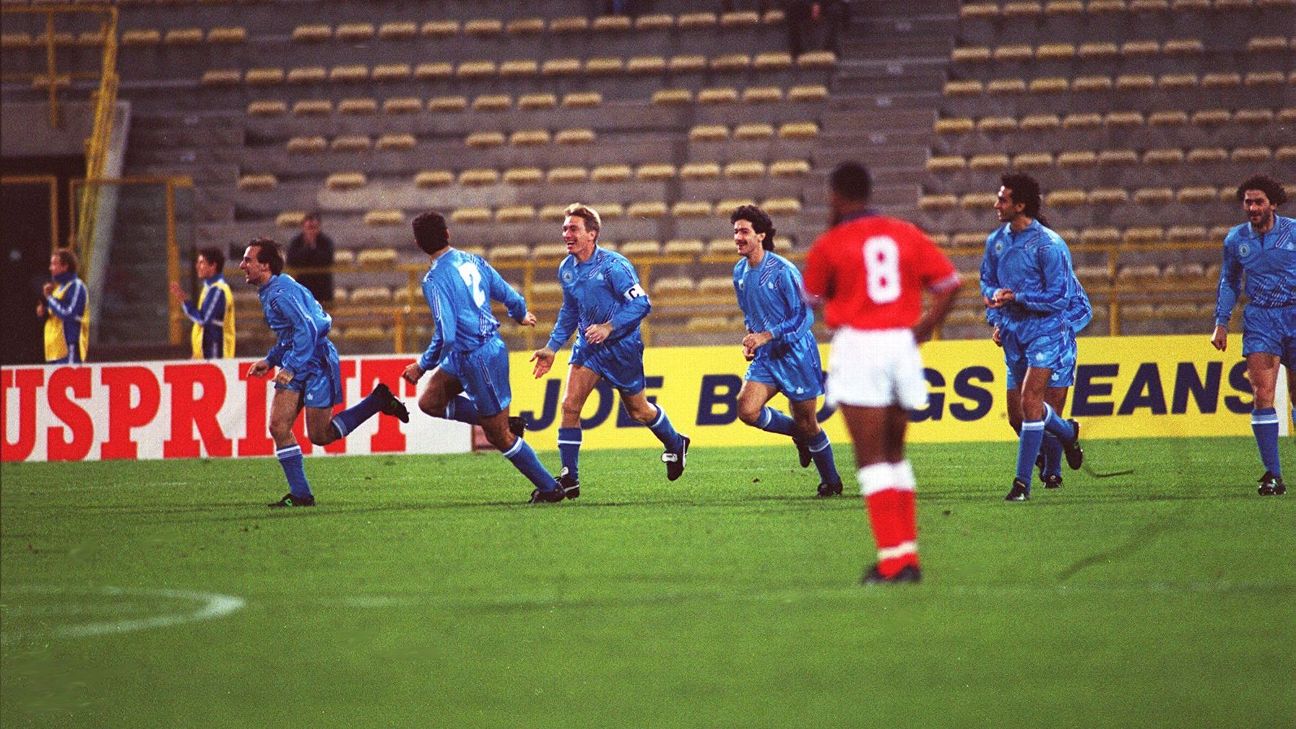 Davide Gualtieri is a name that still haunts England supporters of a certain vintage, as it was he who scored for San Marino just 8.3 seconds into a World Cup qualifier in 1993.
After grinding through a fairly poor qualifying campaign, England needed to beat San Marino by seven clear goals to reach USA '94 by leapfrogging Netherlands on goal difference in their final game.
They went on to win 7-1 but, like a butterfly flapping its wings in Bologna, it was Gualtieri's lone strike inside the first minute that ultimately proved devastating
Southgate's penalty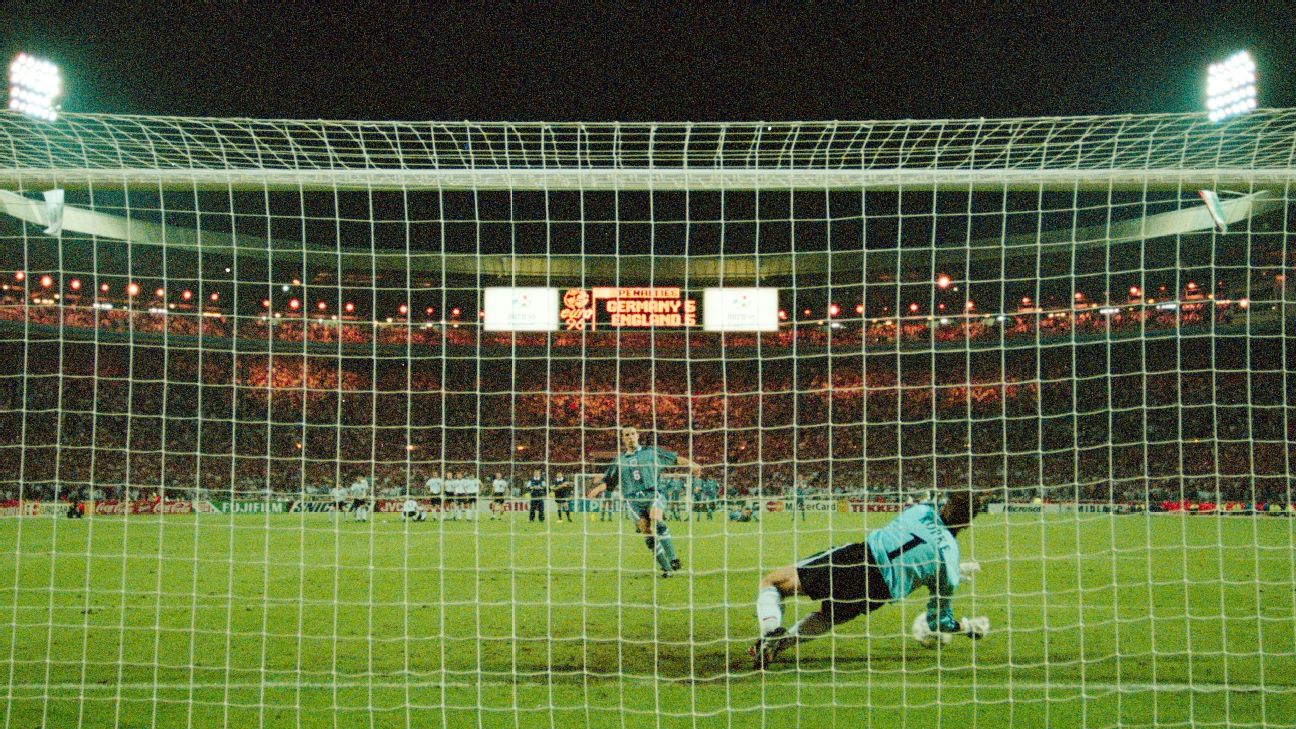 Having seen off Spain on penalties in the previous round, England saw their Euro '96 semifinal against Germany reach the same conclusion -- only to see their frenzied dreams of continental glory crumble in an instant when Gareth Southgate's nervous spot kick was easily repelled by Andreas Kopke.
Unfortunately for Southgate and England, history was not on their side, with galling memories of Stuart Pearce and Chris Waddle at the same stage of the 1990 World Cup, and to the same opponents, still all too fresh in the mind. The miserable penalty hex continued to plague the Three Lions for the next decade against Argentina in 1998, Portugal in 2004 and Portugal in 2006.
Still, at least we'll always have the Pizza Hut commercial.
Beckham's red card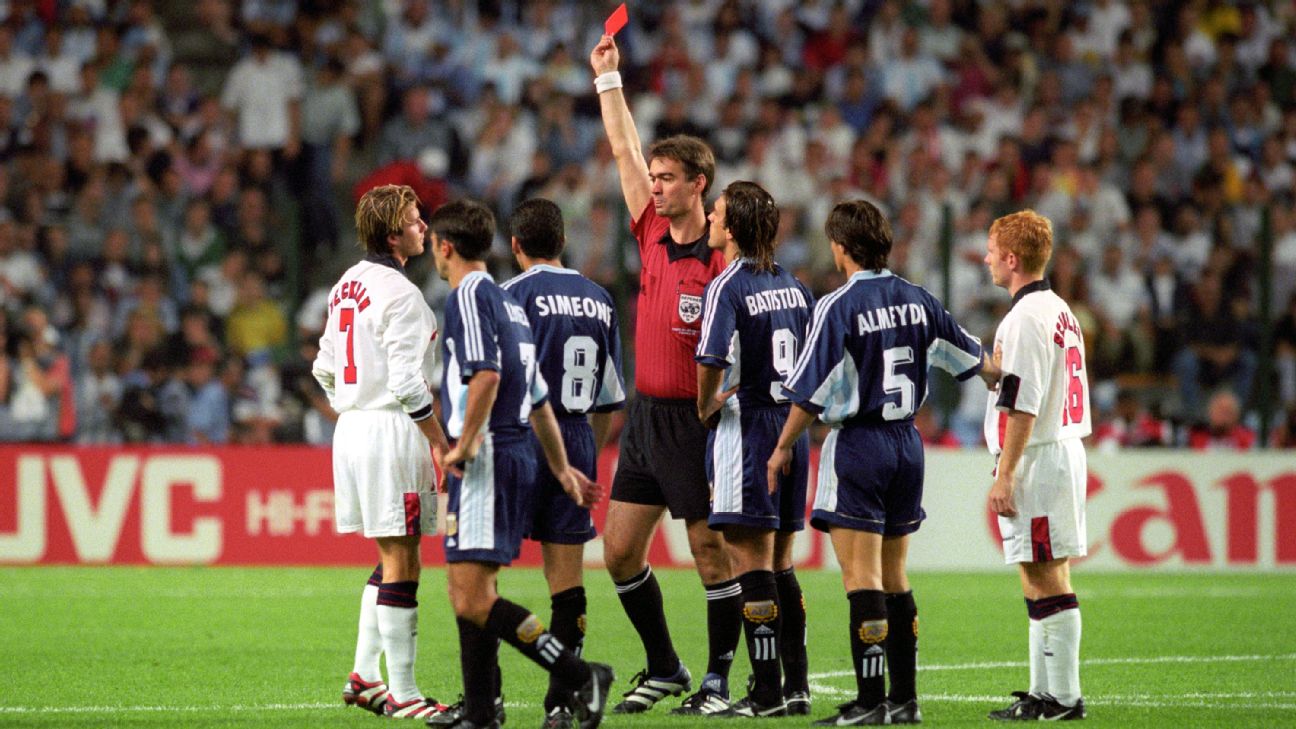 David Beckham takes top billing here, with the midfielder's petulant flick at Diego Simeone's calf reducing England to 10 men for the remainder of their ill-fated round-of-16 encounter with Argentina, subsequently sparking an infamously spiteful tabloid campaign against the Manchester United midfielder.
Of course, Beckham isn't the only England player to lose his temper on the big stage, with Wayne Rooney also guilty of doing so at the 2006 World Cup. Having raced to recover from a broken foot, Rooney made his tournament debut against Portugal in the quarterfinals only to get himself sent off in the second half for angrily stamping on Ricardo Carvalho in what can politely be described as his "delicate area."
Seaman embarrassed by Ronaldinho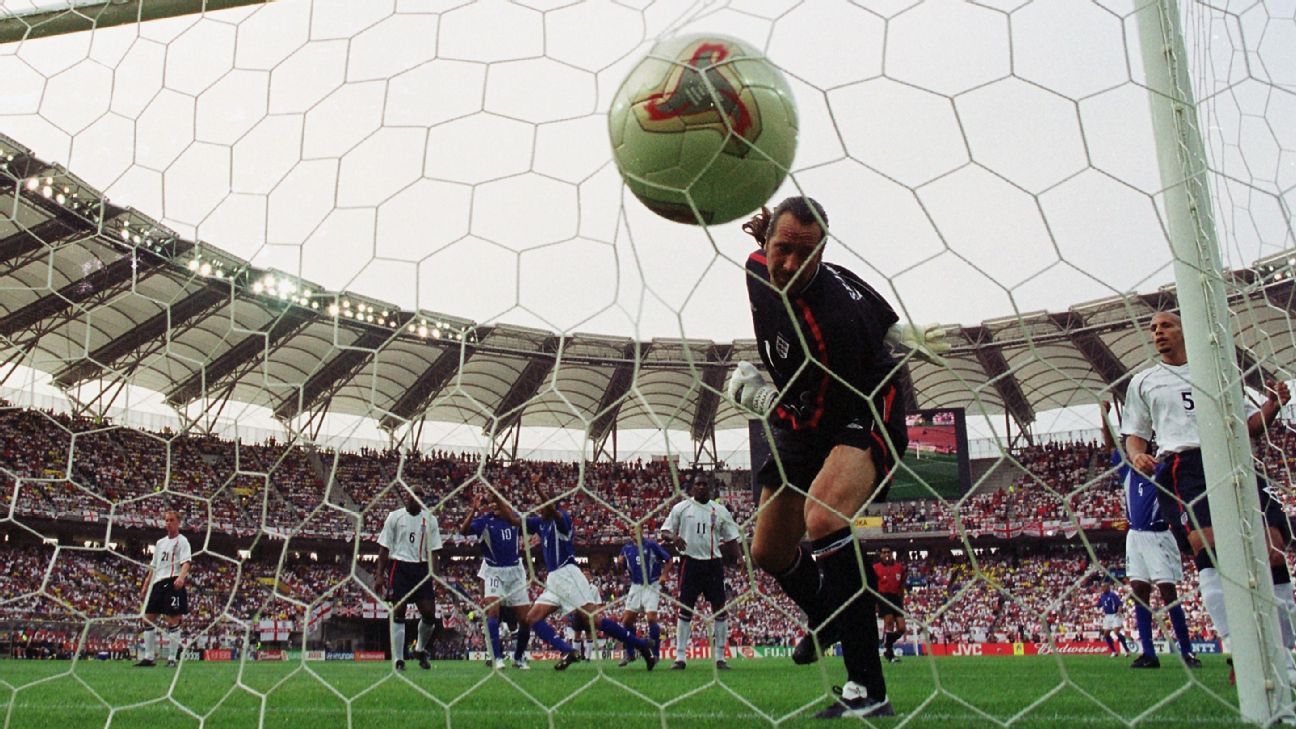 There have been many woeful goalkeeping moments, though it's David Seaman being beaten by Ronaldinho's speculative free kick (even the man himself later admitted he got "lucky") in a 2002 World Cup quarterfinal that leaps to the forefront of most fans' minds.
Rob Green deserves a dishonourable mention for his handling aberration against the United States in 2010, as does Paul Robinson for allowing Gary Neville's meek backpass to bobble over his boot in 2006.
Peter Bonetti was one of the first stooges to succumb to the 'keeper curse, when Gordon Banks' stand-in let Franz Beckenbauer's shot squirrel under him during a World Cup quarterfinal against West Germany in 1970.
McClaren branded 'wally with a brolly'
Deepest, darkest November 2007. England formally surrendered their hopes of qualifying for Euro 2008 on a rain-sodden night at Wembley as their manager, all sad-eyed and useless, stood watching quietly from beneath his umbrella.
England quickly went 2-0 down thanks to an inept clanger from goalkeeper Scott Carson, pulled it back to 2-2 through Frank Lampard and Peter Crouch, and then deservedly lost it late on to a 25-yarder from substitute Mladen Petric.
With that, the Three Lions failed to make it to Euro 2008 from a qualifying group containing Russia, Israel, Macedonia, Estonia and Andorra, and McClaren -- dubbed "A Wally with a Brolly" on the Daily Mail's back page -- was sacked the next day.
Rooney blasting England fans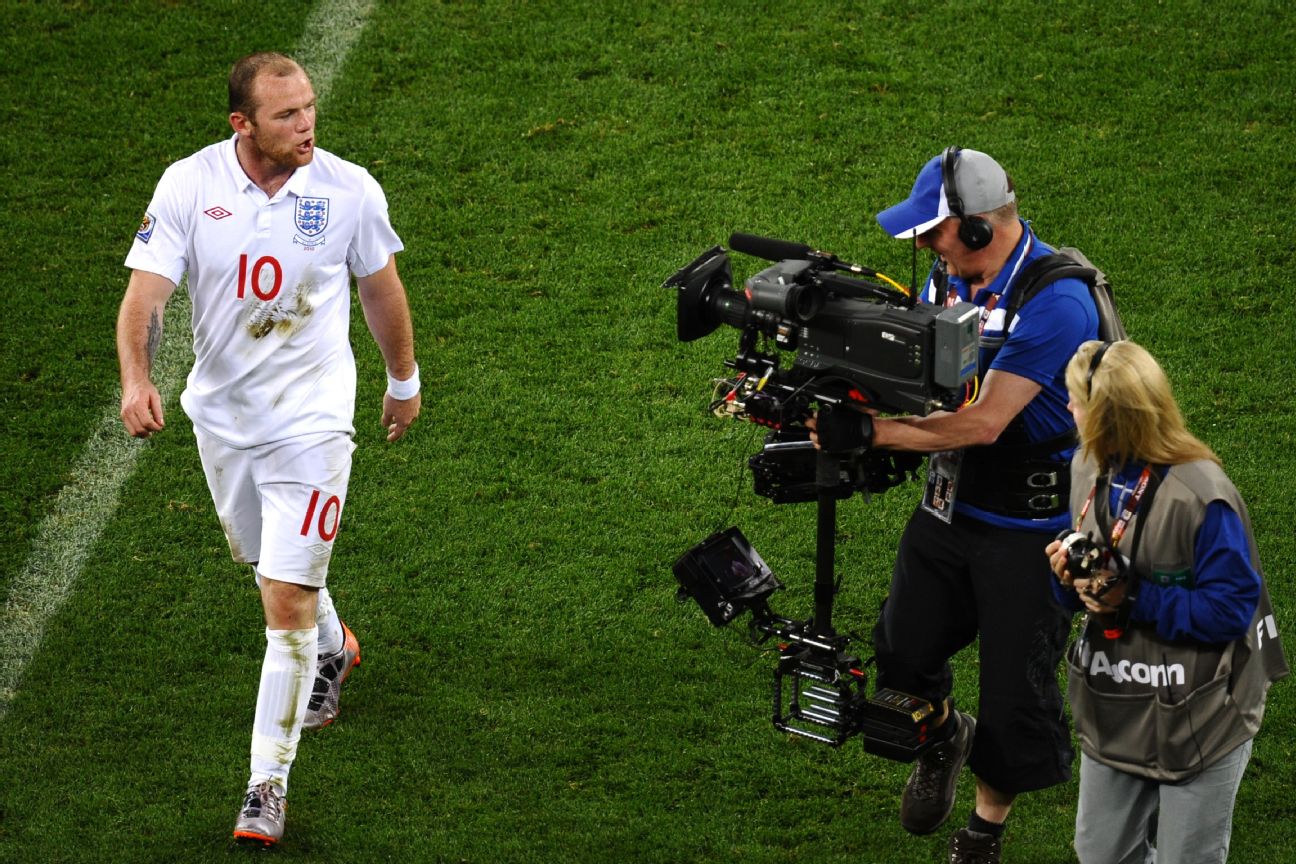 Technically it wasn't a defeat, but it was a goalless draw that certainly felt like one. After drawing 1-1 with the U.S. in their opening group game of the 2010 World Cup (thanks to Green's aforementioned lapse), England faced Algeria in their second game knowing a win was crucial.
What unfolded was 90 minutes of the most turgid, insipid football ever witnessed at any level of the game -- a woeful stalemate perhaps best encapsulated by Emile Heskey's ham-footed step-over attempt, coupled with the unrelenting drone of the vuvuzelas in Cape Town. Indeed, a lone bird landed atop Algeria's crossbar in the second half and at no point was it disturbed. It might still be there for all we know.
The entirely moribund evening was capped off after the final whistle by Rooney barking back at the jeering crowd by complaining "nice to see your home fans boo you, that's loyal supporters" right down the camera lens. It summed up the miserable mood shared by the players in Fabio Capello's unhappy camp and those watching their awful efforts back home.
Lampard's ghost goal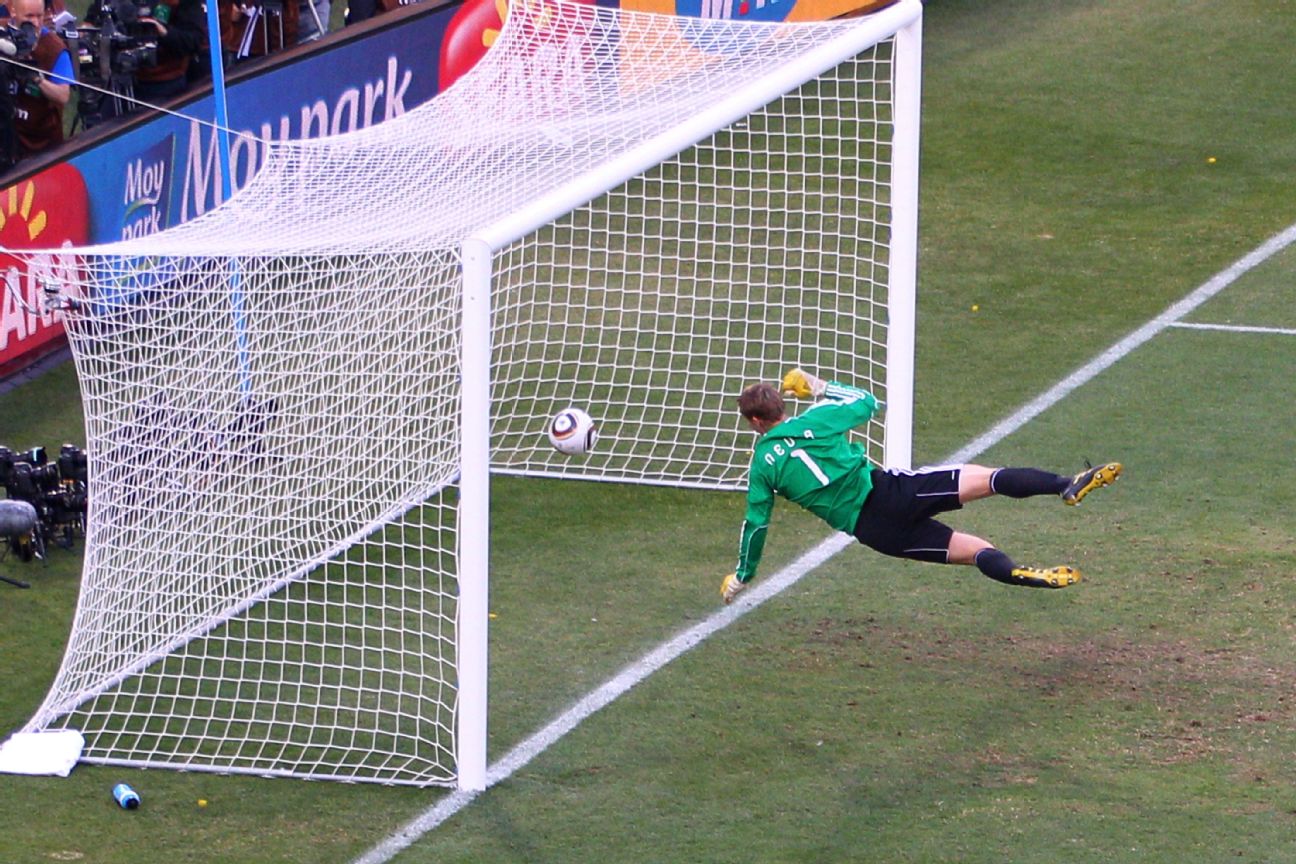 Despite their turgid performances, England still managed to reach the round of 16 in South Africa, though in hindsight they might wish they hadn't as they came up against Germany. It certainly didn't help England's chances when Frank Lampard saw a perfectly good goal ruled out in the first half.
Already 2-0 down inside half an hour, it looked for a fleeting moment like Fabio Capello's side were about to haul themselves back into the running when Matthew Upson pulled a goal back in Bloemfontein. Just 53 seconds later, Lampard cannoned a long-ranger in off the underside of Manuel Neuer's crossbar to restore parity. However, the ball was adjudged to have not crossed the line despite television replays confirming otherwise and the goal was chalked off.
Things descended from there, with Thomas Muller scoring a second-half brace to condemn England to a hefty 4-1 defeat and an unceremonious ejection from the tournament.
Highs
First-ever international football match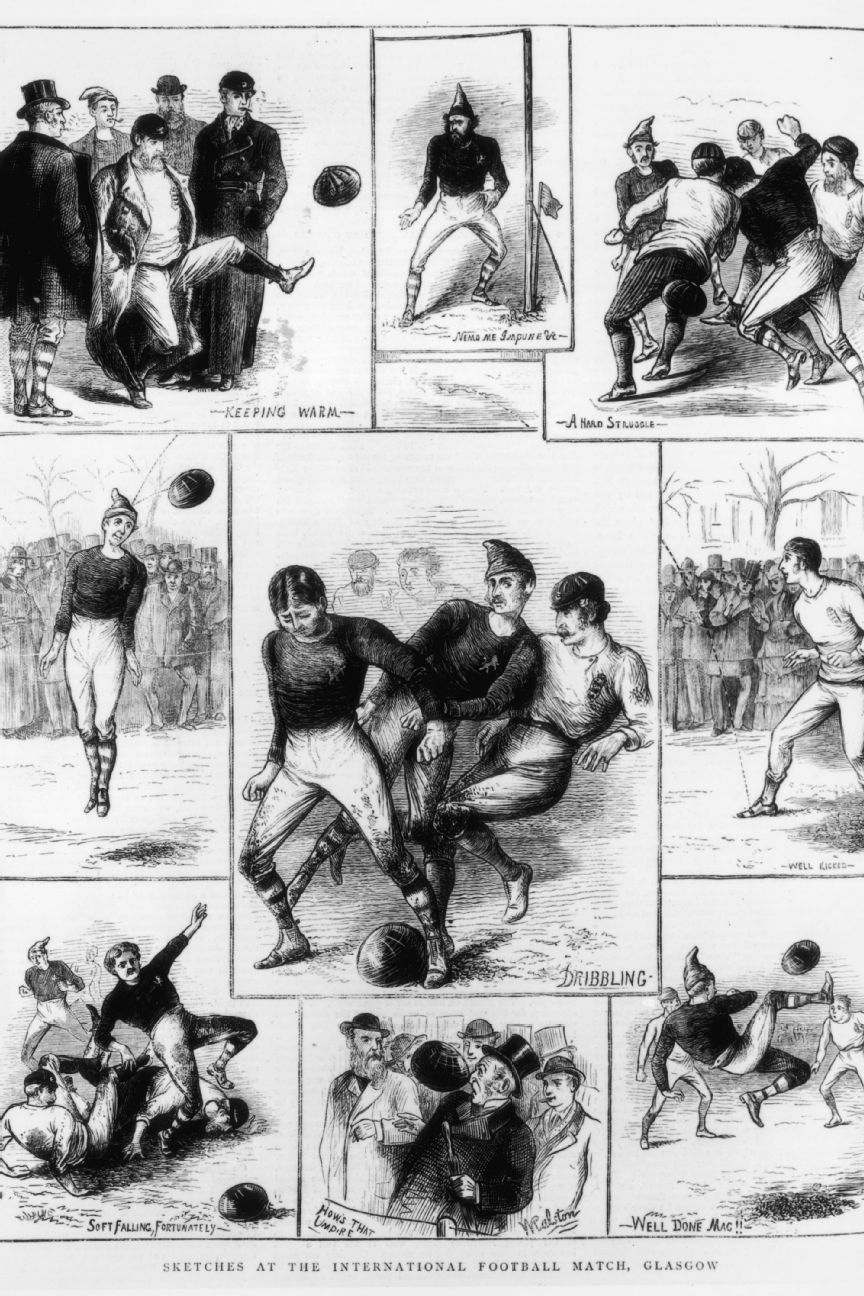 The game that started it all took place in 1872 when 4,000 spectators paid an entry fee of one shilling each to watch a game against Scotland at Hamilton Crescent in Partick. England wore white shirts while Scotland, who were mostly comprised of Queen's Park players, wore blue rugby shirts embroidered with thistles.
Unfortunately, the two teams produced a drab 0-0 draw, though things were livened up a bit when England's goalkeeper, Robert Barker, decided to play outfield for the remainder of the second half.
Top of the world
The last time England actually won anything -- if, of course, you don't include the Rous Cup, FIFA Fair Play trophy and Le Tournoi as major international honours.
Geoff Hurst's hat trick, including a controversial second goal that may or may not have crossed the line, remains the only time a player has scored three times in a World Cup final.
Moore and Banks' iconic moments vs. Brazil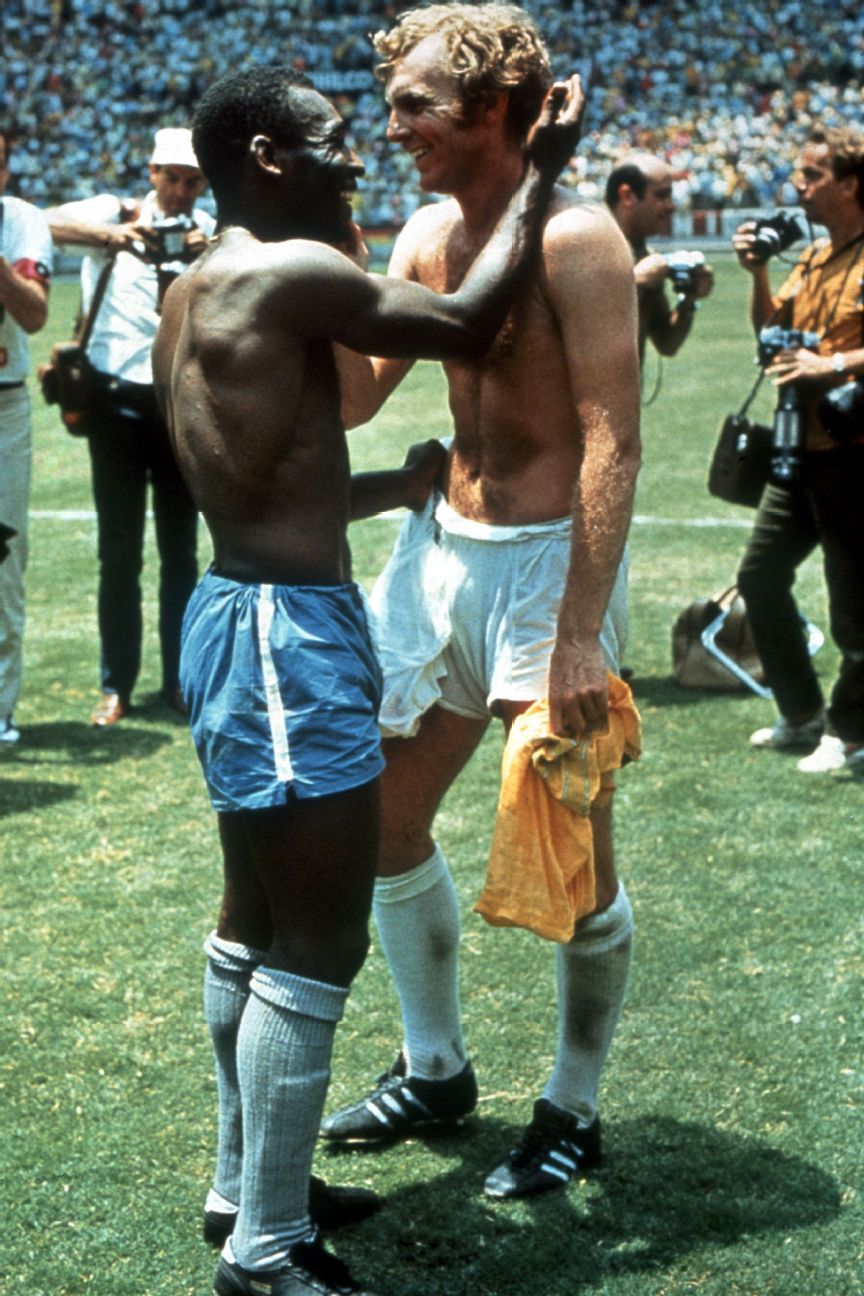 Amid sweltering heat and increased pressure on the defending champions, England fell short of the mark at Mexico 1970. However, they still managed to produce a handful of iconic moments that are fondly recalled to this day.
The group-stage game against Brazil is a classic in its own right. England lost 1-0 to the eventual champions but did contribute two iconic moments of their own: Bobby Moore's effortlessly impeccable tackle on Jairzinho and Gordon Banks' remarkable reflex save to deny Pele at the far post.
Lineker's golden boot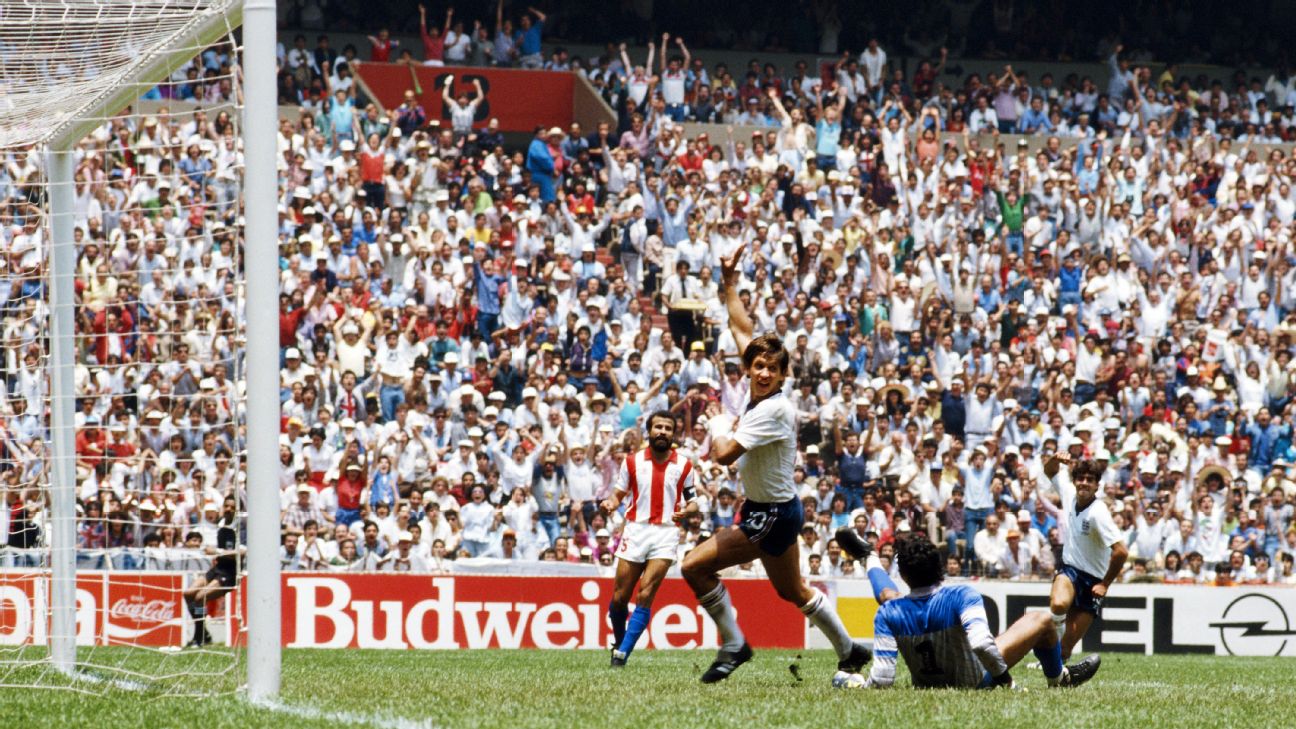 Whereas England's performances at tournaments have generally left a fair bit to be desired, they do at least have decent pedigree in the Golden Boot stakes.
Gary Lineker became the first English player to top the scoring charts at a World Cup in 1986, notching six goals in five appearances to beat Diego Maradona into second place.
It then took a mere 32 years for an England player to repeat the feat, when Harry Kane scored six times at Russia 2018 to claim the same illustrious prize.
Gascoigne's goal vs. Scotland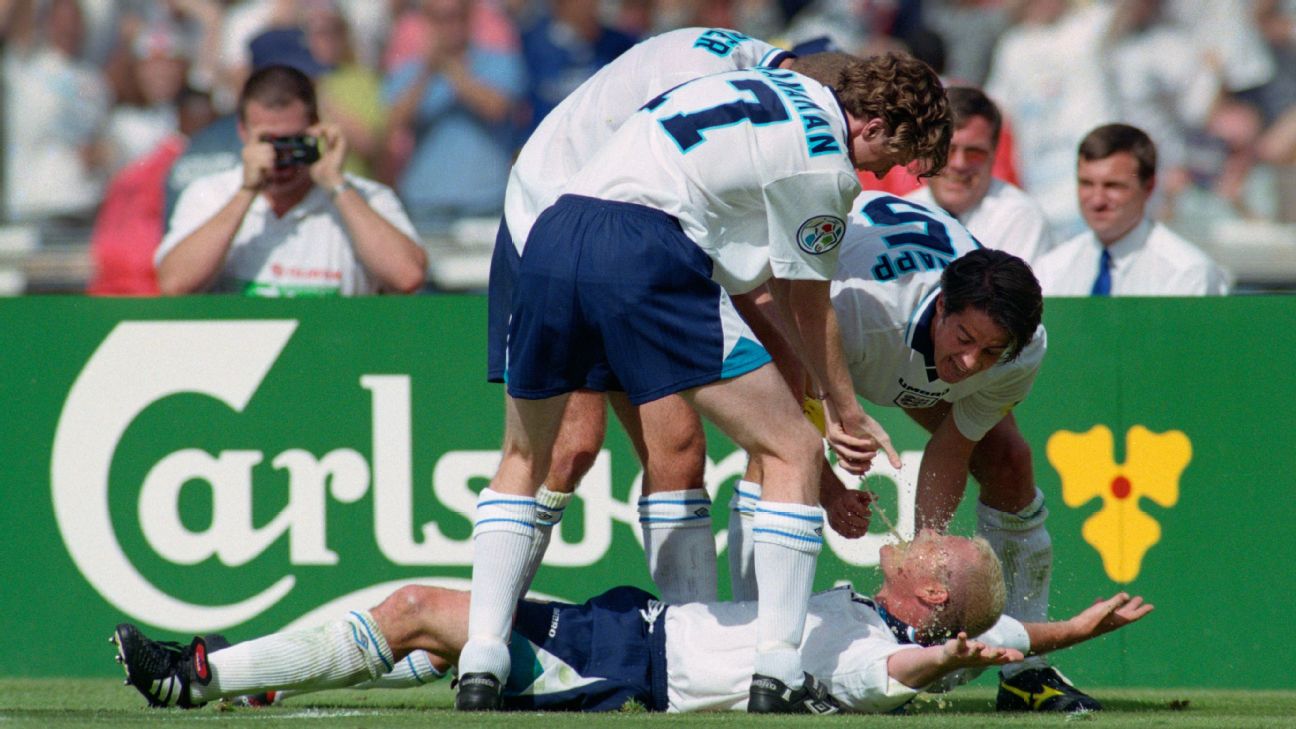 If you weren't there, it's difficult to accurately describe the feverish atmosphere that propelled England into and through Euro '96. Yes, there was the 4-1 win over Netherlands, but a heady summer for the host nation was best encapsulated by Paul Gascoigne's maverick performance against Scotland in their previous group-stage game.
England won 2-0, with the second goal a virtuoso effort from Gascoigne, coming just moments after David Seaman had saved a penalty at the other end. The ball was dinked over Colin Hendry's head and volleyed past Andy Goram before you could blink. Gazza celebrated the goal in equally iconic style, recreating the "dentist's chair" drinking session on a pre-tournament trip to Hong Kong that caused a scandal back home.
Owen's wonder-goal vs. Argentina
🌍🏆 World Cup iconic moments:

📆 30 June, 1998

🏟️ Stade Geoffroy-Guichard, Saint-Étienne@themichaelowen announced himself on the international stage with this fantastic solo goal for @England against Argentina. pic.twitter.com/72xtFPJ2Ce

— ITV Football (@itvfootball) June 4, 2018
What better way to announce yourself on the world stage than by collecting the ball on the halfway line, sprinting through a clutch of defenders and then smoothly clipping a perfect finish into the far top corner?
That 1998 effort became a career-defining goal for Michael Owen, who never quite hit those (admittedly lofty) heights again for club or country.
It was a goal worthy of winning a World Cup round-of-16 game, but the match ended in what was fast becoming customary fashion for England at a tournament -- penalty heartbreak.
Beating Germany 5-1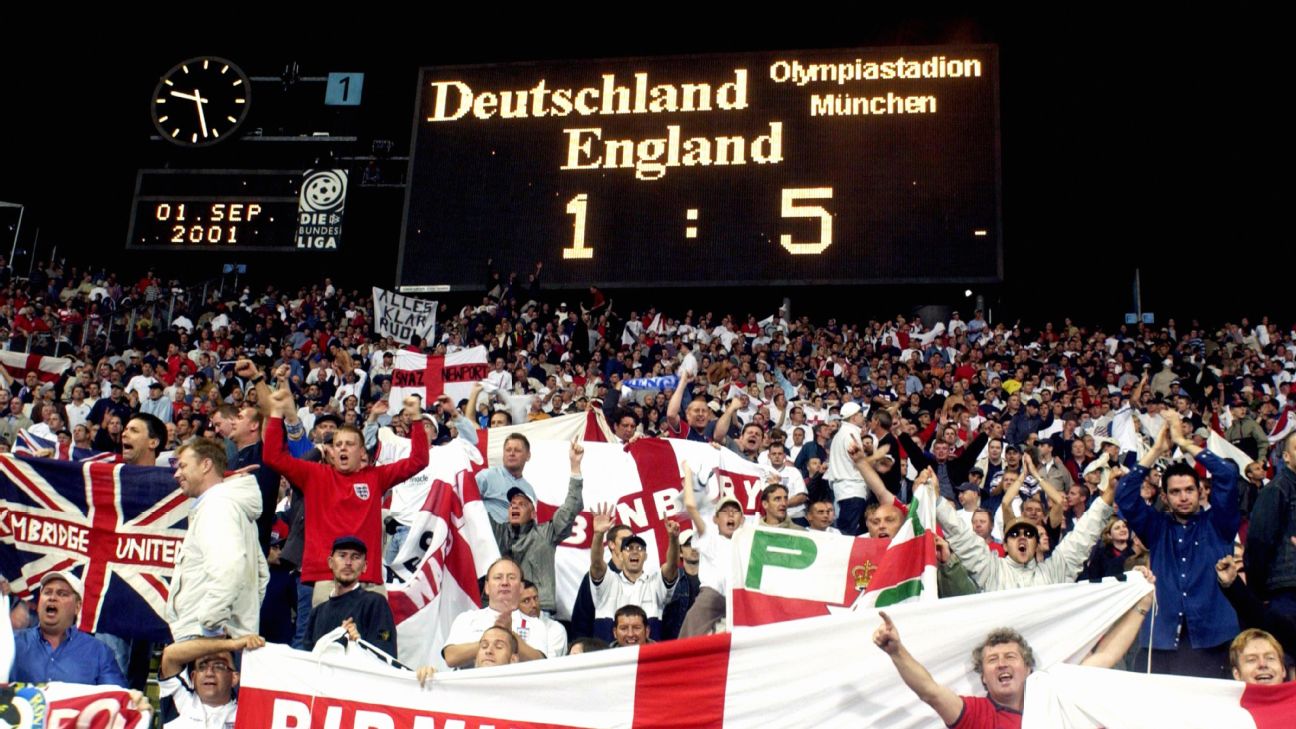 A World Cup qualifying result that has long been forgotten by Germans but is still revelled in by the English fans -- perhaps an indicator of how the two nations have fared since 2001. Still, Michael Owen scoring a hat trick in Munich and the sight of Emile Heskey bulldozing through all and sundry was a treat as England came back from a goal down to dismantle their rivals at the Olympiastadion.
The result instigated a concerted nationwide overhaul in German football toward focusing on nurturing youth talent and increasing the Mannshaft selection pool. England just blithely carried on as per.
Beckham's free kick vs. Greece
His heroic shift against Greece at Old Trafford in 2001 is arguably the performance that restored David Beckham's standing in the eyes of the nation.
Despite the heorics in Munich, England were 2-1 down and on the verge of missing out on automatic qualification for the 2002 World Cup when Beckham stepped up and sank a 93rd-minute free kick to send his country top of the group on goal difference.
It didn't really matter anyway, as Germany drew 0-0 elsewhere to scupper their own chances -- though they did subsequently qualify for Japan-South Korea via the playoffs before going on to reach the final.
Rooney's goal record
He's had his ups and downs, but there can be little denying that Wayne Rooney is a latter-day England great. If nothing else, he has the numbers to back up his credentials, being the most capped outfield player in Three Lions history (and second only to Peter Shilton in the overall list).
Rooney is also England's all-time top goal-scorer having surpassed Sir Bobby Charlton's long-standing record (49) by scoring his 50th international senior goal from the penalty spot in a 2-0 win over Switzerland in 2015. By the time his England career came to a slightly contrived end in 2018, Rooney had amassed a tidy 53 goals in 120 caps.
Exorcising penalty shootout demons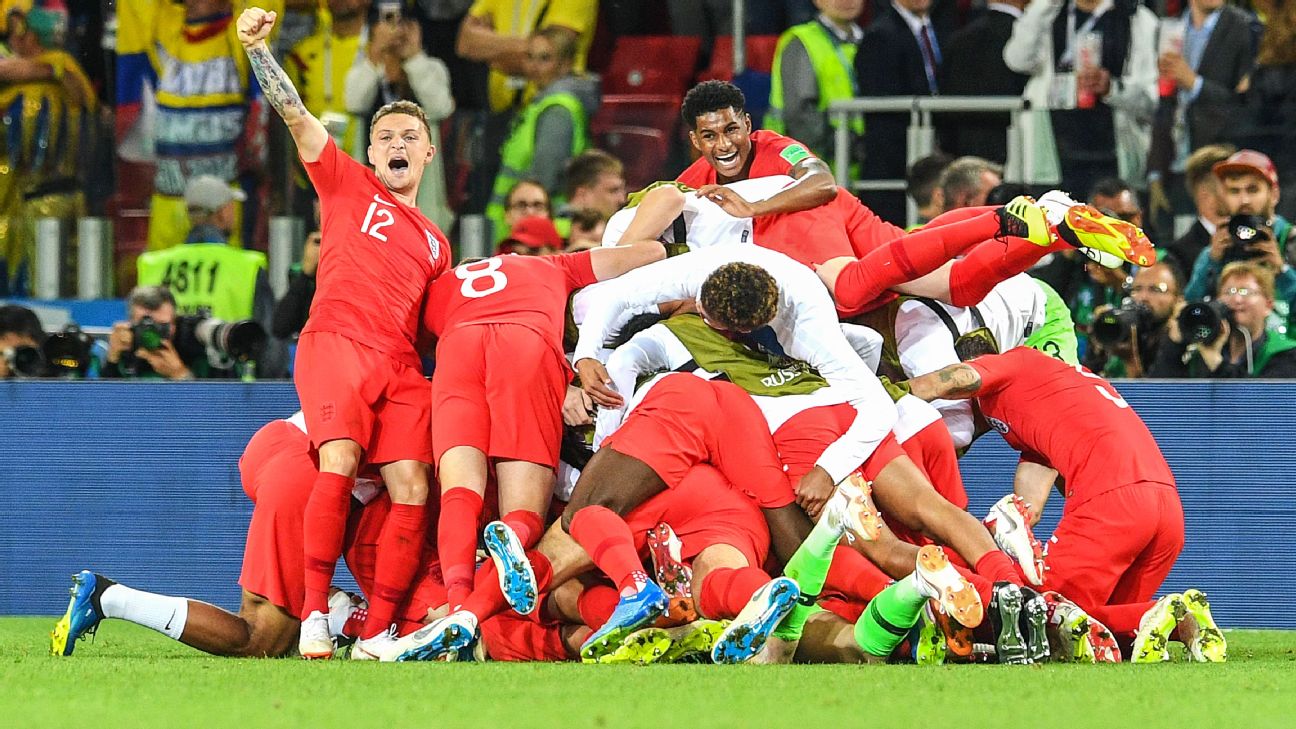 It was an incredibly long time coming, but a great weight was lifted in the summer of 2018 when England finally, after many attempts, emerged victorious in a World Cup penalty shootout for the very first time in the round of 16 against Colombia.
Jordan Pickford's agile save against Carlos Bacca followed by Eric Dier's decisive spot kick sparked wild celebrations as Gareth Southgate, his penalty demons at least partially exorcised, marched his jubilant side into the quarterfinals.
England's only previous shootout win at a major tournament had come against Spain in the quarterfinals of Euro '96.