LISLE, Ill. -- We might never know for sure who the best softball pitcher of this generation is, which is exactly how you know Jennie Finch and Cat Osterman are doing something right.
Set against the unlikely backdrop of tiny Benedictine University in suburban Chicago, Finch and Osterman recently traded pitches in a showdown reminiscent of sports' greatest rivalries. The two women who might eventually battle for the title of best of all time, let alone the best of their generation, matched each other strikeout for strikeout, scoreless inning for scoreless inning, well beyond regulation and into the night as Finch's Chicago Bandits played Osterman's Rockford Thunder in
National Pro Fastpitch
, a 4-year-old league with a summer season and six teams scattered around the Northeast and Midwest.
Like Smoky Joe Wood and Walter Johnson, Muhammad Ali and Joe Frazier or Magic Johnson and Larry Bird, these rivals possess a competitive chemistry that can turn an ordinary night into an unforgettable memory.
"What these young ladies will understand 10 years from now, 15 years from now, is this is like watching Sandy Koufax and Nolan Ryan go at it," Chicago manager Mickey Dean said. "And that's what it is. And just to be able to be a part of it, to watch it -- 20 years from now, you're going to tell your grandkids." At one point, it seemed only nature, which delayed the game for more than an hour and a half after the top of the first when lightning and heavy rain descended on the area, could stop the two aces. But while every softball or baseball game begins with the promise that it could carry on for an eternity of extra innings, they usually do not. With one swing of the bat on an Osterman breaking ball that lingered too long in the strike zone in the bottom of the ninth, Gina Oaks lined a double into the gap in left-center, scoring Stacy May. It was the only run in Chicago's 1-0 victory.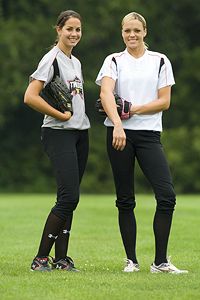 Ross Dettman for ESPN.com
Watching Cat Osterman duel Jennie Finch was like Sandy Koufax facing Nolan Ryan.
The game was a classic in its own right, filled with building tension whenever a runner reached base, graceful escapes by the pitchers, and the kind of great plays that emerge as both cause and effect on such nights -- from Oaks' game-winning hit to Rockford outfielder Kristen Zaleski momentarily floating parallel to the grass as she dove full-out to make a game-saving catch in the right-center gap in the bottom of the seventh. But even as a majority of the crowd returned after the weather delay -- waiting to see which team would break through first, and remained in the stands as the hour grew late and the next day's commute to work inched near -- the result mattered less than the fact that the two women in the circle delivered on all the promise -- Finch struck out 18 and allowed just two hits; Osterman was nearly as dominant, finishing with 13 strikeouts and two hits allowed. There aren't many cornfields these days in Lisle. The Bandits' home is one of the seemingly endless towns swallowed up by the rush-hour gridlock that binds these areas to downtown Chicago in a chain of brake lights. But as the storm moved out and a silvery haze drifted down over the lights in the outfield to lend an ethereal backdrop to the suburban setting, there was an "if you build it, they will come" vibe to the night. Even as "Field of Dreams" still ranks as the ultimate tribute to fathers playing catch with their sons, it turns out daughters -- and the mothers they might become -- play catch, too. When the movie was released in the summer of 1989, Finch was an 8-year-old California kid who dreamed of playing Major League Baseball and worshipped at the temple of Orel Hershiser, Kirk Gibson and the 1988 World Series champion Los Angeles Dodgers. Osterman was a 6-year-old living in Houston who had just started softball as she cheered on fellow Texans Nolan Ryan and Roger Clemens.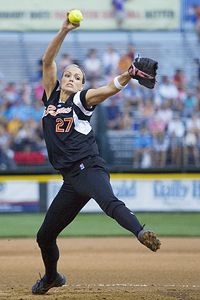 Ross Dettman for ESPN.com
Finch rears back and challenges hitters to connect with her high-octane fastball.
Now they are the object of adoration for a generation of kids. A little more than a decade ago, before the 1996 Olympics, softball stars such as Lisa Fernandez might have enjoyed regional fame in places like Arizona and California, but few national endorsement opportunities. Finch and Osterman (as well as the indomitable Fernandez), however, now have national and international name recognition and sponsorships galore. Even with the Cubs in the pennant race and the Bears in the middle of training camp, the news that Osterman, who currently stars in a new batch of ads for an athletic clothing company, had signed on as an assistant softball coach at DePaul earned her numerous interview requests from local media eager to play up her name. And if rain had forced the postponement of Wednesday's game, Finch wouldn't have been available for the makeup -- she was contractually obligated to fly to Japan on Thursday morning to shoot a television show in the globe's other softball hotbed. "I think it's something we've accepted; I don't know that we thrive off it," Osterman said of their roles as the sport's most famous faces. "Obviously, you learn to enjoy it, and it has its perks -- it obviously has its downfalls, too. But we both enjoy it, and we know that it's good for the sport. But when the stage is bigger and you get more of a crowd. Our opening game was her and I facing off, and we drew 2,700 in Rockford, and that's huge for our league. So you know, it's something you can take pride in, knowing you can draw that many people when the two of us face off." While a lot of male sports fans, fairly or unfairly, complain that a sport like women's basketball is forced upon them by organizations such as the NBA or NCAA and television networks such as ESPN, softball is more difficult to criticize for reasons other than simple sexism. National Pro Fastpitch has a loose affiliation with Major League Baseball as an "Official Development Partner." But partly because fastpitch isn't a sport boys play in large numbers, and because it is distinctly different in many ways from baseball, softball has been left to create its own niche in the marketplace. Annually improving ratings for both the Women's College World Series and the World Cup suggest that the sport is succeeding at the highest level, but the game's independence is also a curse for the pro league. "I think marketing for our league especially is probably the hardest thing I've ever had to do," Rockford GM Aaron Moore said. "For college, they're fortunate because everyone knows about the college. Most of the time in a college town, people are going to support your school. The fact that we are now the fifth [professional] team in this [Rockford] area, with football, basketball, baseball and hockey in this area, it makes it interesting." Thus the dual existence for someone such as Finch, whose Web site has photos of her with everyone from Alex Rodriguez to Tom Brokaw to George W. Bush, is striking. Two days before a start against Washington -- one of three starts she would make in a five-day span -- on Aug. 13, she was doing a photo shoot for Women's Health Magazine. After pitching a shutout against Washington, she recounted the photo shoot with a bag of ice strapped to her right shoulder and dirt covering her uniform. Her 1-year-old son, Ace, waited with his grandparents for mom to be done.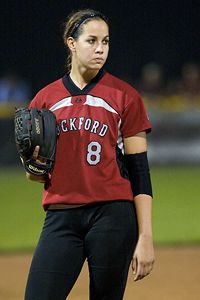 Ross Dettman for ESPN.com
Osterman is like a softball version of Greg Maddux, relying on movement and location.
"I still feel like me," Finch said. "It's kind of crazy to think of who I've met and where I've been; I've got to pinch myself every once and awhile." It's a long trip from glamour shots and commercial shoots to a league of small-college and municipal fields with the average salary for the three-month season somewhere in the vicinity of $4,700 per player, according to Moore. The $100,000 salary cap produces rosters full of coaches and teachers, who are mostly in their first few years out of college -- in other words, those able to put off long-term financial security for a few years of chasing a dream during the summer. "We definitely don't get paid much," Rockford catcher Mackenzie Vandergeest said, not complaining so much as summing up the reality of her situation. "Until the league gets going and we get a lot more publicity, it's going to stay probably where it's at. It's getting better each year, but we're not making enough to live like this. It is definitely paycheck to paycheck." And that's why the showcase provided by a game pitting Finch against Osterman (or one of them against the likes of Washington's Monica Abbott) holds so much potential, and why the league is dreading a 2008 season during which its biggest stars will be away playing in the Beijing Olympics. In addition to all they bring to the table as individual marketing entities, Osterman and Finch, while friends off the field or with the national team, are perfect foils on the field. Like Bird and Magic, their similarities beneath the surface as competitors pale in comparison to stylistic differences that make it easy for fans to latch on to one or the other. Osterman is softball's version of a left-handed Greg Maddux, baffling hitters with movement, spin and location. Finch, on the other hand, is the flamethrower with the complete game, moving the ball as well as anyone this side of Osterman but ultimately daring hitters to get around in time to hit the heat that's coming.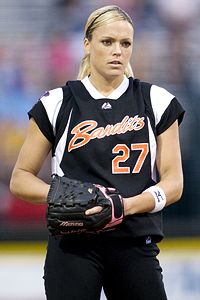 Ross Dettman for ESPN.com
How tough is Finch? She allowed one earned run all season and just one-extra base hit in 66.2 innings.
"I don't know that we really look at each other to pick things up," Osterman said. "Not in a bad way, I think just because we see each other as peers -- we obviously both were rookies on the national team at the same time. I mean, she's a great pitcher, and if I could throw the ball that hard, I'd love to, but that's just not my game." The twist on the traditional stereotypes is that it's Finch who is the more stoic, contemplative figure on the mound, rarely betraying any emotion over either her mistakes or the perceived gaffes of the umpire. As skilled as she is at hiding what pitch is coming next, Osterman disguises nothing in her reactions to the flow of the game, glaring in at the plate, stalking around the circle or barking "Both sides!" at an umpire whom she feels is squeezing her strike zone.
"I think a lot of times, she's not as emotional as I am," Osterman said. "And there are times when I wish I wasn't, but at the same time, there are times where I love the fact that I do get fired up and you can see it in my face. It's kind of a Catch-22."
Frustration was clearly visible on Osterman's face almost a half-hour after Oaks lined her pitch into the night and sent the Chicago fans home happy -- or maybe it was the autographs Osterman, working her way down a long line of fans, was patiently signing despite her displeasure at the result. Down the other foul line, Finch worked her own way slowly toward the outfield fence, signing everything in sight despite the ubiquitous bag of ice attached to her arm and a looming wake-up call for her flight across the Pacific. The two best pitchers of their generation putting the finishing touches on the kind of showcase that everyone involved hopes will help guarantee the continued existence of the greatest rivalry you've never seen. "I can't believe that I get to come watch this for free," Dean said after the game. "It is unbelievable. And I can't believe that this place is not freaking packed every night." Those who weren't watching sure missed a good game.
Graham Hays covers college sports for ESPN.com and is an occasional contributor to Page 2.