GREEN BAY, Wis. -- The Minnesota Vikings have Danielle Hunter and his 11.5 sacks. The Kansas City Chiefs have Dee Ford and his nine sacks. The Pittsburgh Steelers have T.J. Watt and his eight sacks.
So how in the name of Mike Pettine are the Green Bay Packers, who don't have a single defender with more than five sacks, tied with those three teams for the NFL's sacks lead with 31?
What's more, the Packers' sack percentage -- sacks per pass attempt -- is better than any of them, at a league-leading 10.5 percent.
And they've done it with little thanks to their two highest-priced pass rushers, Clay Matthews and Nick Perry, who have combined for just four sacks this season. Matthews, in the final season of a five-year, $66 million deal, has just 2.5 sacks. Perry, who is in danger of getting released after the second season of a five-year, $60 million deal, has just 1.5.
Sure, Pettine, the first-year defensive coordinator, feasted on a rookie quarterback (the Packers sacked Buffalo's Josh Allen seven times in Week 4) and an immobile veteran (they sacked Miami's Brock Osweiler six times on Sunday), but if he can replicate that kind of pass rush in the next two games -- at Seattle and at Minnesota -- then perhaps the Packers' defense will help lead this team back into playoff contention.
If ever there was a sack-by-committee approach, Pettine has found it.
Fifteen different players have at least a half-sack through nine games this season.
"Just doing our jobs," said defensive tackle Kenny Clark, the team's sacks co-leader with five. "Coach [Pettine] has been doing a great job with dialing up blitzes. We're getting guys off the field on third down. When we get up, and we know it's pass, and we get a chance to rush the passer, guys are winning their matchups and exploiting the matchups we have. We're just doing a good job of dialing up some blitzes and tricking some offenses."
Pettine actually hasn't blitzed as much as Clark might think. He has sent five or more rushers on 26.5 percent of pass plays, which ranks ninth in the NFL, according to ESPN Stats & Information data. That's actually down from last season, when former defensive coordinator Dom Capers sent five or more 33.2 percent of the time. Over Capers' entire tenure (from 2009-17), the Packers had the fifth-highest blitz rate, at 37.3 percent.
Still, Clark was surprised at how many of his teammates have sacks already.
"I know a couple DBs have some, so probably like 10 guys," Clark guessed.
When told it was it was 15, he said: "Dang. See, we're doing something there."
Clark and outside linebacker Kyler Fackrell share the team lead, but it's Clark who has become the biggest playmaker on the defensive side. Coach Mike McCarthy last month called him a Pro Bowl player even though he has yet to garner such an honor. But dating to last season, Clark has 9.5 sacks in his past 14 games. That's tied for 16th in the league regardless of position. Among interior pass-rushers, only the Rams' Aaron Donald (18.5) and the Chiefs' Chris Jones (10) have more during that span.
"Me being a nose tackle, we usually don't get the credit that the 3-techs get," Clark said. "I think my sack total is helping me out as far as me getting more recognized. Nose tackles, they usually don't get any love. It's always the 3-techs and the outside guys that get the love."
It's no wonder Clark possesses the sledgehammer awarded to the Packers' most dominant front-seven player. It sat in his locker the day after the victory over the Dolphins, but truth be told, Clark said he's had it since the Week 4 shutout of the Bills.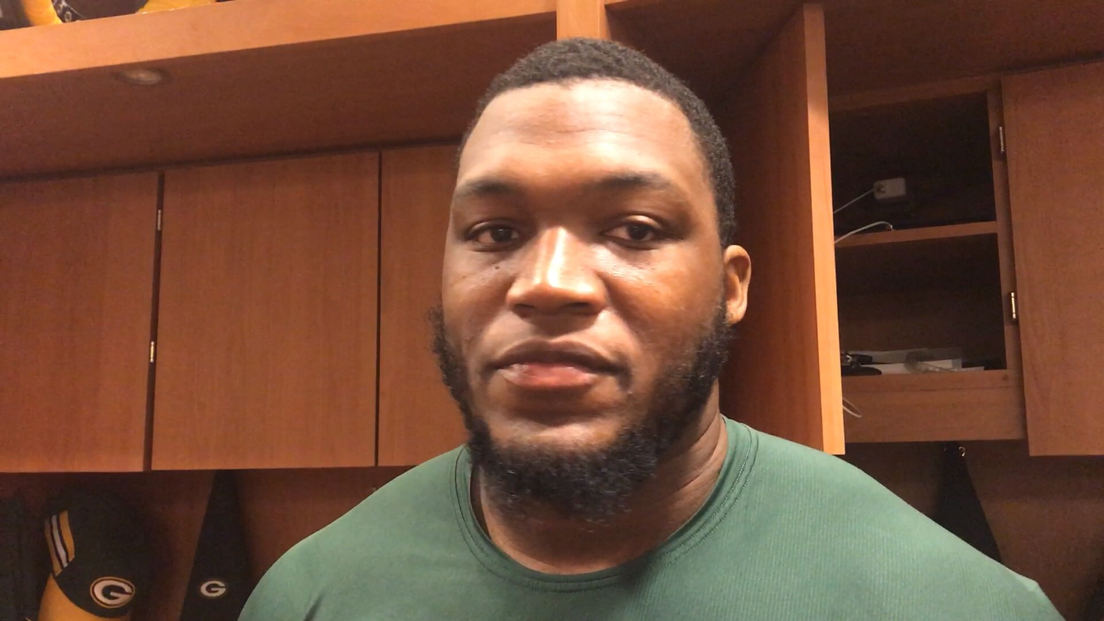 The Packers' front seven awards a sledgehammer to the most dominant player each game. Kenny Clark's had it since the Buffalo game in Week 4. He doesn't plan on giving it back.
"We were picking a guy every week," Clark said. "Whoever had a good game, basically. I think I got it for the Bills game ... and I just kept it."
The list of players who recorded sacks Sunday against Miami hardly reads like a who's who of pass-rushers after Clark, who had one: Fackrell, Dean Lowry, Reggie Gilbert, Raven Greene and Montravius Adams.
Among the four teams tied for the sacks lead, the Packers have the most players (15) with at least a partial sack. The Vikings have 12, followed by the Chiefs (11) and Steelers (10).
"We never look for, we need this number of sacks out of a certain player," Pettine said. "It's all about affecting the quarterback. Whether if they throw it away early, whether it's we get them off the spot, and it's great if we get the sack, we get the sack. But the pass-coverage piece is so important and they're tied together. Sometimes the secondary gets criticized for giving up some plays, and if the front didn't do a good job of getting there and the quarterback was able to set his feet and have a clean pocket, then that's just as much on them. It's definitely a complementary relationship."
With a quick turnaround ahead of Thursday night's game against the Seahawks, an impactful pass rush might be the most important thing the Packers bring with them to Seattle. Seahawks quarterback Russell Wilson has already been sacked 29 times; only three quarterbacks have been sacked more this season.
"We all know he's a great quarterback, and he can run with the best of them," Clark said. "I've had to chase him around a lot in my three years here. We definitely have to be prepared and make sure we're in our rushing lanes. We definitely have to try to trick him, too."