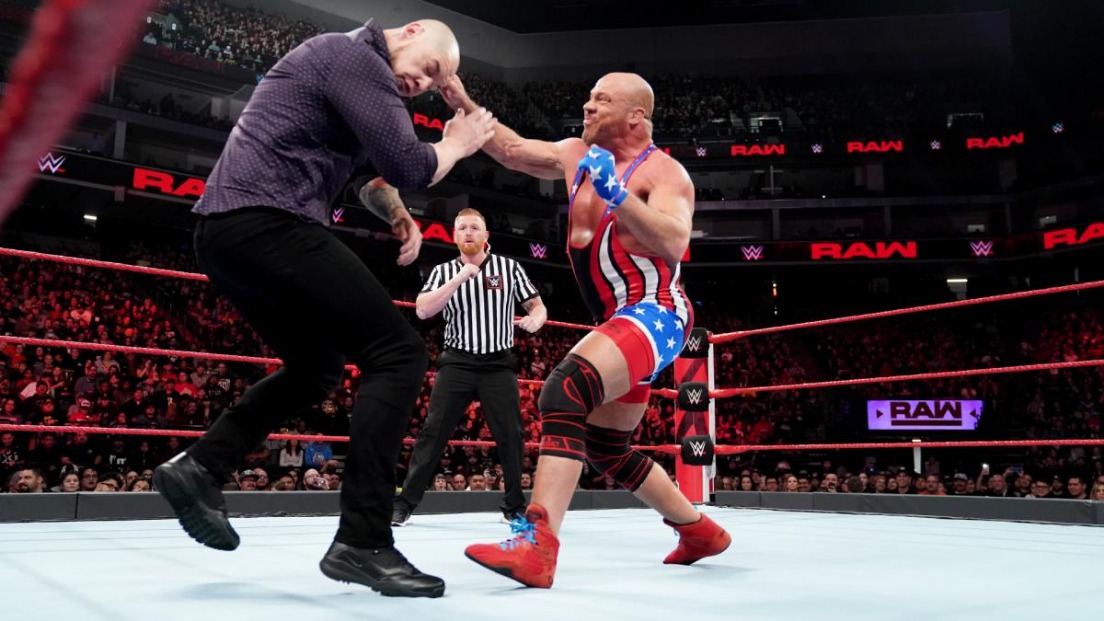 Kurt Angle announced on Monday Night Raw that his final match will come against Baron Corbin at WrestleMania 35. Speculation about who Angle would face varied wildly, from John Cena, who debuted opposite Angle in 2002, to former Team Angle member Shelton Benjamin, and beyond. But in the end, the link with Corbin over the last few months of WWE TV led to this particular match. If the crowd reaction in Chicago was any indication, that decision did not go over well with fans.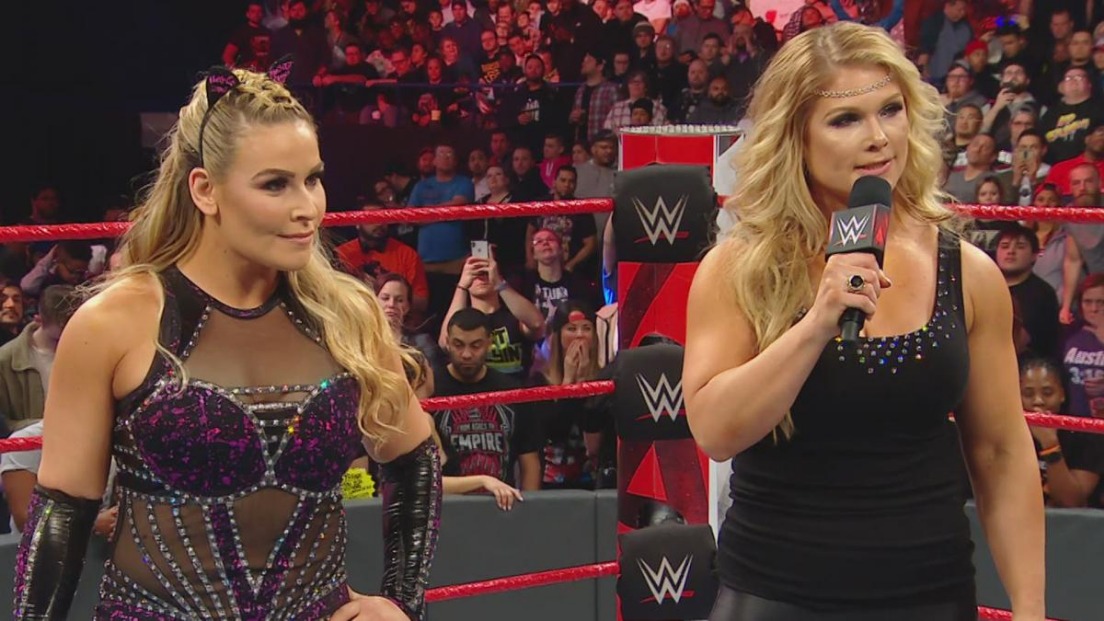 Monday Night Raw started and ended strong, but the two-plus hours in between was all over the map. There were great moments, like Beth Phoenix coming out of retirement to challenge for the women's tag team titles, and a dream match of sorts between Kurt Angle and Chad Gable. Braun Strowman and Finn Balor picked up a win over Bobby Lashley and Lio Rush, with Lashley leaving Rush hanging out to dry in the closing moments. But in a week in which there were no tag team matches and champions The Revival were reduced to a jokey backstage cameo with Baron Corbin, Raw tried to pick up the strands of long-forgotten stories involving Mojo Rawley and No Way Jose. Jinder Mahal also came in cold to face off with Ricochet, with no allusion to Ricochet and Aleister Black's potential challenge for the Raw tag team titles, and Apollo Crews picked up a fluky win over Corbin despite Corbin being hand-picked as Angle's last opponent.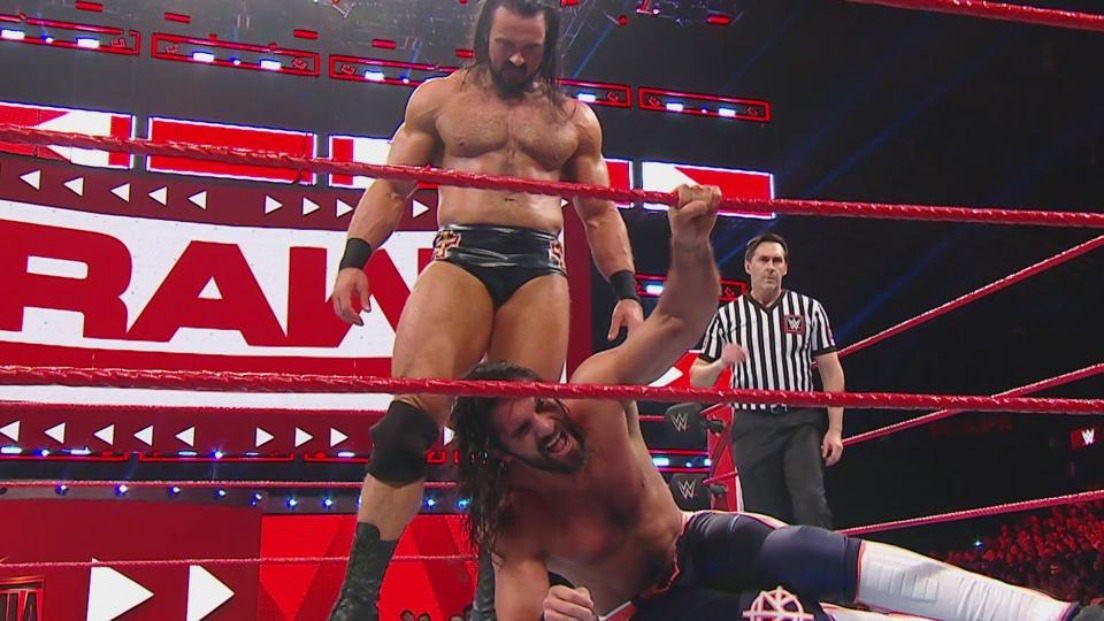 In the moments Raw focused on the task at hand -- WrestleMania 35 -- it was highly effective. While Paul Heyman ostensibly opened the show to run down Seth Rollins and everyone who has challenged Brock Lesnar over the last couple of years, Heyman worked his verbal magic and got everything from Rollins, to Lesnar, to the Universal championship match and even Drew McIntyre over in a huge way. In the show's closing moments McIntyre got an even bigger moment when he beat Rollins clean in the middle of the ring, despite taking more than 15 chair shots to the back earlier in the night, with a slight assist from Heyman and Lesnar. On the women's side, although we didn't see Charlotte Flair or Becky Lynch in person, Ronda Rousey further extended her disregard for anyone outside of her family and her own goals throughout the night. After entering the arena with husband Travis Browne, Rousey knocked challenger Dana Brooke silly with a running knee and then locked in an armbar -- and wouldn't let go for more than 30 seconds, even after earning the submission win. Rousey and Browne each took out multiple officials post-match, and WWE is hitting all the right notes to make sure Rousey will be as hated as possible come WrestleMania time.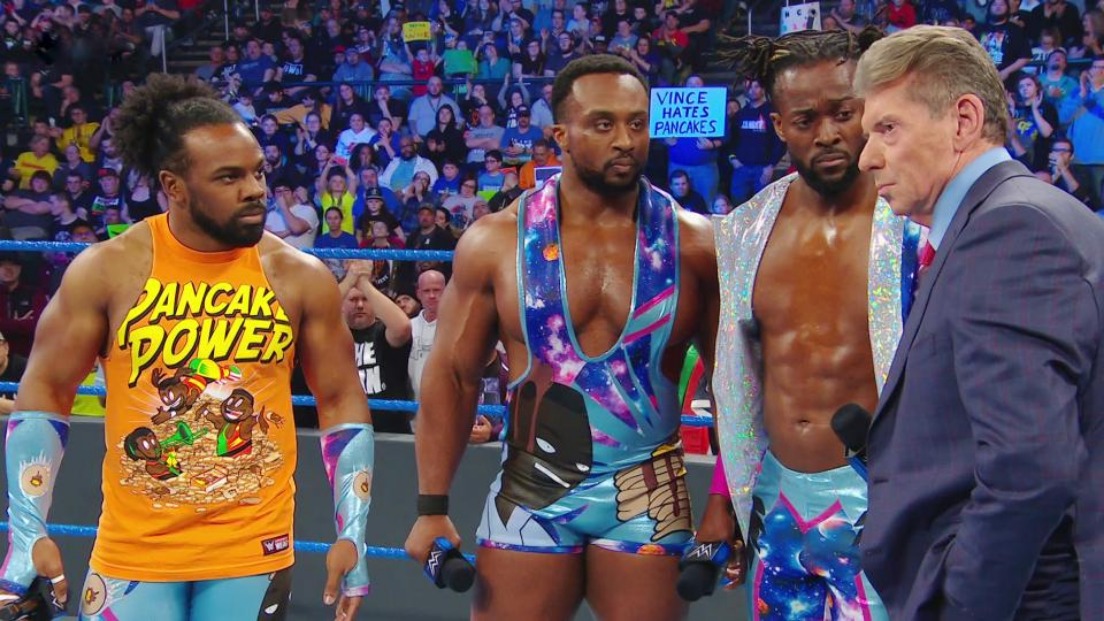 Those who tuned into SmackDown to hear from fan favorites Becky Lynch and Kofi Kingston were not left disappointed. Lynch symbolically tossed away her crutch that had also become a storyline clutch while walking down the rampway. Lynch then celebrated her mental victory over Ronda Rousey, told Charlotte Flair that she had little to show from four years of having the women's division under her thumb and dropped the mic. New Day closed out the show opposite Vince McMahon, and all three members of the team produced an instantly memorable promo. Big E and Xavier Woods started by listing everything they do for WWE without question and without complaint, and then Kofi Kingston delivered a must-watch promo and made it clear he wasn't looking for a handout. Vince finally offered Kofi a path to a WrestleMania WWE title match, and it's a doozy -- he'll have to defeat Randy Orton, Samoa Joe, Cesaro, Sheamus and Rowan in a gauntlet match next week on SmackDown to win his way in. Something tells me this won't be the last curveball Kofi Kingston will have to handle.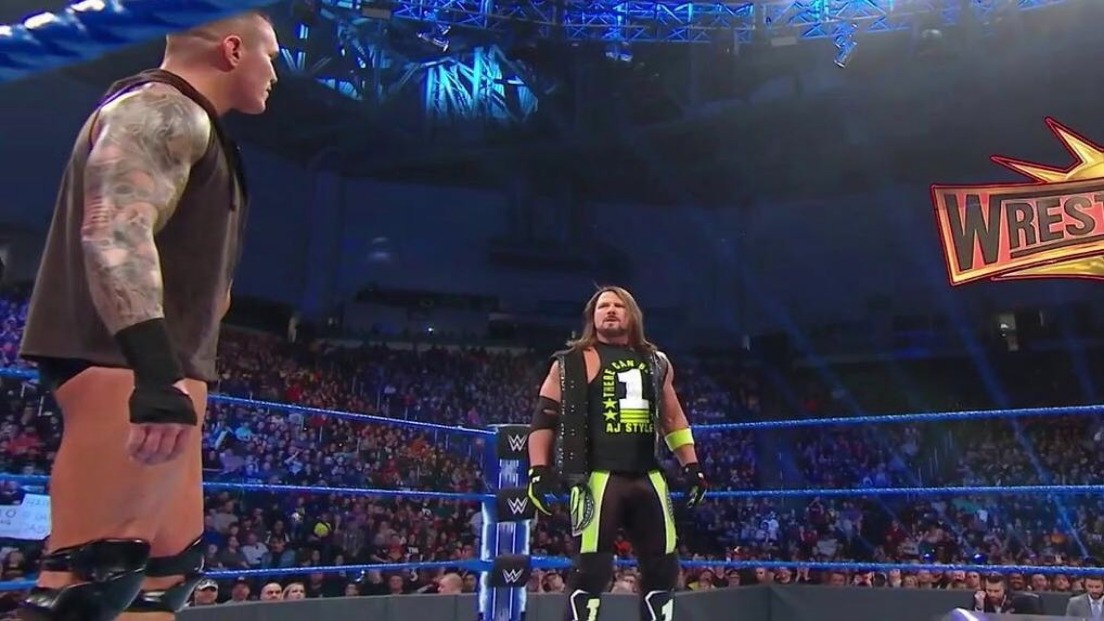 With less than four weeks until WrestleMania 35, the push to fill out the card for the biggest show of the year went into overdrive Tuesday night. Two matches we saw coming after the events of Fastlane were locked in on SmackDown. Shane McMahon promised to continue to embarrass The Miz after beating Miz up in front of his dad in his hometown on Sunday, as McMahon insulted everyone from the crowd in attendance in Dayton to every employee of WWE looking for a handout. Later in the night, AJ Styles was positioned as the "voice of the indies" opposite WWE lifer Randy Orton, who not so casually namedropped former TNA boss Dixie Carter and Ring of Honor's pre-match handshakes.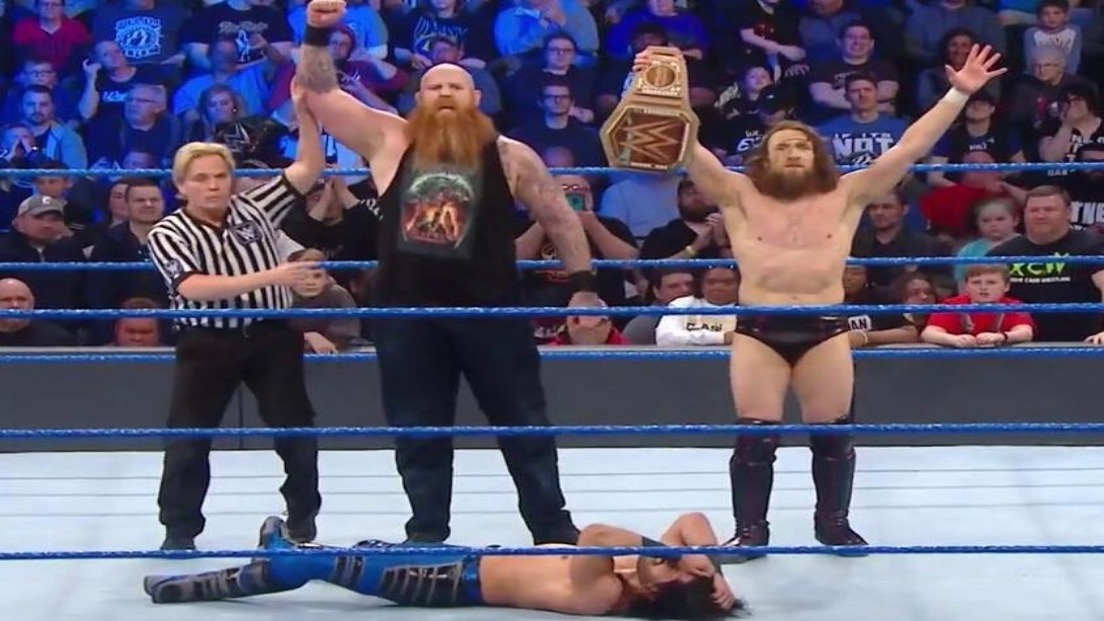 We got four matches on SmackDown, and as other parts of the WrestleMania 35 card got clearer, most of these results leave the fate of multiple WWE superstars a little bit fuzzier. An eight-man tag team match featuring The Hardy Boyz, Aleister Black, Ricochet, The Bar, Shinsuke Nakamura and Rusev ended as a no contest when New Day aired out their frustrations by destroying everyone in the ring. Asuka defeated Sonya Deville, as animosity grew between Deville and Mandy Rose, who cost Deville a match Tuesday night in similar fashion to the way Deville short-circuited Rose's title shot at Fastlane Sunday. Still no clear sign as to what awaits Asuka at WrestleMania. Rey Mysterio pinned United States champion Samoa Joe in a tag team match, but whether that means a title match in the coming weeks on SmackDown or perhaps something bigger at WrestleMania is unclear. Finally, Rowan picked up a win for himself and Daniel Bryan over Kevin Owens and Mustafa Ali by hitting an Iron Claw on Ali.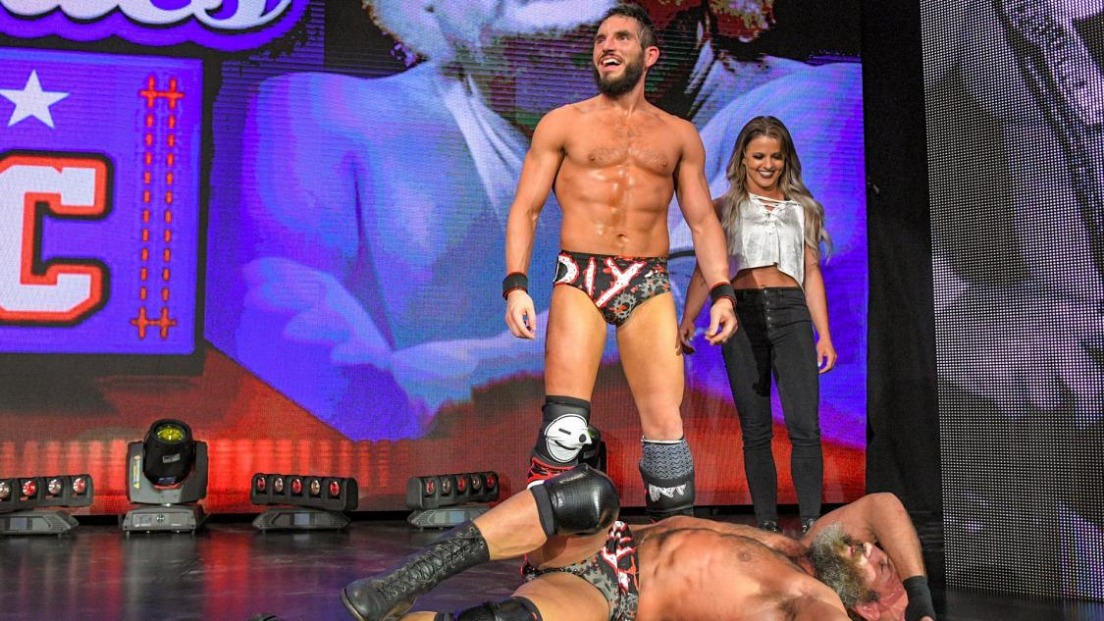 In Dusty Rhodes Tag Team Classic semifinal action, the Forgotten Sons defeated Moustache Mountain and the duo of Aleister Black and Ricochet beat #DIY in a fantastic main event. Post-match, Johnny Gargano, who feigned an injury towards the end of the match, attacked Tommaso Ciampa as Ciampa appeared poised to deliver an attack of his own. Also on the show, in a match intended to determine a number one contender to Shayna Baszler's NXT women's championship, Io Shirai and Bianca Belair battled to a double disqualification. The DQ occurred when Baszler, who was on commentary, ambushed both superstars as well as Kairi Sane, who attempted to make the save. As a result, Baszler will defend her title against all three superstars in a Fatal 4-Way match at TakeOver: New York.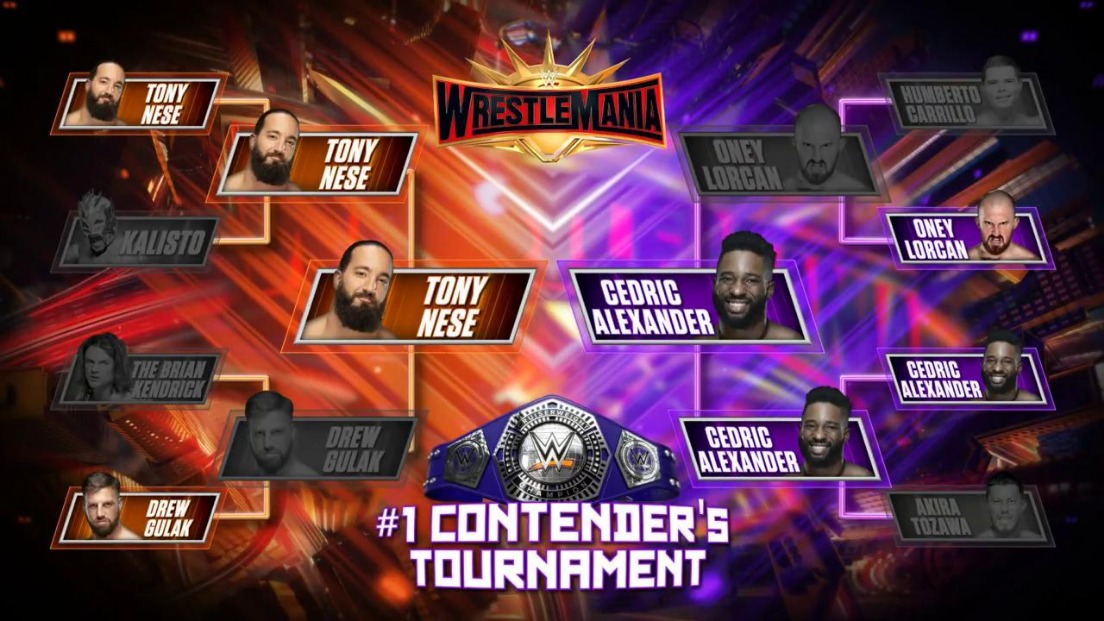 In the two tournament semifinal matches to determine a new number one contender to Buddy Murphy's Cruiserweight championship, Tony Nese defeated Drew Gulak and former champion Cedric Alexander defeated NXT's Oney Lorcan. The winner of next week's match between Nese and Alexander will challenge Murphy for the title at WrestleMania.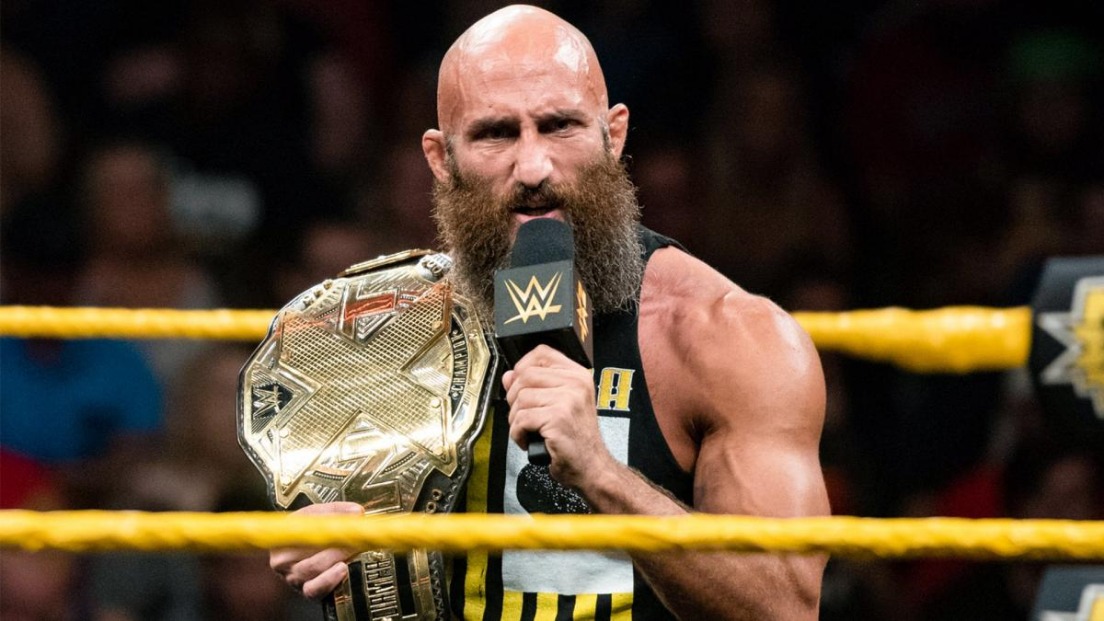 NXT champion Tommaso Ciampa will undergo neck surgery on Thursday. A release from WWE confirmed that Ciampa is scheduled for an anterior cervical fusion procedure, but additional details about everything from a timetable for return to storyline ramifications remain unclear.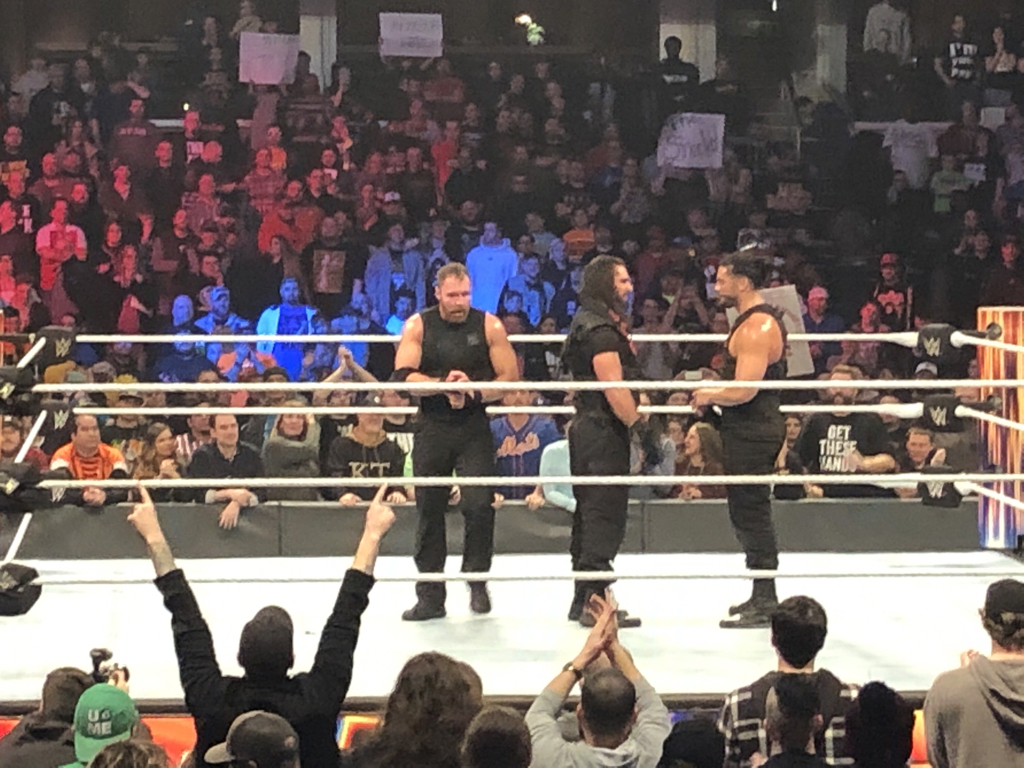 For perhaps the final time -- or at least the last time for a long while -- Roman Reigns, Seth Rollins and Dean Ambrose stood together in the ring as The Shield in celebration of a victory. They soaked in the moment for several minutes after the Fastlane pay-per-view went off the air, and thanked many fans as they slowly made their exit.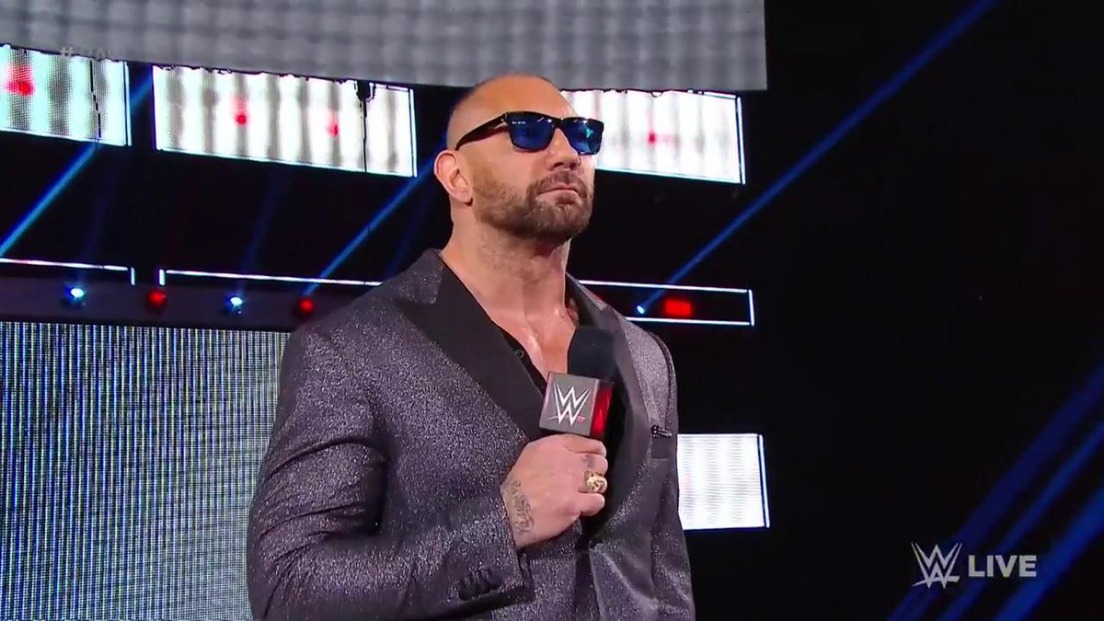 A couple of longtime stars officially booked their spots in WrestleMania, as Batista challenged Triple H (with Triple H not only accepting, but announcing it would be a No Holds Barred battle), while Kurt Angle said this year's event will be his farewell match. While we don't know Angle's opponent yet, Batista, who brought an army of security down the ramp "for protection" Monday, and Triple H have a long, storied history. "That's all I wanted," Batista said as he addressed Triple H. "One last match to end my career on my terms. And one last match to end your career on my terms."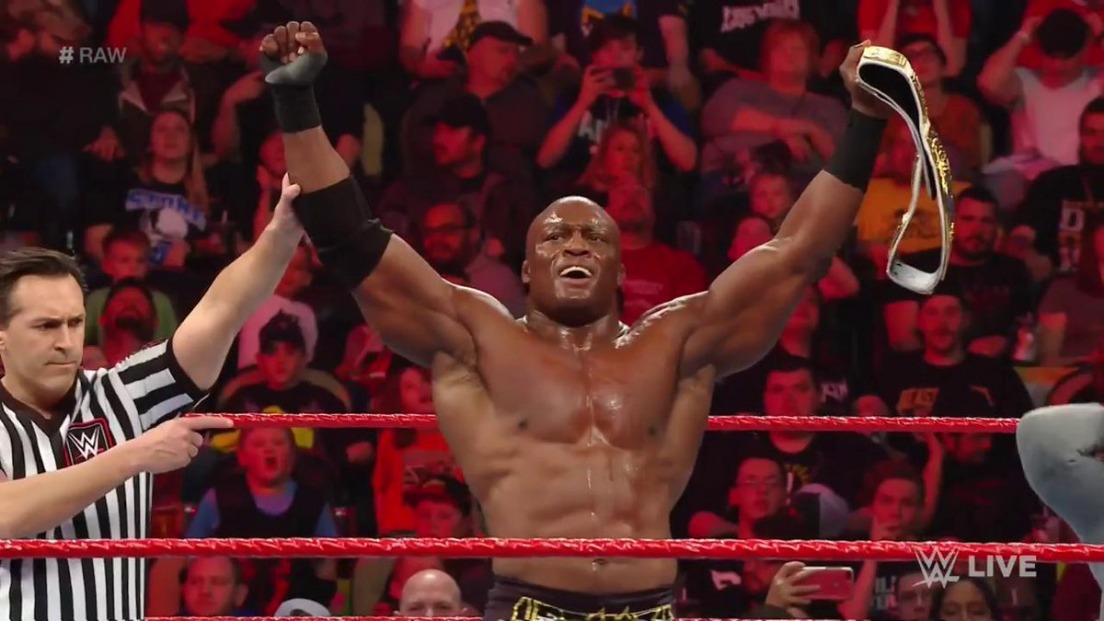 Just like that, Bobby Lashley regained his intercontinental title as he (with a big-time assist to Lio Rush) beat Finn Balor three weeks after initially dropping it at Elimination Chamber. Since the end of 2017, that championship has changed hands nine times, with only Seth Rollins holding it for more than 100 days. In other action, Ronda Rousey delivered a scathing promo, saying she "got Charlotte disqualified [at Fastlane] so she could expose [Charlotte and Becky Lynch] as the con artists they are." Rousey then beat the lights out of Dana Brooke before their match ever officially began, while decking a referee just to add insult to injury. Beth Phoenix interfered in a one-on-one matchup between Natalya and Nia Jax, so she could get her hands on the latter, while Alexa Bliss announced she would be the host of this year's WrestleMania.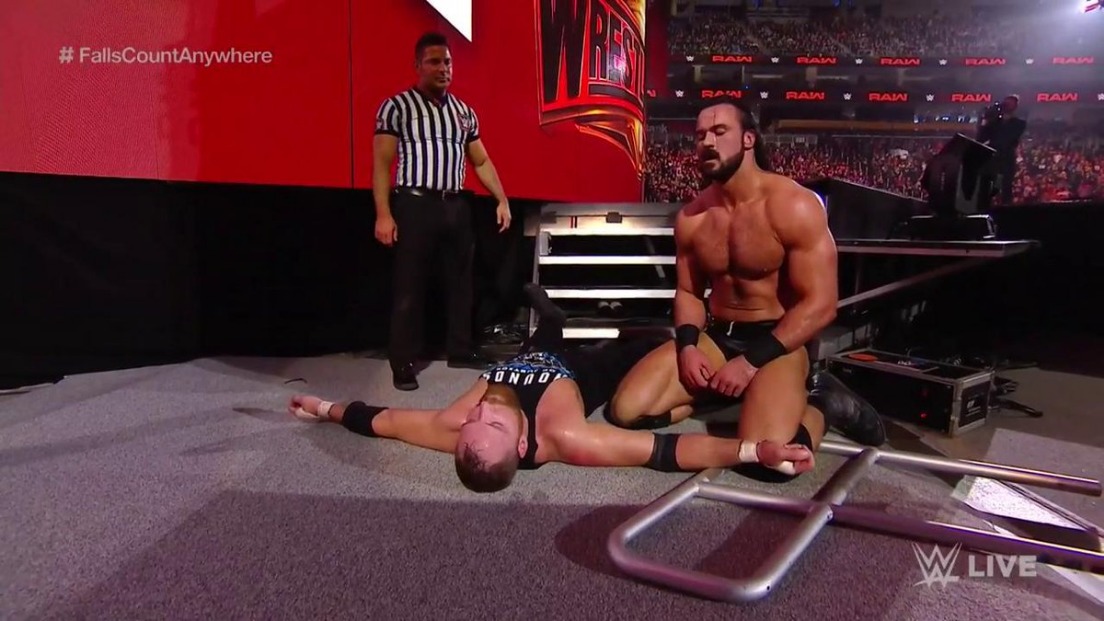 Drew McIntyre beat, brutalized and bludgeoned two-thirds of The Shield on Monday Night Raw. First, he blindsided Roman Reigns before the Big Dog's scheduled match against Baron Corbin, landing two Claiborne Kicks with enough force that Reigns needed Seth Rollins' help back to the locker room. Soon after, an irate Dean Ambrose wanted retribution and was granted a falls-count-anywhere match against McIntyre, which was, in retrospect, not the wisest move. After clobbering each other in the concession stands and as far up as the mezzanine in the PPG Paints Arena in Pittsburgh, McIntyre leveled Ambrose with a low blow, then heinously stabbed his face with a pencil before tossing him like a ragdoll into the LED boards. Then with Ambrose caught in a guardrail, McIntyre leveled his helpless foe with a Claiborne Kick, and that was all she wrote.
This Is SportsCenter: Wrestlers
Wrestlers stand up for themselves.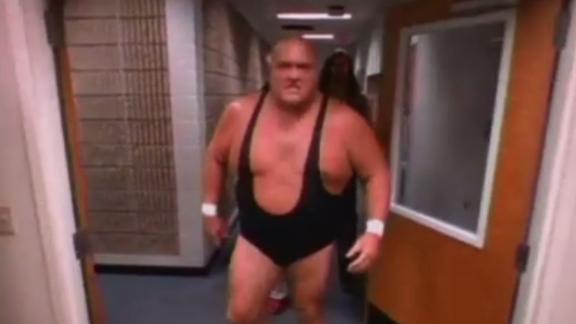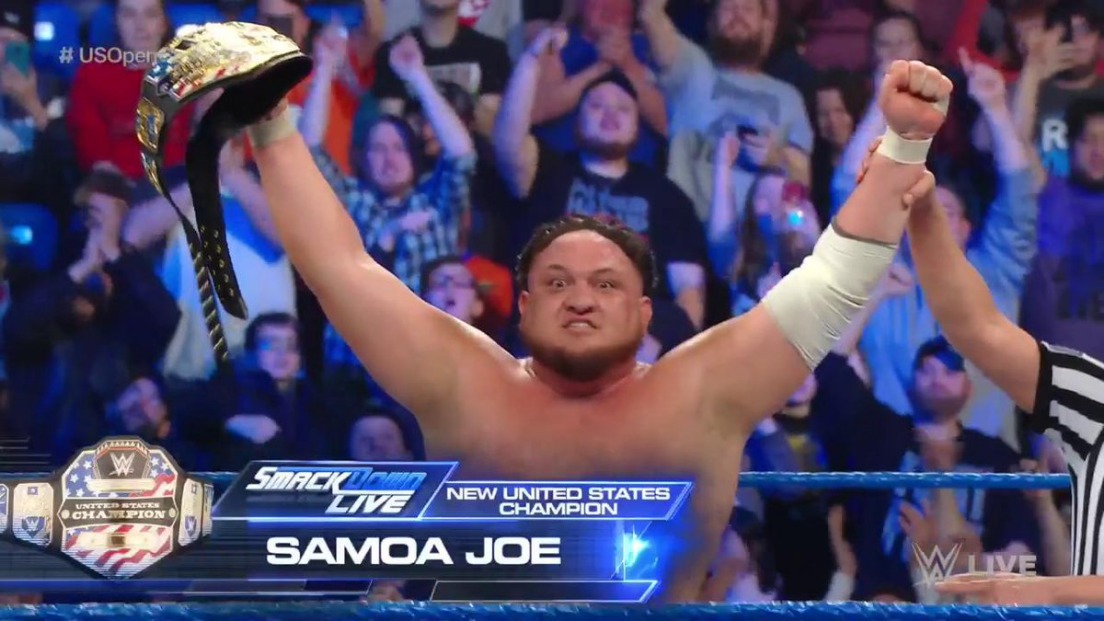 It took a lot longer than expected, but Samoa Joe finally won his first WWE title on the main roster, choke-slamming and pinning Andrade in a Fatal 4-way (which also included Rey Mysterio and former champ R-Truth) to claim the United States championship. The timing of the title change -- a go-home show ahead of Sunday's Fastlane pay-per-view -- comes as a surprise, but the reality is Joe, perhaps more than anyone else on either show, has been long overdue for a slice of gold. "For all you SmackDown superstars who [want a shot at this title,] don't worry, I'll be here to make you all go night-night soon enough," Joe said backstage immediately afterward.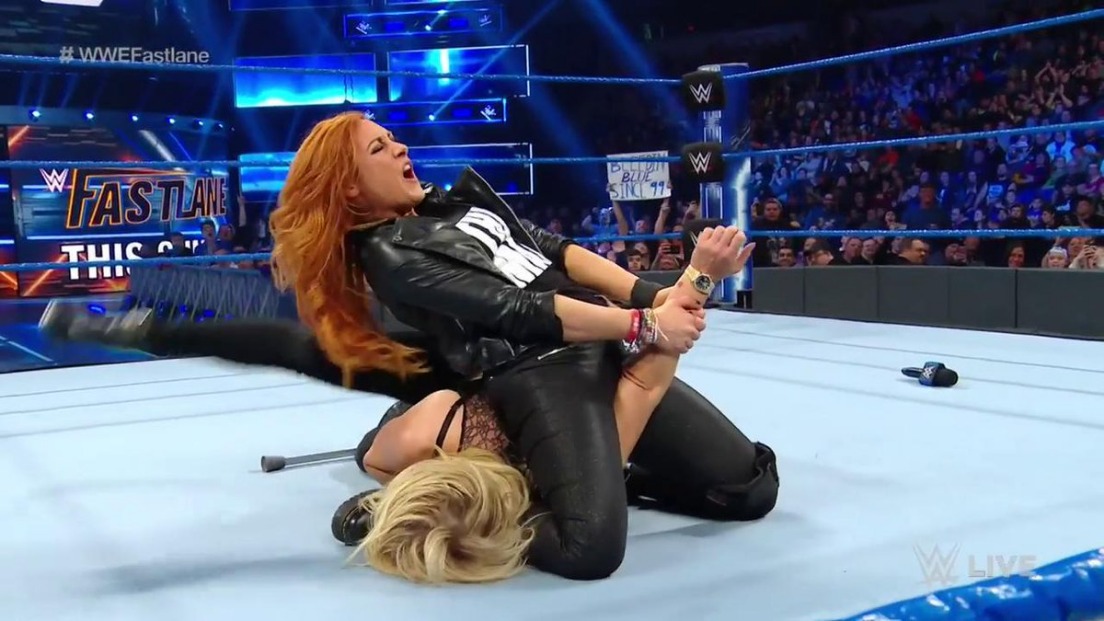 Sure, she's got a bum knee, but her heart has made up for any physical ailments. As SmackDown Live's go-home show came to a close, Charlotte Flair attacked Becky Lynch (a night after Ronda Rousey beat the stuffing out of her). But despite the pummeling, Becky was able to muster the energy to put her longtime foe in a Dis-Arm-Her, showing Charlotte nothing is going to stop her from winning the Raw women's championship this coming Sunday and Fastlane and, as importantly, insert her name back into the WrestleMania card.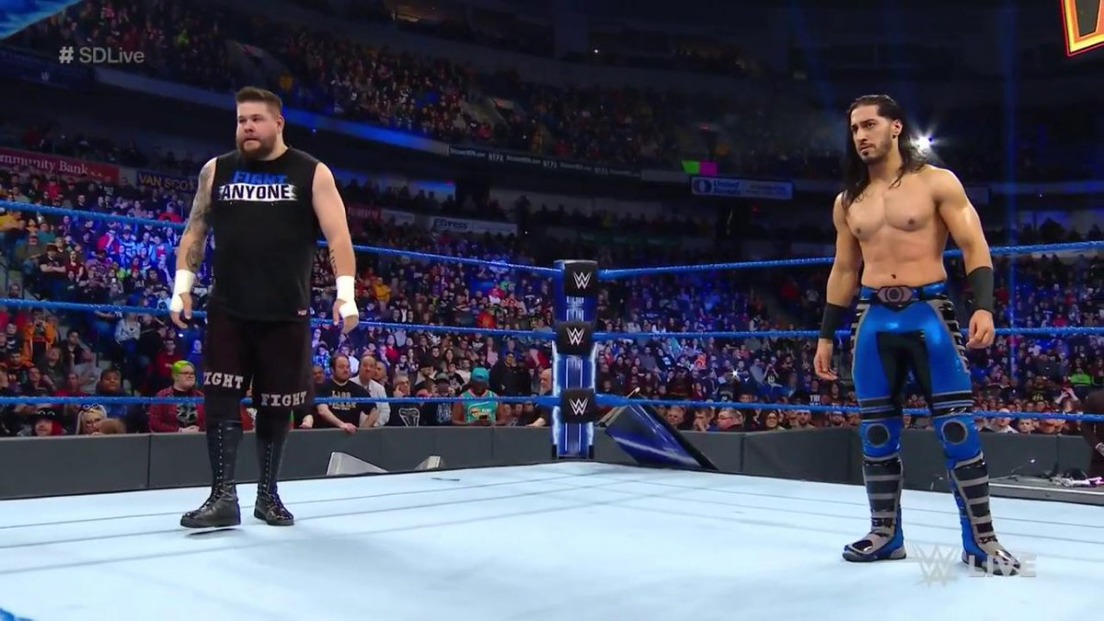 Tensions rose and tempers soared Tuesday on a fast-paced edition of SmackDown Live. Aleister Black and Ricochet beat The Bar, and afterward they were attacked by Rusev and Shinsuke Nakamura before the Hardy Boyz came in for the rescue. Black and Ricochet were then given a shot at the Raw tag-team gold at Fastlane, where they will take on Bobby Roode & Chad Gable and current champs The Revival in a triple-threat battle. Kevin Owens also received an unlikely assist after he was beaten down by Rowan and Daniel Bryan, when Mustafa Ali returned from a concussion to quell the champ and his intellectual equal. But something says Owens won't have such luck come Sunday's showdown for the title.
It took a winding, sometimes confusing and, at times, truly frustrating path, but the road to a WrestleMania 35 triple threat main event for the Raw women's championship finally seems clear. After teasing that the Raw women's title had been vacated earlier in the night, a contract signing to close out Monday Night Raw and put Becky Lynch back into action predictably went awry. Upon Ronda Rousey's march to the ring, Stephanie McMahon handed her back the Raw women's championship, and the match at Fastlane on Sunday between Lynch and Charlotte Flair was changed; Lynch can now win her way back into the WrestleMania main event by defeating Flair. Rousey dropped her facade and she swore off everyone -- Lynch, Flair, McMahon and the fans alike -- before dropping a hobbled Lynch with strikes and several vicious-looking armbars. If history is any indicator, the Flair-Lynch match should be a fun one, but boy, did this story get more complicated and convoluted than it needed to be.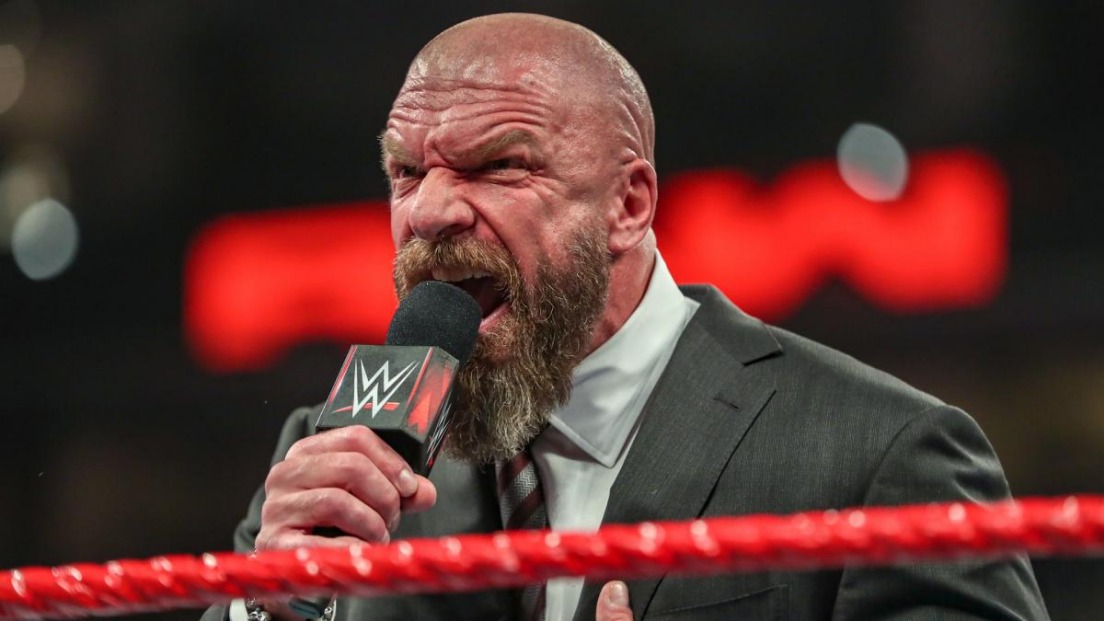 Triple H addressed Batista's attack on Ric Flair by making the confrontation personal and digging into the real life personal moments that had bonded Triple H and Flair. Topics ranged from Flair's son dying to his health scare and near-death experiences, and Triple H made sure to position Batista as a sick person for what he did. Batista used his Instagram to crap on Philly and position himself as the undeniable villain -- but we'll have to see what happens the first time "I Walk Alone" hits inside an arena. We'll find out next week, as Triple H and Batista will meet face-to-face on Raw.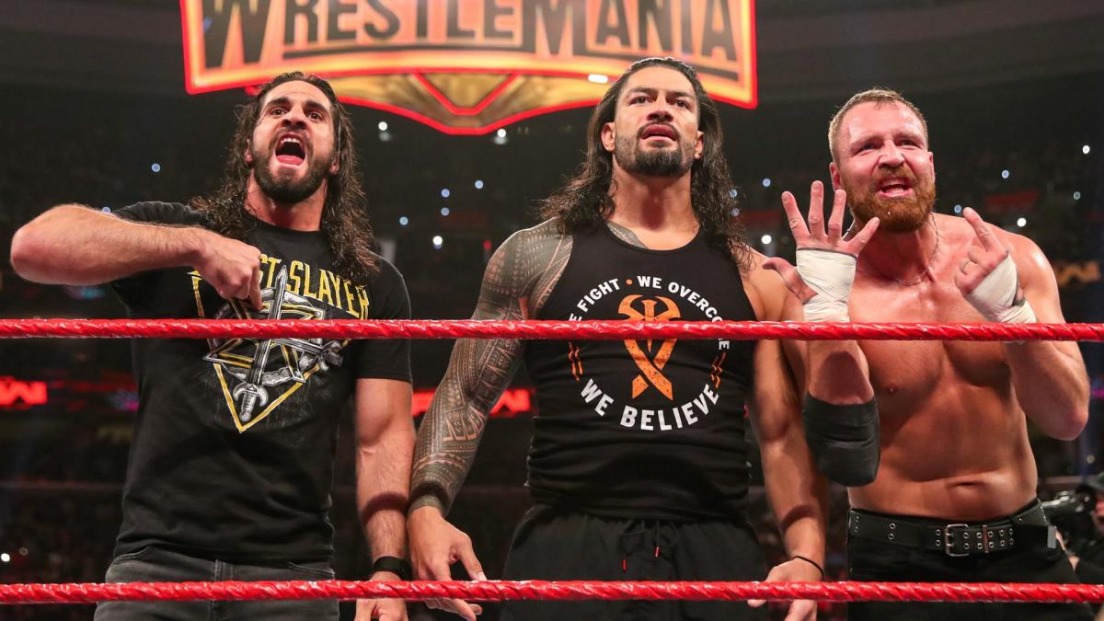 Roman Reigns started the night on Raw with one goal in mind, but it wasn't to put himself between Seth Rollins, WrestleMania and the Universal championship -- it was to reunite The Shield for one more match. Rollins was quickly convinced, but it took a three-on-two attack for Dean Ambrose to enter the fray -- setting up a six-man tag team match at Fastlane against Bobby Lashley, Drew McIntyre and Baron Corbin. Earlier in the night, that same villainous team defeated Braun Strowman, Finn Balor and Kurt Angle and laid waste to Balor and Angle post-match. In other action, Aleister Black & Ricochet's Raw tag title chance was ended by DQ when Chad Gable & Bobby Roode attacked The Revival; Natalya defeated Ruby Riott by roll-up, and went face-to-face with Lacey Evans after the match; Heavy Machinery defeated The B-Team, Ascension and Curt Hawkins & Zack Ryder in a gauntlet match; Tamina defeated Sasha Banks one-on-one ahead of Sunday's tag team title match; and Elias scored a clean victory over Ambrose, after hitting Ambrose with a guitar early in the night.
Flair emotional at surprise 70th birthday party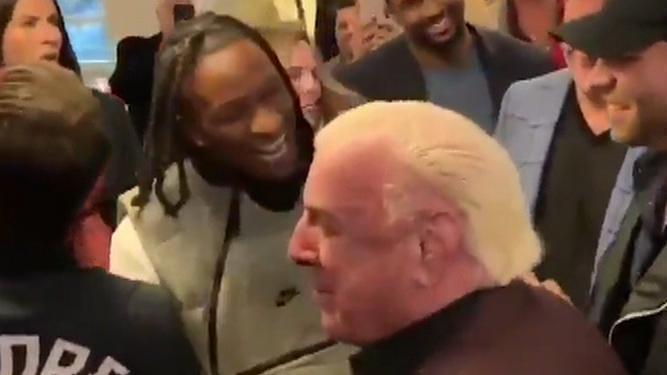 Reigns: 'Amazing' to be back in WWE ring
WWE superstar Roman Reigns reacts to his return to the ring to announce that he is in remission from his battle with leukemia.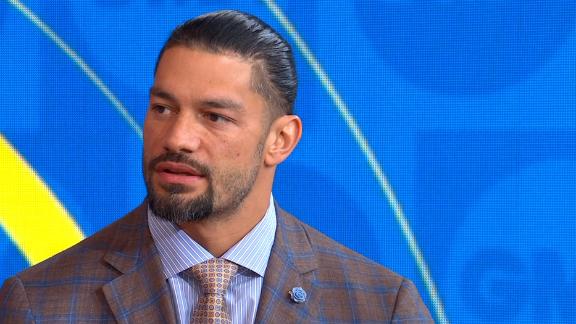 Roman Reigns announces he's in remission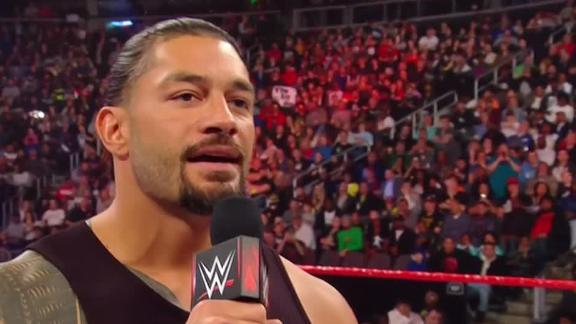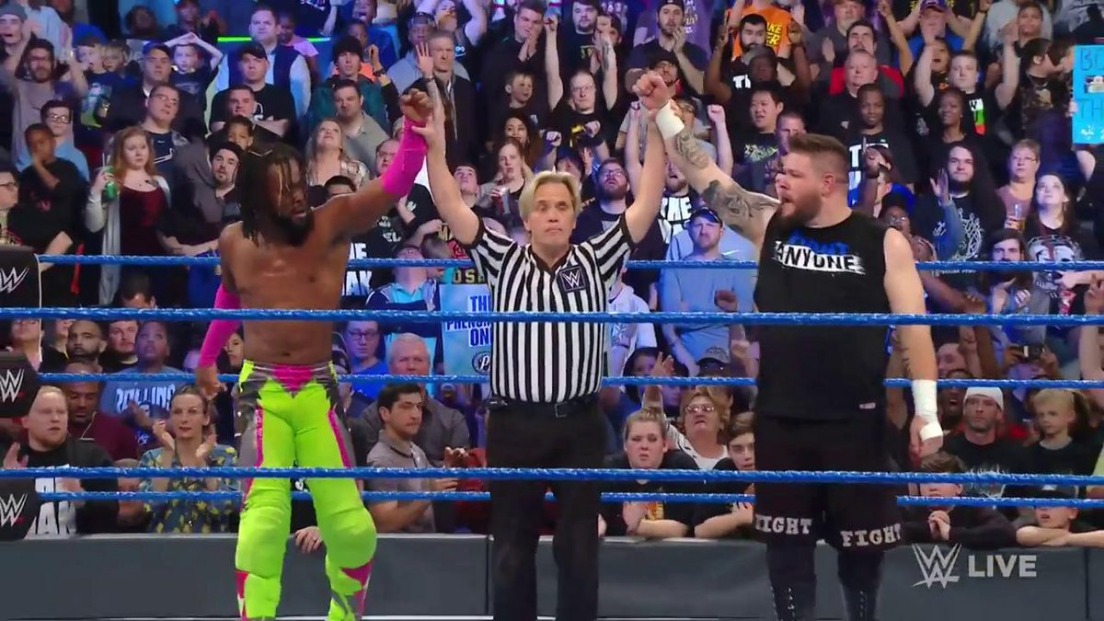 Kofi is out and KO is in. Those were, in a nutshell, Mr. McMahon's words Tuesday night as SmackDown Live kicked off. As Kofi Kingston and Daniel Bryan were set to sign their contract ahead of Fastlane's championship match, McMahon made a sudden appearance and abruptly booted Kofi from the upcoming showdown in lieu of Kevin Owens, who returned to action for the first time since last October because of double-knee surgery. McMahon said he wants a "box-office" battle, and KO gives him that -- not Kingston. Later in the night, Owens and Kofi teamed up to beat Bryan and Rowan. What does this mean? Given the response to Kofi's meteoric rise, perhaps the WWE creative made the decision to save his championship bout for WrestleMania. Now wouldn't that be something.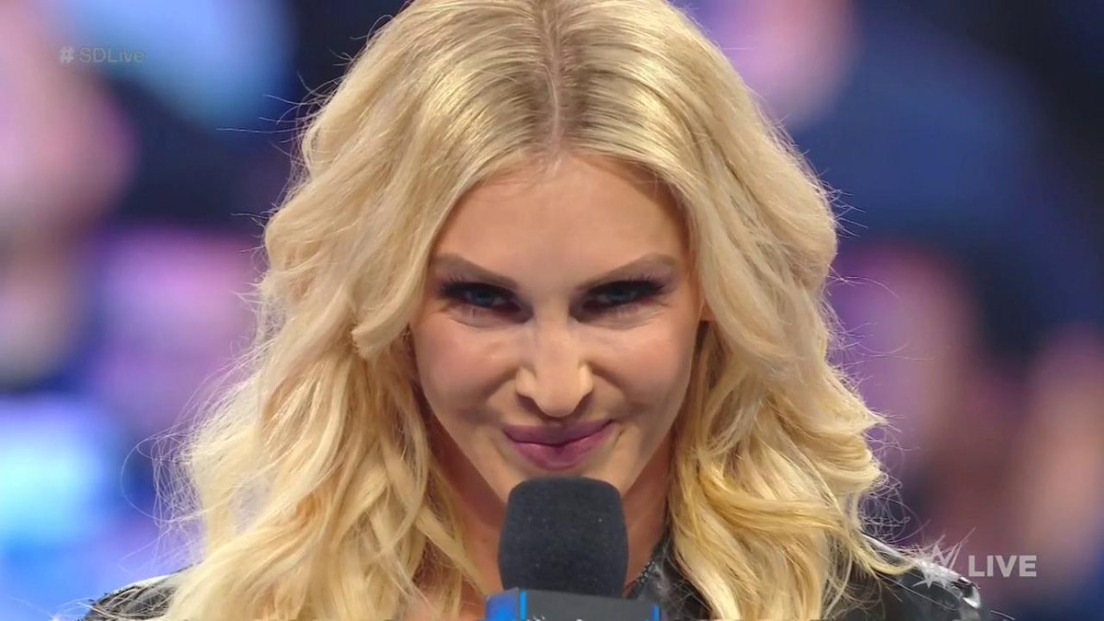 Charlotte Flair and AJ Styles made brief appearances Tuesday, but only on the mic. Charlotte had some words for Ronda Rousey, who a night earlier questioned why The Queen is involved in the Raw women's championship at WrestleMania in the first place. Backstage, Styles said he's disappointed in his results lately because "anything other than perfection is a disappointment," and that his slump is the reason for Daniel Bryan's ascent. As Styles was speaking, Randy Orton walked over, creating a tense moment, which looks like it could lead to a showdown at Fastlane.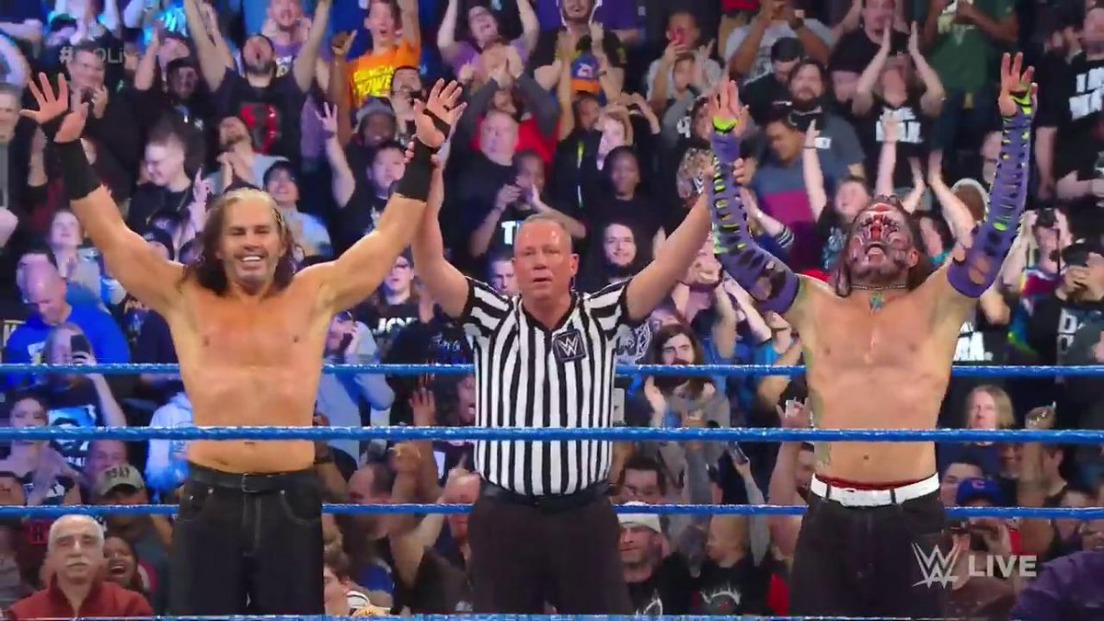 On an energetic, if not explosive, episode of SmackDown Live, the twist to Fastlane's WWE championship match was only part of the drama. In front of his home state of North Carolina, Matt Hardy surprised everyone, returning to action for the first time since last August and teamed with his brother, Jeff, to dominate The Bar. Another North Carolina native, R-Truth, rolled up Rey Mysterio in a triple-threat match that also included Andrade. Finally, Aleister Black and Ricochet kept up their phenomenal performances since being elevated to the main roster as -- a night after beating Raw champs The Revival -- they took out Rusev and Shinsuke Nakamura.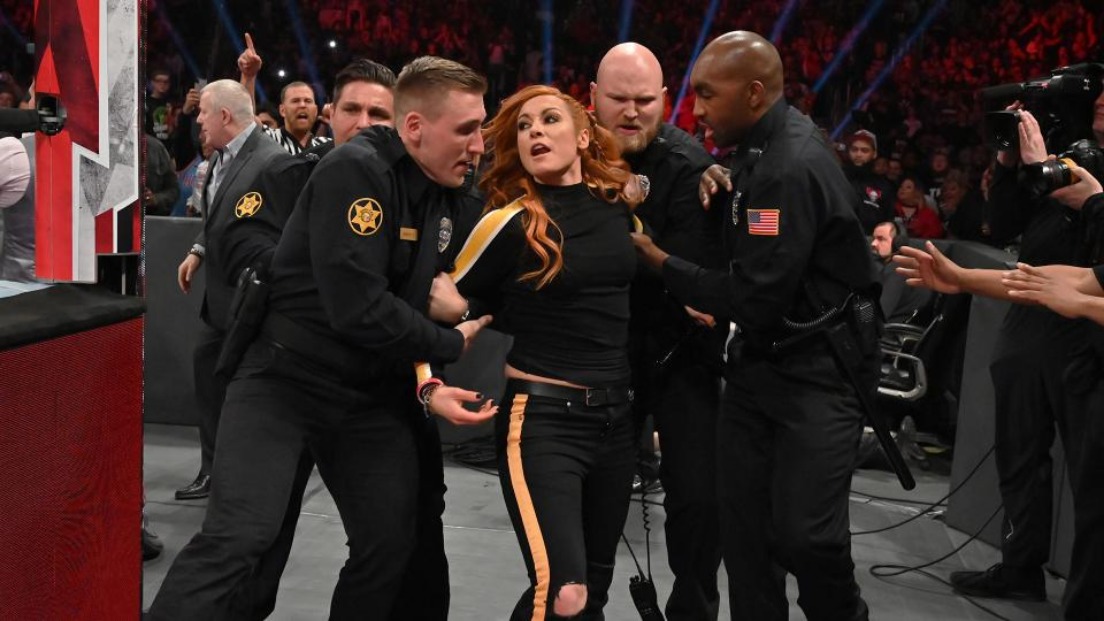 If the last few weeks of WWE TV didn't quite feel like WrestleMania season, Monday night injected a major sense of urgency to the proceedings with an absolutely wild night of action on Raw. Not only did Roman Reigns announce his leukemia was in remission, he and Seth Rollins helped save Dean Ambrose from a 4-on-1 attack. Becky Lynch got "arrested" trying to interrupt a tag team match involving Ronda Rousey, and when Stephanie McMahon refused to intervene and reinstate Lynch, Rousey laid the title down on the mat and walked away. The in-ring action was up to snuff as well, as Aleister Black and Ricochet handed The Revival their second straight loss to recent NXT talent in a non-title match, Lio Rush stepped up in a major way in an unsuccessful Intercontinental championship match, Drew McIntyre defeated Dean Ambrose in a far longer match than last week's and Bayley beat Nia Jax clean.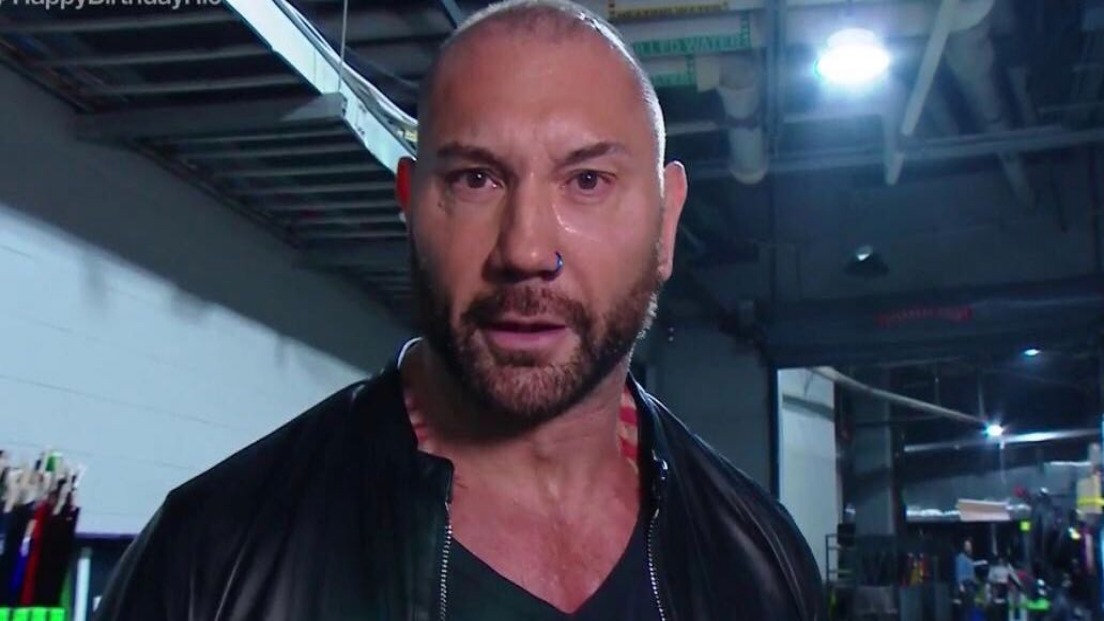 Even in light of everything else that happened, the return of Batista in the closing moments of Raw will carry quite a bit of buzz in its on right. During what was supposed to be Ric Flair's 70th anniversary celebration, many of Flair's friends and former rivals filled the ring, Flair failed to enter the arena when his music hit, though, and while many thought that Becky Lynch would use this moment to get herself back into the WrestleMania picture, it was ultimately Batista who played spoiler. Batista dragged his former Evolution mentor out of a locker room by his collar and used the moment to call out Triple H in what's likely to be a WrestleMania challenge when all is said and done. Batista was gone by the time Triple H and others reached Flair backstage, but the damage was done. It's a major coup to get the star of multiple major motion picture franchises as a key part of WrestleMania, let alone someone with Batista's experience, and one of the major tentpole attractions for casual WWE fans at WrestleMania 35 has now seemingly fallen into place.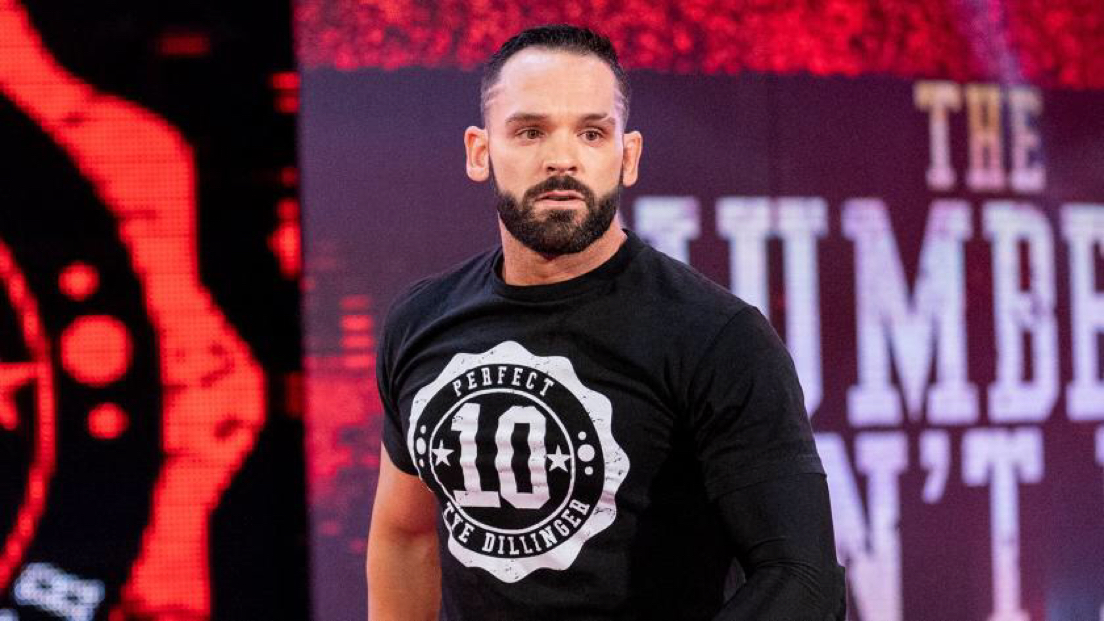 WWE confirmed Friday that they have come to terms on the release of Tye Dillinger, real name Ron Arneill. Dillinger posted an announcement that he had requested his release at midnight on Wednesday. Dillinger, 38, spent two different stretches of his career with WWE.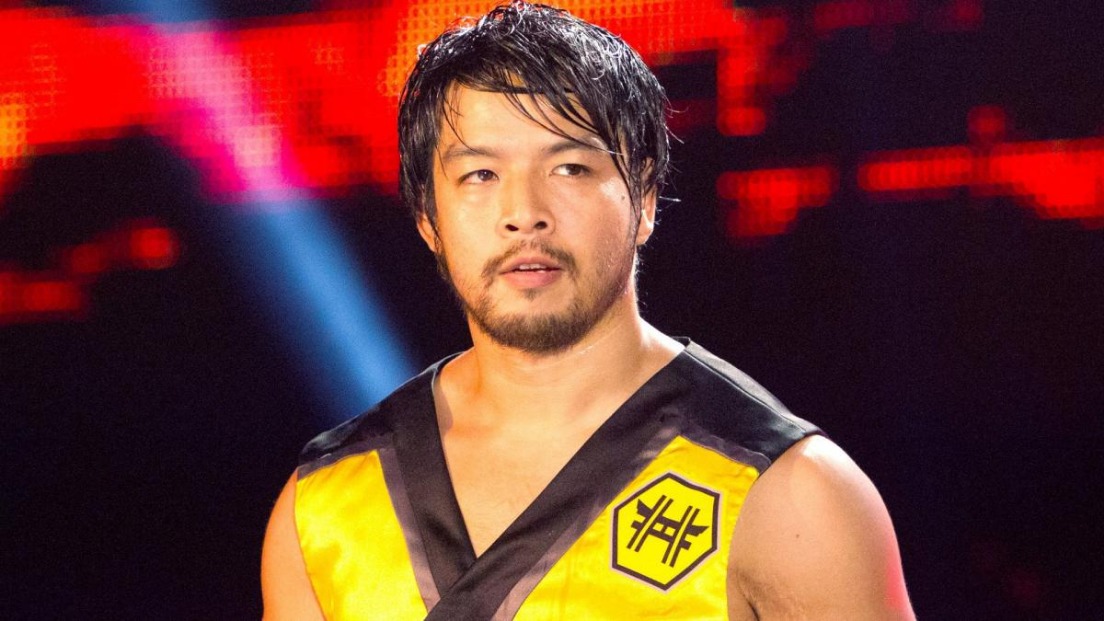 WWE confirmed Friday they have come to terms on the release of Hideo Itami (Kenta Kobayashi). Itami posted a message on Twitter on Jan. 29 that simply said "THANK YOU", and reactions from those around the WWE locker room heavily implied Itami's impending departure. Now 37 years old, Itami signed with WWE in 2014 and spent the better part of three years in NXT. Two major injuries largely derailed the momentum of his career, although he did appear in the Andre the Giant Memorial Battle Royal at WrestleMania 31. Most recently, Itami spent a little over a year as part of the 205 Live roster, with his final two matches coming during Royal Rumble weekend in Phoenix.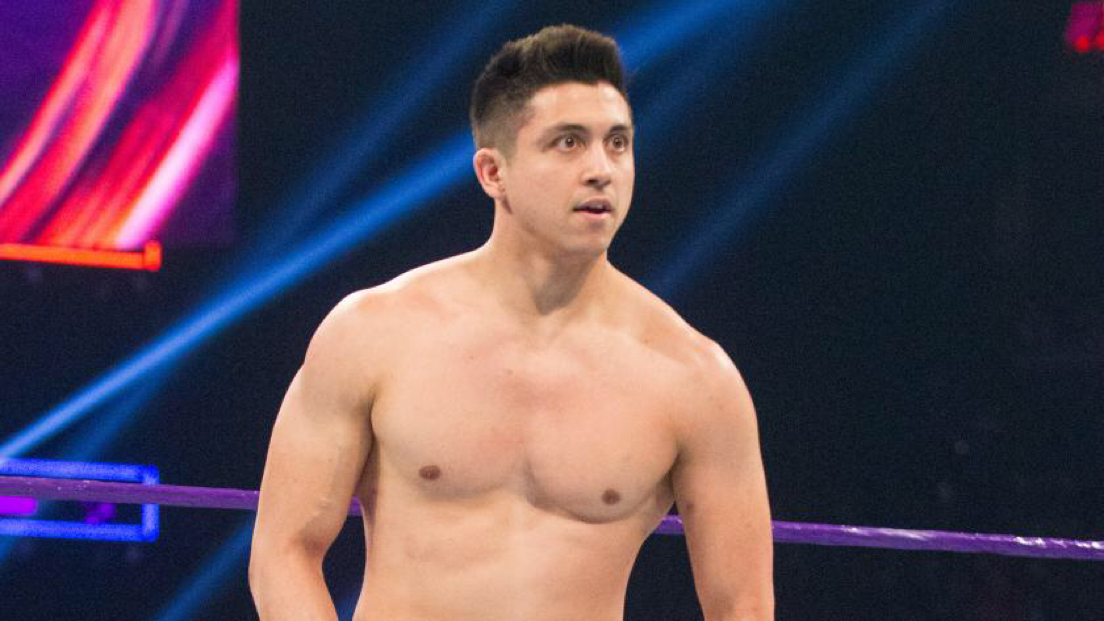 WWE announced Friday that they have come to terms on the release of TJP -- real name TJ Perkins. In 2016, TJP won the WWE Cruiserweight Classic and was the first cruiserweight champion since that title was brought back.
Hager wins professional debut by 1st-round submission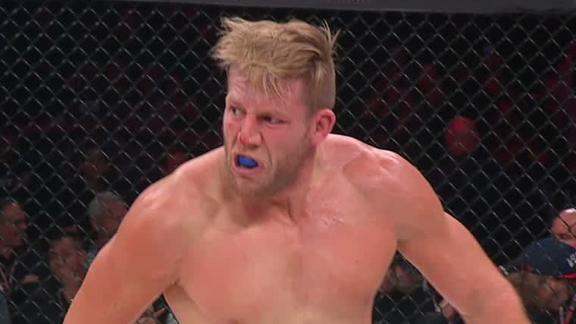 Courtesy of WWE

Profile pages for every active member of the WWE roster

WWE

Trace the lineage and history of every active title in the WWE

Courtesy @WWE

All of the current champions in WWE and the most significant contenders for each title.
Customise ESPN