Rugby League
Dragons 26-12 Warriors.
The Dragons were able to take advantage of a hamstring strain that ended Kieran Forans game before it had even begun.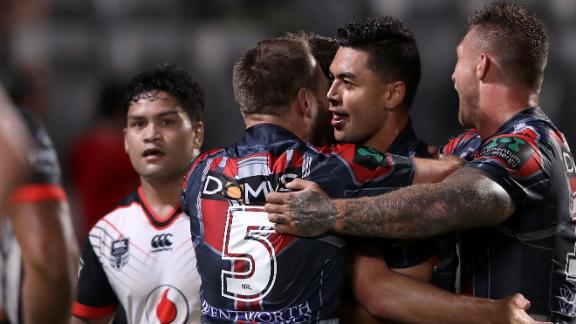 Photo by Cameron Spencer/Getty Images

NRL superstar Johnathan Thurston has attributed his incredible career to his family and revealed a fear of failing teammates is what drives him to be the best - even after achieving everything.
ESPN

The latest news, exclusive opinion/analysis, the best sporting video, and a look ahead to what the big talking points will be.
Photo by Mark Kolbe/Getty Images

Every club will start the 2017 NRL season optimistic and confident but which ones will be justified? Mark Ashton rates all 16 clubs' recruitment, rosters and aspirations for the year ahead.
Photo by Scott Barbour/Getty Images

The 'spine' is often an indicator of the strength of an NRL team, so ESPN has analysed the best 1, 6, 7, 9 combinations. How does your club stack up?
Photo by Bradley Kanaris/Getty Images

Johnathan Thurston is one of the smartest minds in the NRL and the Cowboys star has posed a solution that would help ease scheduling strain on players and save the Indigenous All Stars concept.
Photo by Mark Kolbe/Getty Images

With the NRL reportedly thinking of re-locating Newcastle Knights to Queensland, the embattled club has found an unlikely ally in a man who stands to gain the most from the projected move.
Eels' Driving Forward Not Back
Photo by Simon Watts/Getty Images

Parramatta half-back Corey Norman says the Eels' disastrous 2016 NRL campaign has been wiped from their memory and won't be a motivating factor as they search for redemption this season.
Silly Season - Player Movements
Picture: Brisbane Broncos

The NRL silly season rarely disappoints and once again fans have seen players come and go -- has your club's business this off-season made them stronger or weaker for season 2017?
Your Club's Most Important Recruit
Source: www.goldcoastbulletin.com.au

The 16 NRL clubs have done their off-season shopping in an attempt to find a perfect formula to win a premiership. Mark Ashton digs a bit deeper to reveal which new face hold the keys to success.
Customize ESPN