Editor's Note: Kevin Carroll is a regular contributor to ESPN.com, chronicling how the power of sports positively impacts society. To share a positive sports story with Kevin, visit his profile page.
In the 2008 men's and women's NCAA tournaments, there were memorable team performances and individual players who distinguished themselves on the court with their courage, creativity and ability to deliver game-changing moments. We are familiar with the names: Derrick Rose, Stephen Curry, Psycho-T, Chris Douglas-Roberts, Brandon Rush, Candice Wiggins and Candace Parker (aka "Ice" and "Ace"), Maya Moore and Sylvia Fowles, just to name a few. Memorable, magical and definitely worthy of being called Most Outstanding Players, these young athletes provided incredible moments that left us awed by their gifts.
March Madness captured our imagination for more than three weeks and took its annual place as a true global sporting spectacle. It's ubiquitous presence was welcome. The games were talked about tirelessly. Coaching decisions were critiqued, debated and overanalyzed. It even provided me with an unusual yet highly appropriate way to start a business meeting when I led a group of librarians in Wichita, Kan., in a rousing chant of "Rock, Chalk, Jayhawk, KU!" That's right, librarians! March is one of the rare times when fervent fans welcome the casual into the exclusive and hallowed hoops club normally reserved for the true fanatic. All are welcome to watch, enjoy and celebrate the game.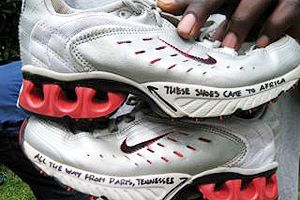 Hoops 4 Hope
Hoops 4 Hope is an organization that brings athletic shoes from the U.S. to Africa.
As I watched the tourney finals and truly enjoyed the play in both games, my thoughts occasionally wandered from the on-court action, to the masses of humanity crammed into the arenas in San Antonio and Tampa, to the millions of eyes peering at some version of a screen to view the contests, to how a game can be a powerful tool, capturing our imagination and attention in a profound way. And those thoughts led me to the work of individuals around the world who are using basketball to change the lives of others. I thought about how I'm equally awed by the commitment of several social-change organizations around the globe to improve the lives of others. So, I figured it was time to hand out some post-tourney honors to a few deserving individuals who are harnessing the power of hoops.
We all know sport and play are global common denominators and planetary equalizers. No matter where you look in the world -- regardless of political climate, religious system or socioeconomic situation -- we all play. Therefore, stories of triumph over illness, conflict, strife, poverty or handicap through sports resonate throughout our world and help inspire change. The power in these stories is like an alarm clock, rudely waking people from a heavy slumber. A great example of how sports can make us pause and take notice occurred this season at IUPUI when a coach chose -- on game day -- to go barefoot to draw attention to the plight of those who have no footwear options. These moments grab our attention in a loud and profound way.
The "players" I have selected for my Power of Sport MOP awards realized quite early in their lives that their love of basketball was undeniable. The game had a profound role in shaping each of them. Each felt a sense of duty to honor the game for all they received from hoops -- communication skills, teamwork, resolve, discipline and all of the game's other lifelong lessons. My MOPs took unusual paths to arrive at their work of sharing the game of basketball and using it as a tool for social good. Each of them now acts as a zealot for the game and serves as a human catalyst, professing and demonstrating how a ball can be a tool to foster social development and change on a daily basis.
Here are my four 2008 MOPs:
Peace Players International: A ball is color blind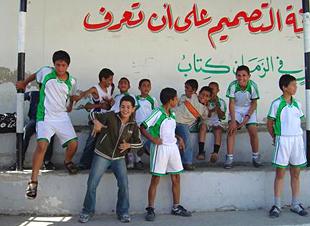 Chad Ford / ESPN.com
Peace Players International has brought together players of different religions in the Middle East.
Growing up in the northwest quadrant of Washington, known as Shepherd Park, young boys quickly learn that they need to be able to answer with a definitive "yes" when the neighborhood crew asks a simple question: "Can you play?" If you want to fit in, you better be able to play sports. Basketball became Brendan, Sean and Devin Tuohey's game of choice, and with that decision came deep friendships formed on alleyway half courts, school playgrounds and the hardwood of rec centers, high school gyms and college arenas. With each pickup, high school and college game played, the trio's love for hoops grew deeper. And they realized that basketball gave them instant access to friends.
The three brothers learned many lessons from the game: courage, relationship-building, pride, trust in others. Sean went on to coach overseas in Belfast, Northern Ireland, and quickly realized the game could assist in building cultural sensitivity, tolerance and a greater understanding of how to deal with someone "different" -- just like it did back in Shepherd Park. Sean's simple notion of creating global communities bound by the game he and his brothers love so much has helped build bridges for young people throughout the world. It has helped bridge gaps and silence strife caused by religious, racial and political differences. It's no surprise that the trio's experience with basketball led them to create an organization that brings players together, regardless of their background.
Peace Players International's work in the Middle East was detailed in a 2006 E-ticket story on ESPN.com. The organization's work in Northern Ireland earned it the Arthur Ashe Courage Award at the 2007 ESPYs. The organization has stared down dangerous conditions in all parts of the globe, using a game to help overcome the world's most serious conflicts.
"Mozambique" Marshall Cho: Mom always knew
For more than 10 years, I have frequented the same dry cleaner in Portland's Multnomah Village section. Shortly after the Cho family took over the shop in 2002, Marshall's mother, Myung, asked a simple question: "What do you do?" I told her I traveled a lot as a speaker for businesses and schools around the world, and I had recently written a book. She asked what the title was, and I told her a little bit about my first book, "Rules of the Red Rubber Ball." I offered to bring a copy for her and her husband to read. A short time later, Myung told me, simply, "You need to meet my son Marshall. He is just like you." I know I looked back at her quizzically, and then she handed me two spiral-bound documents and asked me to read printouts of Marshall's blog, which he had kept for friends and family since 2000. Myung said, "You will understand after you read this."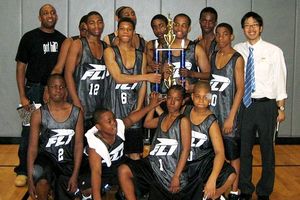 Marshall Cho
Marshall Cho, right with his eighth-grade team in Harlem, N.Y., helped bring the joy of basketball to the youth of Mozambique.
I learned Marshall is the eldest of three children born to his Korean immigrant family. The family moved from Seoul to Springfield, Ore., (yep, there really is a Springfield in almost every state in the union) in 1986. He didn't care that he was a vertically challenged, newly transitioned immigrant kid -- he had a basketball jones! His effort to improve his game was undeniable, and he became the captain of his varsity hoops team for his senior year. He had no delusions of playing college ball, and he flung himself into his studies as an accounting major at the University of Oregon. In 1999, serendipity smiled on Marshall when he saw a Teach For America brochure on a table in the school's career center. His first assignment for TFA was a stint as a middle-school math teacher in the Bronx, N.Y., for three years, and then he taught in Harlem for three more years. He played pickup games in an Asian-American league in New York and occasionally played ball at some of the famed parks in the city, which allowed him to satisfy his obsession with the game.
An unexpected opportunity arose for him to coach the eighth-grade boys' team at the Bronx school, and he found himself running the drills and schemes he gleaned from his high school coach. He also realized he had begun to know his students on a much more personal level; basketball was a bridge for other conversations that never would have taken place in the classroom or school cafeteria. Cho then married and moved to Mozambique -- which spurred him to thinking about getting involved with the game abroad. There's gotta be some ballers in the Moz, he thought. He fashioned a makeshift hoop and court in his backyard, and it it quickly became the place to gather and hang out. He couldn't resist the urge to teach the game to the young kids who knew soccer but not hoops.
Cho also got a chance to work with Basketball without Borders at a camp in Johannesburg, South Africa. In addition, he met with basketball officials from Mozambique and was given the opportunity to become a part of the national team coaching staff. While coaching, Cho met a young man named Issufo Gulamo Amigua. He quickly realized that Issufo had a basketball jones as well. The two formed a deep bond because of a ball. Eventually, Marshall asked his wife to prepare a room for Issufo in their home in Maputo, Mozambique, where they are helping put Issufo through the American International School. Marshall now is basketball coach, father figure, teacher, mentor and disciplinarian for Issufo, who might endeavor to come to the United States someday to study agriculture. Maybe a ball will be his ticket.
Lee Gerston and Christina Piranio, International Relief Commission: Can we play basketball?
A self-proclaimed "ESPN.comophile", Lee Gerston visits the site countless times per day. During one visit, he happened to see a blog alert and went to my katalyst4sport blog, where he read a call-to-action piece asking readers to share their "power of sport" stories. He immediately concluded that "his girls" were just such a story. Here is his e-mail: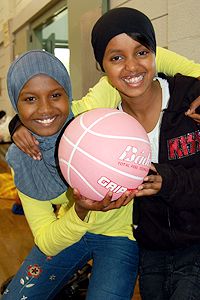 IRC
The International Rescue Committee is using basketball to help foreign students feel more comfortable in their San Diego school.
Hi Kevin,

My name is Lee Gerston. I sent you a message over at ESPN.com about the girls basketball team I coach and just want to give you some more information about myself, the organization for which I work, and most importantly, the team. I work for an organization called International Rescue Committee. Founded in 1933, the IRC is a global leader in emergency relief, rehabilitation, protection of human rights, post-conflict development, resettlement services and advocacy for those uprooted or affected by violent conflict and oppression. Currently, the IRC is on the ground in 25 countries, providing emergency relief, relocating refugees and rebuilding lives in the wake of disaster.

My work at the IRC in San Diego centers on education. As part of an after-school program at Crawford Educational Complex, I teach English as a second language to a group of about 20 newly arrived refugees from Burma, Thailand, Cambodia and Somalia (our program also serves students from Laos, Vietnam, Kenya, Liberia, Mexico, Congo and more). These students -- many with the help of the IRC -- arrived in San Diego between July and September 2007. They came to America with little to no understanding of English. To accelerate their learning curve, the students come to my class after school, Monday to Thursday, for an extra 90 minutes of English lessons. On Fridays, the remaining staff and I loosen things up. One teacher runs a "Girls Group," where girls can gossip, read magazines and make arts and crafts. Another teacher plays soccer with the boys. And I coach the girls basketball team. [Writer's Note: At first, all the girls were participating in the crafts program, but a few of them asked, "How come we can't we play basketball?" The IRC staff welcomed the request and has watched the number of girls playing increase to as many as 17.]

This year, the girls basketball team is made up of girls from Sudan, Somalia, and Burma. Very few of these girls had exposure to any sport in their homelands; none had any experience with basketball. Over the course of the last two years, the girls' skills have improved considerably, although it is not reflected in the win-loss column. Through two years, the girls have yet to win a basketball game. But they have certainly gained more than they have lost. They have made cross-cultural friendships that go beyond language. They have learned a game they can keep with them the rest of their lives. And for now, every week, they have the opportunity to play a game they are still learning, but definitely love.

I have included a YouTube link to a video shot last year. The girls in the video express what the game means to them in much better terms.

Christina Piranio spends a good deal of her day teaching the girls how to fight through "the screens and picks of life" by making certain the IRC provides a safe place with caring adults that establish ways for the students to learn many things while always enjoying a sense of belonging. Christina says, "It's tough enough being a teenager. Adding the challenge of learning a new language and adjusting to a new culture and way of life can increase the students' frustration. The one place that the field is level is on the sports field and court -- no language required -- just get out there and play!"
Hoops 4 Hope: Got sneaks?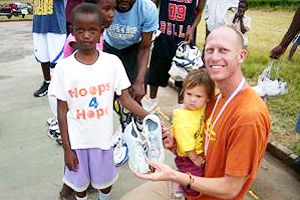 Hoops 4 Hope
Mark Crandall has helped kids find proper athletic footwear throughout the world.
How does an only child growing up in the tony community of East Hampton, N.Y., become an international peddler of hope through hoops? The answer is through assists from teammates (on and off the court) and some great coaching.
Mark Crandall gained his love of sports and his appreciation for the value of giving back via an eclectic group that included his physical education teacher, Dick Baker; a sports-obsessed family, the Gurneys; a basketball coaching icon, Ed Petrie; and parents who embodied the giving spirit and encouraged their son to chase his passion and dreams.
When the young Crandall traveled to Zimbabwe as part of a Rotary Club exchange-student program, he witnessed the power of shoes when a pair of pristine Air Force Ones was given away on a basketball court. A big idea formed, and Crandall embarked on a dream of leveraging basketball to engage a community's imagination and make a difference in the lives of others ... one pair of sneakers at a time.
According to the Hoops 4 Hope Web site, since 1995, the non-profit organization has helped more than 10,000 school-age children in Zimbabwe and South Africa by working with schools, shelters, and community organizations. H4H provides the basic tools young people need to play sports and face the challenges of growing up in communities plagued with poverty, crime and HIV/AIDS. H4H builds courts, organizes leagues and distributes athletic equipment collected from around the United States. H4H also runs coaching clinics, organizes tournaments, supplies financial assistance for team travel and provides children with a safe, nurturing environment.
March Madness 2008 provided us with a chance to marvel at how human potential is boundless and endless. The stories about the Power of Sport MOPs allow us a moment to recognize our capacity to uplift the human spirit. In both, we realize yet again that anything is possible -- all you need is a ball.