Bagley records his first career basket
Marvin Bagley III scores his first career basket with the sweet turnaround hook shot.
Griffin drops 26 in opener
Blake Griffin got off to a great start by scoring 26 points to help the Pistons beat the Nets 103-100.
Walker drops 41 in season-opening loss
Kemba Walker erupts for 41 points on 15-of-29 shooting in the Hornets' 113-112 loss to the Bucks.
Davis finishes alley-oop with ease
Elfrid Payton drives downcourt and lobs a pass up to Anthony Davis, who finishes with the two-handed flush.
Sexton drains his first two NBA buckets
Collin Sexton drains a teardrop off the glass for his first NBA points, shortly followed by a running leap for two more.
Hornets miss two attempts to win opener vs. Bucks
Down 113-112 and with the shot clock off, Kemba Walker misses a layup and Nicolas Batum a wide-open 3-pointer, sending the Hornets to a loss.
Butler hits and-1 surrounded by 4 Spurs
Jimmy Butler takes a nice dish from Jeff Teague and manages to hold on under pressure for two plus the foul.
Aldridge sends Jones' shot into the stands
LaMarcus Aldridge comes up with a nasty block on Tyus Jones, sending the ball flying into the crowd.
Mirotic makes a nice cut for the score
Jrue Holiday passes the ball to Nikola Mirotic, who makes a nice cut to the basket and sinks a layup.
Trier throws down vicious dunk
Allonzo Trier goes strong to the basket and puts down a dunk that electrifies the Garden.
Butler steals and slams
Jimmy Butler picks off the Spurs and takes the ball the other way for a wide-open jam.
Kawhi scores 12 in first half as Raptor
In his first regular season game in a red and white uni, Kawhi Leonard drains 12 points for the Raptors.
Top headlines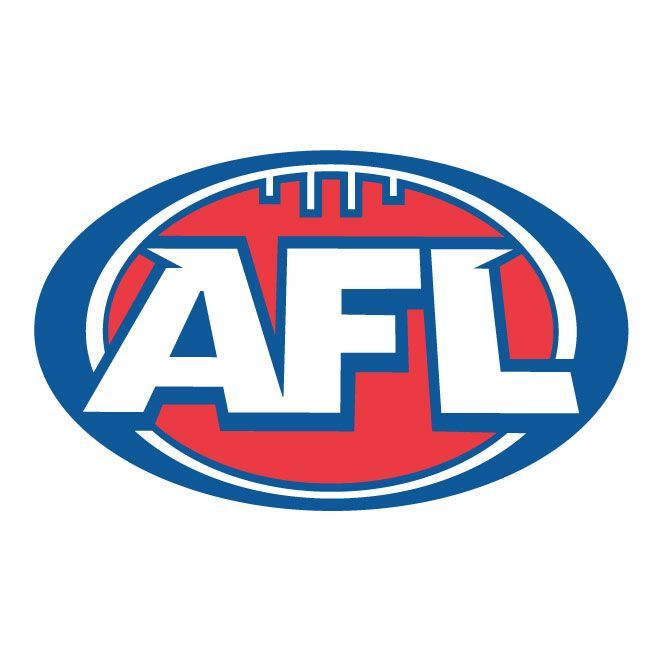 AFL TRADE PERIOD
Kershaw strikes out 9
Clayton Kershaw tosses nine strikeouts and holds the Brewers to one run in his Game 5 start.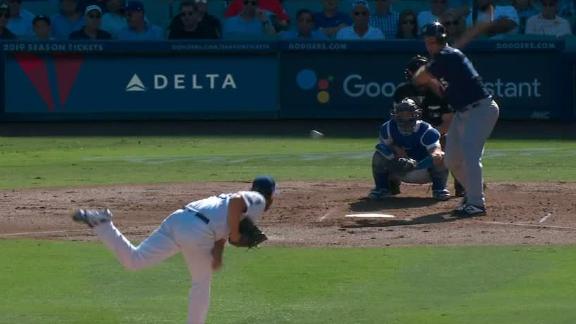 Counsell on pulling Miley: 'That was the plan all along'
Craig Counsell explains his move to pull starter Wade Miley after just five pitches, saying that it was all part of the game plan.
Kershaw notes effective curveball after 9-K performance
Clayton Kershaw reflects on his impressive outing after the Dodgers' 5-2 victory and discusses the importance of going back to Milwaukee with a win.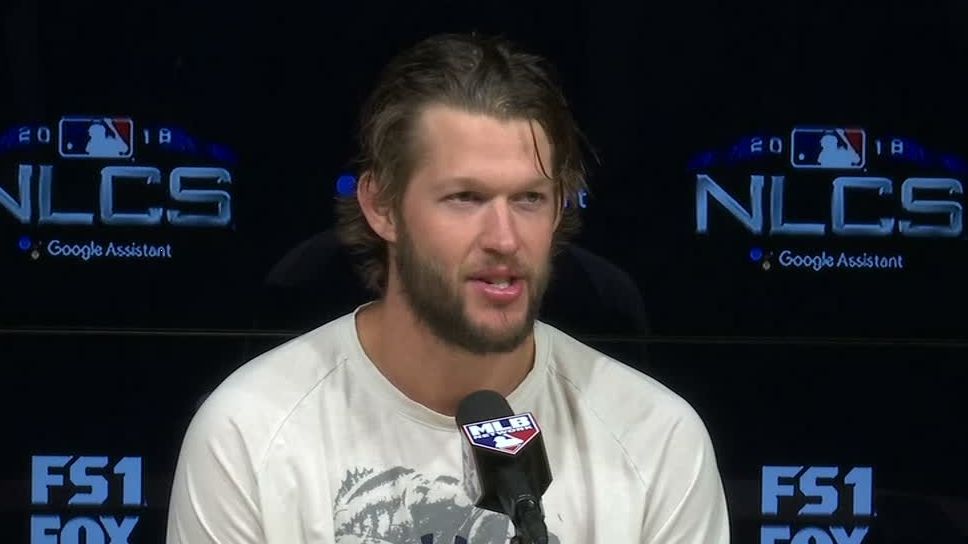 Kershaw makes Kratz look silly
Clayton Kershaw uses his nastiest stuff to get Erik Kratz whiffing at a curveball.
Dodgers double lead with 2-run 7th
Justin Turner knocks in an RBI single and Brian Dozier adds to the lead with a sacrifice groundout to make it 5-1 Dodgers in the bottom of the 7th.
Puig extends lead with RBI single
Yasiel Puig rips a line drive into center field to score Manny Machado, giving the Dodgers a critical insurance run and making it 3-1.
Miley pulled after one batter in Game 5 start
Brewers Game 5 starter Wade Miley gets pulled after walking the first batter Wednesday but is expected to start again in Game 6 on Friday.
Muncy's RBI single puts Dodgers ahead
Max Muncy slaps one through the hole to plate Justin Turner, giving the Dodgers a 2-1 lead over the Brewers.
Barnes ties it up with RBI single
Austin Barnes sends one back up the middle to bring in Chris Taylor and knot the score at 1-1.
Cain opens scoring with RBI double
Lorenzo Cain drives one to the center-field wall and brings in Orlando Arcia, giving the Brewers a 1-0 lead over the Dodgers.
Must See
Draymond's son wants nothing to do with presser
Draymond Green Jr. joins his dad at the podium and doesn't have much to say, but throws up the deuces before they leave.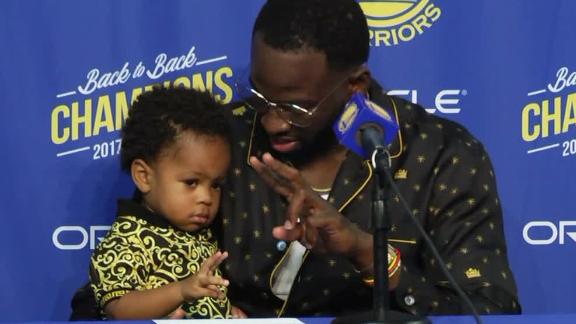 Cricket
Football
WATCH: Rooney hits sensational 35-yard winner
Major League Soccer: Wayne Rooney (18') D.C. United 1-0 Toronto FC
Henry hopes to emulate Deschamps, Zidane at Monaco
Thierry Henry reveals his admiration for French managers Didier Deschamps and Zinedine Zidane in his first press conference as Monaco boss.
Neymar: We give our lives for this jersey
Brazilian star Neymar says he and his teammates would give their all for national jersey after beating Argentina 1-0 in Saudi Arabia on Tuesday.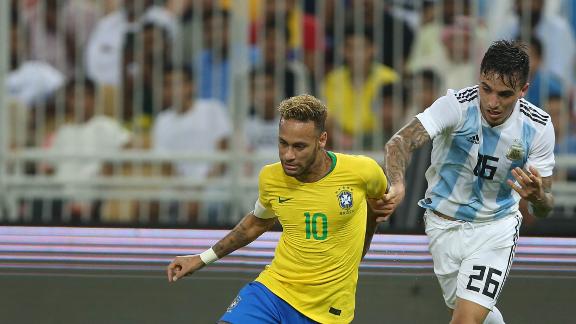 Football Agents: Contract talks hit a snag
The Exploding Heads try their hand as football agents, playing chess with Trent Alexander-Arnold and negotiating a new deal with Aaron Ramsey.
App Homepage widget

Zhong Zhi/Getty Images

It may seem like only yesterday that the Warriors completed their sweep over the Cavaliers but the NBA is back, and there's a bumper first week of action to look forward to. Here's the best of the action you can find on ESPN.

ESPN Fantasy Football promo

Manage your squad in the Premier League, Champions League, La Liga and Liga MX.

ESPN Illustrations

Our experts ranked the signature moves they loved most. Join us as we journey through the decades, showing the evolution of basketball's best go-to dribbles, shots and slams.

Iveta Karpathyova

The Saints QB is now the all-time passing yards leader in NFL history. We track his path to 71,968 yards.

ESPN Illustration

From the obvious to the obscure, each World Series contender has several key advantages over the others.

Daniel Carson/AFL Media/Getty Images

The last week of September, if you're Australian, chances are you're watching the National Rugby League or Australian Football League grand finals.

ESPN Illustration

The Brewers just made the playoffs, but rooting for them has historically been an ordeal. Where do they, and every other franchise, rate in misery?

Maddie Meyer/Getty Images

Mark your calendars, because the full NBA schedule has been unveiled. Here are our can't-miss games.

ESPN
Customise ESPN